Sincerely Chosen: The Live Interview Series

Thursday, December 18, 2014 from 7:00 PM to 9:00 PM (EST)
Event Details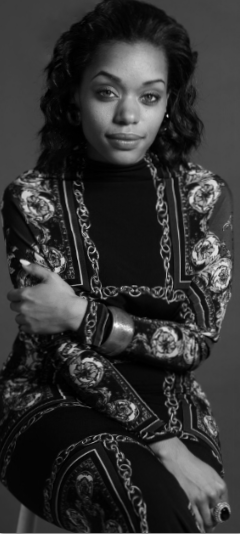 Influential Philadelphia Based EBONY.com Magazine Contributor Hosts New Live Interview Series
Freelance journalist, community advocate and businesswoman, Syreeta "Sincerely Syreeta" Martin has brought her popular Sincerely Chosen column from her blog (SincerelySyreeta.com) to a taped event series. Think the Oprah Winfrey show but with dinner, drinks and live entertainment.
SS kicked off the provocative and engaging event entitled, "Sincerely Chosen: The Live Interview Series" in June of 2014. Since then, she's had the pleasure of interviewing:
+ Andrea Lawful-Trainer, a phenomenal education consultant and youth advocate
+ Melanie Yvette Martin, Associate Beauty & Style Editor for EBONY.com
+ Ameen Akbar, Direct of Student Life at YouthBuild Philadelphia Charter School
+ Zeek "The Experience", a phemomenal artist who's bringing back soul and...
+ MoShay LarRen, a beloved Philadelphia radio personality, interior decorator, and domestic violence advocate
+ Melissa Alam & Alexander Kacala, Creators of the "30 Under 30: Philadelphia's Most Inspiring Women"
SS will continue to present a new featured interviewee the third Thursday of every month.
Sincerely Chosen provides an intimate, open forum as well as networking opportunities for individuals of diverse backgrounds and professionals in a multitude of fields. 
Audience members enjoy:
+ Delicious food, fine spirits, wine and beer for purchase 
+ Music via DJ G33k
+ Live performances 
+ Networking & Giveaways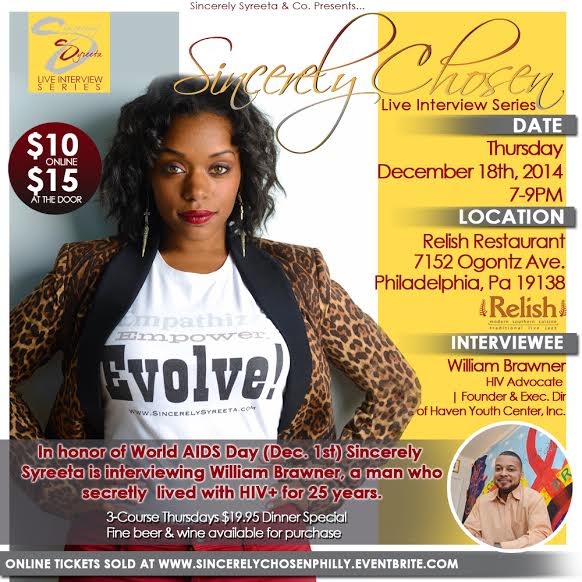 December Featured Guest: William Brawner | HIV Advocate | Founder & Exec. Dir. of Haven Youth Center, Inc.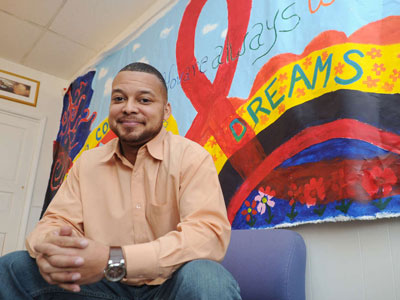 William Brawner is the Founder & Executive Director of Haven Youth Center, Inc., a non-profit organization that provides educational, social, and recreational services to HIV positive youth and young adults located in Philadelphia, PA. Severely burned at 18 months of age, William contracted the virus through a blood transfusion as a toddler. He has now been HIV positive for over 25 years and has made it his life's mission to help HIV positive youth.
William holds a Bachelor's degree from Howard University and Master's degree from Marygrove College. He has counseled young people infected and affect by HIV/AIDS throughout his career, prior to opening his own non-profit organization in 2007. At the age of 27, William opened Haven Youth Center, Inc., so that young people infected and affected by HIV/AIDs would have a "safe haven" to which they could go every day. In August 2010, William became the camp director of Camp Bright Feathers, a camp for HIV/AIDS infected and affect youth, a camp William attend as an adolescent and which served as his inspiration for Haven.
William has recently released a documentary: "25 to Life" highlighting his diagnosis, life of stigma and discrimination. 
William has shared the stage with Earvin "Magic" Johnson in to share his story of triumph, and presented at the Essence Music Festival. He has been the keynote speaker at educational institutions throughout the country, especially Historically Black Colleges & Universities to encourage testing and behavioral changes. Additionally, William has been featured in many magazines, and received awards for his work in advocacy and service.
Above all his accomplishments, William's greatest accomplishment is that of being a proud husband and father. He strives to build a legacy that his children can follow in one day.
(Bio (edied) courtesy of www.nationalblackaidsday.org)
To find out more about William Brawner, follow him @William_Brawner and @25ToLifeFilm on Twitter. 
Inerested in booking or interviewing William Brawner? Contact On Point Communications by clicking here. 
About Haven Youth Center:
The mission of Haven is to provide educational, social, and recreational services to HIV youth to support healthy, age-appropriate development and transition into adulthood. Haven provides HIV youth with a recreational facility to decrease social isolation, improve self-concept/self-esteem, enhance communication skills, and encourage the development of healthy peer relationships among a population that may often feel stigmatized in other community settings.
________________________________________________
________________________________________
About Sincerely Chosen: The interview series was created as a way of highlighting persons of interest and influence on an intimate and entertaining platform that connects them directly with the public. Known for raw, intimate and empowering feature interviews with both everyday people and celebrities, this event is sure to leave attendees inspired, informed and illuminated on their personal paths to fulfilling their dreams.
About Sincerely Syreeta: Syreeta "Sincerely Syreeta" Martin graduated from Temple University with a B.A. in Journalism and founded Sincerely Syreeta, a Philadelphia-based umbrella brand that includes a consulting firm, blog, media personality, and community initiative. The brand is committed to empathizing with its audience and client's journeys; empowering them along the way; and ultimately supporting the evolution of their dreams, purpose and being. Officially launched in 2012, the brand has become a trusted and influential presence in all areas that it serves. Syreeta is a proud mother of two daughters, Arionna and Gabrielle, and originally hails from Pittsburgh, Pa. 
Additional Info: Media are welcomed to this event. Please contact the event organizer to request your press credentials. Interviews with Syreeta or the featured guest are welcomed and available upon request as well.
Want to recommend someone? E-mail SincerelySyreeta@gmail.com with the subject titled: Sincerely Chosen Recommendation.
Connect with Sincerely Syreeta:
Facebook and Instagram: Sincerely Syreeta | @SincerelySyreeta | @SCLiveShow
Twitter: @SincerelyReeta | @SCLiveShow

Email: SincerelySyreeta@gmail.com
When & Where

Relish Restaurant
7152 Ogontz Ave
Philadelphia, PA 19138


Thursday, December 18, 2014 from 7:00 PM to 9:00 PM (EST)
Add to my calendar
Organizer
Sincerely Syreeta & Co. is a lifestyle business that motivates people to Empathize, Empower and Evolve via Content, Coaching and Consulting.
Officially launched in 2012 by Temple University alum, Syreeta Martin, the Sincerely Syreeta brand has become a trusted and influential source in Philadelphia and beyond. Syreeta has been recognized by Femme & Fortune Magazine as 1 of 30 women under 30 who are Philadelphia's most inspiring women as well as by APIC Giveback as a "Community Hero." She works diligently to specifically empower youth, women, millennials, entrepreneurs and artists. The mother of two values family, faith, food and a life lived on purpose.