Simultaneous `Exhibition and Screening with GM `Ehsan `Ghaem `Maghami
Simultaneous Chess and Documentary Screening with GM Ehsan Ghaem Maghami hosted by PACSA, sponsored by Farhang Foundation.
About this event
Persian Academic and Cultural Student Association is honored to host Chess Grandmaster, Mr. Ehsan Ghaem Maghami on Tuesday, November 30th, 4-9 PM at the University of Southern California. This event is sponsored by Farhang Foundation.
This event has two parts.
Screening
Documentary screening and interactive Q&A with Mr. Ehsan Ghaem Maghami, first chess Grandmaster in Iran's history, and the current Captain of Iran's national chess team.
Gap Talk Show is focused on contemporary social vibes among Iran's younger generations. This documentary series aims at introducing the path of success and the impact of internationally renowned Iranians on their society.
Chess exhibition
Simultaneous match with a limited group of students in collaboration with USC Chess Club.
For more information please contact: pacsa@usc.edu
Due to COVID-19 pandemic we have limited capacity, Please limit your ticket purchase one per individual.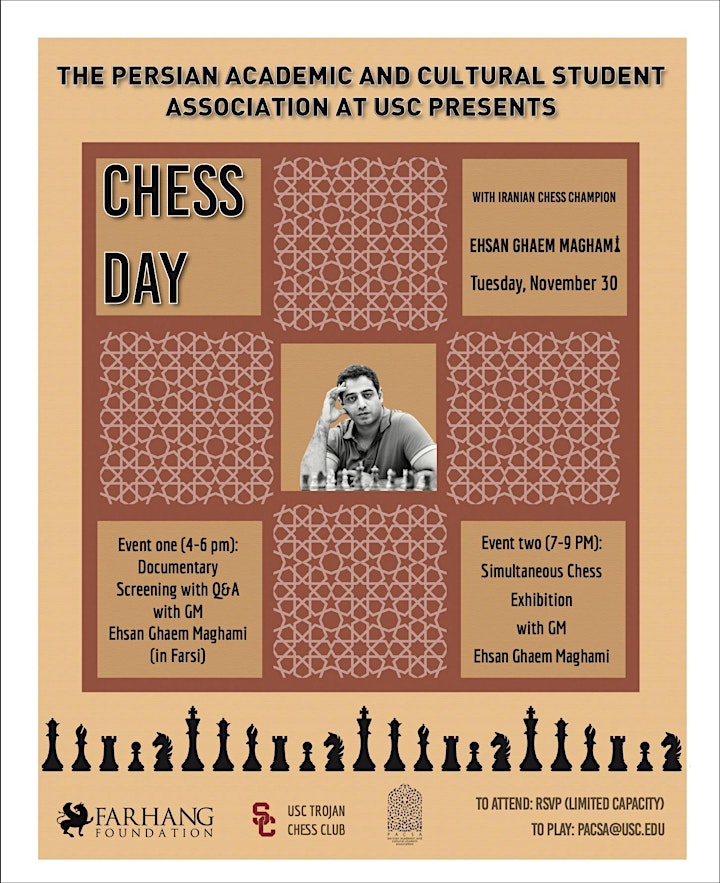 Organizer of Simultaneous `Exhibition and Screening with GM `Ehsan `Ghaem `Maghami
Persian Academic & Cultural Student Association (PACSA) is a nonprofit, nonreligious and nonpartisan association of Persianate students at USC. PACSA's goal is to organize cultural and academic events at USC with the intention to help in further integration of Persianate communities with the rest of USC population and contributing to USC thriving as a truly diversified institution. The type of events that PACSA organizes act not only as a hub for all Farsi-speaking students of various nationalities to socialize and unite, but also as a place for all others to learn more about Persian culture and language.PACSA sponsors and organizes inspiring range of events that include but are not limited to presentations by much-admired artists and renowned speakers, art exhibitions, theatrical, music and dance performances, film screenings, lectures and workshops.