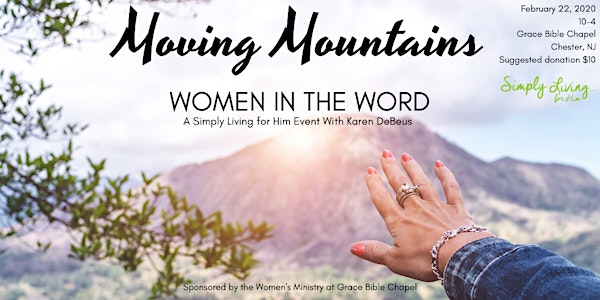 Simply Living for Him Women's Event
When and where
Location
Grace Bible Chapel 100 Oakdale Road Chester, NJ 07930
Description
ALL WOMEN WELCOME!!!
When women are in the Word, they will move mountains! Spend the day being encouraged to not just know the Word but to truly let it transform your life.
Karen will share her passion for women being in the Word by sharing how she has personally been transformed by Jesus and the Bible. She will give you tangible ways to grow your relationship with the Lord and make your Bible time meaningful and transforming. As women in today's culture, we must be equipped with the truth. It is a necessity!
Through her down-to-earth, engaging, and encouraging demeanor, Karen has ministered to women all over the world through her writing, speaking, and podcast to lessen the distractions in this world and live for what matters most. Jesus.
There will be sessions, worship, prayer, and beautiful fellowship. Come prepared to be encouraged and leave equipped to apply all that you will learn to KNOW the Word and WALK in it.
There will also be a guest session by Jackie Foster. Her wisdom and gift for digging in deep is sure to be a blessing.
Lunch provided
Suggested Donation $10
Karen DeBeus has been ministering to women for over a decade through her ministry, Simply Living for Him. She is learning to live more simply and keep God at the center of it all. She is a best-selling author, speaker, and podcaster. She speaks nationally and recently was a speaker for the Family Bible Conference in Washington, DC. Her passion is to help others clear the clutter from their lives, seek God first, and to encourage women and families to get in the Word every day.
Visit www.simplylivingforhim.com to learn more about Karen and Simply Living for Him.
"God's ministry through Karen has encouraged and equipped me in ministry to my children and other ladies. The heart of Simply Living For Him has continually been Matthew 6:33, "But seek first the kingdom of God and His righteousness, and all these things will be added to you." May the Lord continue to bless the work of your hands!" ~Vickie
"Karen's love for Jesus, doing it all for Him, putting Him in front of everything, puts everything into perspective, I keep going back to her books to continue on the path of homeschooling Jesus' way because He has called our family to it and only with Him we can do it." ~Kate
"Without reading and listening to Karen's love of Jesus… I would have never known Him for myself. I am forever grateful to be apart of the Simply Living for Him domino effect." ~Danyelle
"God has used Karen so greatly to remind me of what's most important and where my focus should lie! She's such a Proverbs 31 pillar who has helped my heart, faith, and perspective stay on the right track! So thankful!"~ Dana
"Karen is a grace-filled, relatable, and intentional mentor who points us back to the gospel of Jesus. She writes in tangible ways to help us feel safe, capable, and loved by God. You will feel overwhelmed with peace and gratitude as you are reminded of how loved by God we all are. I truly appreciate her patient, understandable, and gospel-saturated counsel." ~Cheryl