Description
Your baby is coming
Congratulations on your pregnancy. Your baby will soon be here. You have probably been busy preparing, buying baby clothes and decorating the nursery. But have you prepared for feeding your baby? Breastfeeding is natural, but it is also learned.
And then you discover ...
92% of new mothers report having at least one breastfeeding problem the first few days of their baby's life. Most of these problems could have been prevented if the families had known the basics of breastfeeding and newborn behavior.
Welcome to Simply Breastfeeding
We will teach you the basics of breastfeeding and take you step-by-step through the skills and techniques that have been proven to make breastfeeding easier.  You will know what your baby is telling you and how to meet your baby's needs, starting in the very first hours of life.
You will feel confident, knowing the answers to the most frequently asked questions about breastfeeding. You will understand the basics of breastfeeding and be able to return to them if you encounter difficulties.
We believe that breastfeeding is the healthiest way to feed your baby. Relax, knowing you are ready to give your baby the best possible start.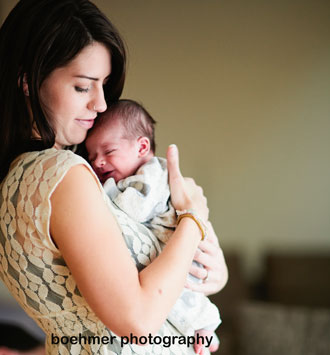 You will learn about:
The importance of skin to skin snuggling

Baby's very first feed

Comfortable positions

A deep latch

How often to feed

How to know baby is getting enough

What to do if problems arise

Ways partners can support breastfeeding

and more


What moms are saying:
"This class helped us understand that breastfeeding is a learned skill and it doesn't always come naturally. It also taught me that if I had the determination to breastfeed, I could do it! I also really enjoyed the information about the support people in your life and how they can help you along on your breastfeeding journey. Thank you for the wonderful class!"
"My friend is a nurse. She gave me this class as a gift. Before this class, I knew nothing about breastfeeding. I feel much more relaxed knowing what to expect and how to handle problems."
" My sisters had a lot of problems breastfeeding and I wanted to know how to avoid these problems. Since the class, I feel like I know what I am doing."
FAQs
Why is Breastfeeding so important?
Breastfeeding is important for your baby's health. The evidence is so clear that the World Health Organization, the American Academy of Pediatrics and the Canadian Paediatric Society recommend exclusive breastfeeding for the first 6 months of your baby's life.
Here are some of the reasons breastfeeding is the right choice for your baby's health:
When babies receive breast milk, the chance of having asthma, allergies, ear, chest and stomach infections decreases.
When a breastfeeding mom is exposed to a germ, her body makes antibodies to that germ. These antibodies appear in the breast milk, passing the protection on to baby.
Breastfeeding is also important for mothers:
Breastfeeding right after the birth of your baby helps to decrease the chance of heavy bleeding.

Breastfeeding helps you return to your pre-pregnant weight, burning about 500 calories a day.

Exclusive breastfeeding delays the return of your menstrual period.

Women who breastfeed have a decreased risk of breast and ovarian cancer and a decreased chance of developing osteoporosis.
If breastfeeding is natural, why do I need to take a course?
The first few weeks of breastfeeding can be challenging. It will be new for both you and your baby. Breastfeeding is natural but it takes some time to learn.
Studies show that 92% of mothers with 3 days old babies report having at least one breastfeeding problem. Many of these problems could have been prevented if mothers were armed with knowledge about the basics of breastfeeding and normal newborn feeding .
This course will teach you the 5 basics of breastfeeding and equip you to interpret your baby's feeding cues. This knowledge will help you to get off to the best possible start with breastfeeding. You will have the basic skills required to work through some of the initial breastfeeding challenges.
Why should I choose THIS breastfeeding course?
In this course you will be learning from Registered Nurses and International Board Certified Lactation Consultants who have spent over 20 years helping families get started with breastfeeding. Cindy and Jana have the knowledge and the practical experience to help you feel confident and answer your questions before you've even thought of them.
Can you guarantee I will have problem-free breastfeeding?
Oh how we wish we could! We cannot guarantee breastfeeding will be problem-free but we will help you to avoid the most common mistakes families make when getting started with breastfeeding.
I plan to return to work shortly after my baby's birth. Wouldn't it be easier on both me and my baby to simply formula feed?
Studies show that even a short time of breastfeeding has health benefits for your baby. Colostrum, the first milk a mother produces, 'paints' your baby's intestines, creating a barrier against germs and foreign substances. Breast milk given to your baby at any age is rich in antibodies and helps to protect your baby against disease.
Many women choose to continue breastfeeding their baby when they return to work. Pumping while away from baby maintains milk supply and provides a great source of nutrition for baby. Breastfeeding from birth will help you to develop an abundant supply of milk. You will save lots of money from not having to buy formula!
What are my transport/parking options getting to the event?
Car: Free parking in front of the building.
Bus: There is a bus stop on Preston Avenue, northbound, directly in front of the building. (The bus stop is number 4323 "Ironwood Crossing" on the Saskatoon Transit website.)

Where can I contact the organizer with any questions?
Email Cindy & Jana: contact@cindyandjana.com
What is the refund policy?
Class are non-refundable if cancellation occurs within 5 days of the class.