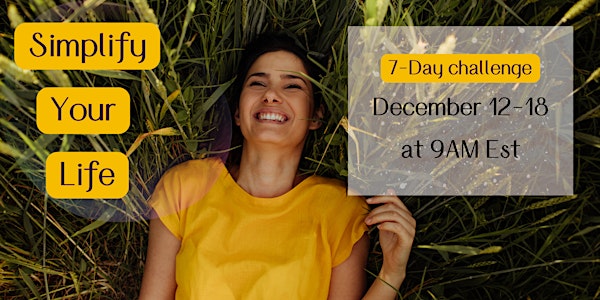 Simplify Your Life | 7-Day Challenge
Simplify Your Life in 7 days! Face the Holidays and New Year with confidence and harmony!
About this event
You are invited to join me LIVE, via Youtube, from December 12 to December 18, daily at 9AM Est.
I will present, daily, a short 1-minute video where I'll share a Simplify Your Life tip. After the last session, you'll receive by email a printable document that will help you continue your simple living journey.
Monday, December 12, at 9AM Est: Declutter your stuff
Tuesday, December 13, at 9AM Est: Simplify your relationships
Wednesday, December 14, at 9AM Est: Improve your environmental impact
Thursday, December 15, at 9AM Est: Improve your life experiences
Friday, December 16, at 9AM Est: Reorganize your schedule
Saturday, December 17, at 9AM Est: Live slow, take the time
Sunday, December 18, at 9AM Est: Improve your emotional bank account