the warm up for the 3 year anniversary for Simp City: the hottest R&B party
About this event
Welcome to the PRE 3 year celebration. Each & every Simp are special but this pre celebration milestone is special to us and we always hope you create some amazing memories with us at our events! We have DJs: Justin Andoy, Jazlyn Rich, and DJ AR. Headlining talent: DVSN
EVENT DETAILS:
Date: Sunday - December 19th, 2021
Time: 9PM
Location: A LOT (There is a festival type of tent over A Lot!) at AREA15
Dress very warm for this night!
Address: 3215 S Rancho Dr, Las Vegas, NV 89102
18+ to enter, 21+ to drink
For 21+ VIP sections, please text 702-886-2791 (only 5 left)
DON'T FORGET TO SIGN UP FOR OUR WAITLIST TO STAY IN THE KNOW HOW AND TO ALWAYS GET THE FIRST ACCESS TO TICKETLINKS! Either stay on our eventbrite page to sign up for all waitlists or head over to our website to do so --> WAITLISTS
DO NOT PURCHASE 21+ TICKETS IF YOU ARE UNDER 21. WE WILL BE CHECKING ID's. MUST PAY THE DIFFERENCE IF YOU PURCHASE THE INCORRECT AGE TICKETS. 21+ TICKETS IS STRICTLY FOR 21 AND UP. AND WE HAVE THE RIGHT TO DENY ENTRY IF YOU DO NOT PAY THE DIFFERENCE OR PURCHASE A 21+ TICKET IF YOU ARE UNDER 21. IF YOU ACCIDENTLY PURCHASE THE WRONG TICKET. PLEASE BRING CASH TO PAY THE DIFFERENCE. IF YOU ARE OVER 21 AND PURCHASED AN 18+ TICKET, YOU WILL STILL BE GOOD TO GO! *NO REFUNDS* We are limiting the amounts of 18+ tickets to a low amount.
We weren't able to celebrate our 2 year anniversary due to COVID. This will be the pre-anniversary you do not want to miss! Simp City's 3 year anniversary will be postponed until further notice. So we will make December 19th a Pre 3 year celebration. Let's celebrate another year down and for what's in store for 2022! More details coming soon for the 3 year anniversary coming in 2022!
About us: Simp City is Las Vegas' hottest R&B music event, creating the atmosphere of a club and concert all in one. Started with its first event in December of 2018, the event has grown substantially, averaging over a thousand of guests and attendees at every single Simp City. The one year anniversary in 2019 had over 1700 guests then COVID happened. After being on an intermission for over a year, this is a night we are all in need of! The most anticipated and indescribable R&B even officially returned back in '21! We have elevated this R&B experience by recently bringing artists out such as Blxst, Kalan.frfr, Bryson Tiller, Mario, and Keyshia Cole. We take pride in making sure you will have a great time whether there are artists or strictly just DJs. We encourage everyone to come ready to dance, sing, feel and feed off one another's energy to create these lifelong memories that we can simp about and connect with each other and collectively come together just by a song. Simp City is truly an unforgettable experience. Playing all your favorite music from throwbacks to todays music, 90s/2000s vibe, timeless R&B music, songs that just bring that nostalgic vibe and music having you feeling good (or in your feels) all night long!
Follow us on social media: @SimpCityLV // @Leverage.Events
Website: Leveragepresents.com
Join our Simp City waitlist to get early access to ticket links before we announce to the public and so much more: WAITLIST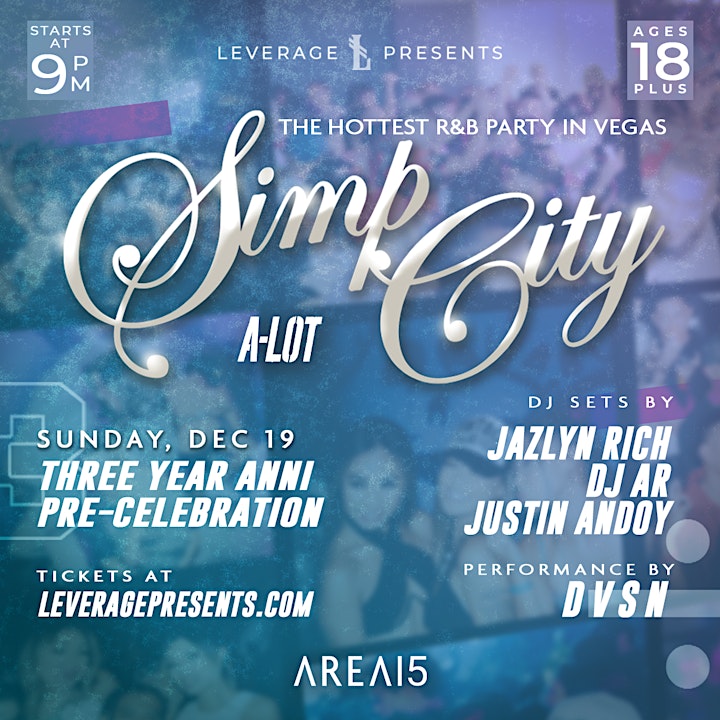 Organizer of SIMP CITY: the hottest R&B party PRE 3 YEAR CELEBRATION w/ DVSN