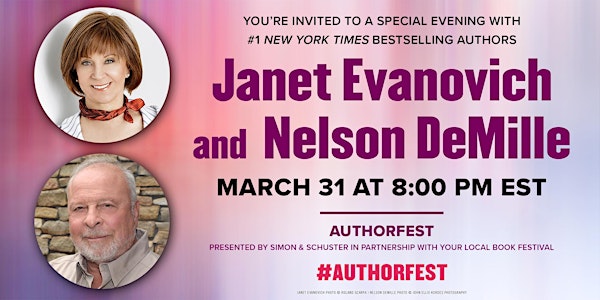 Simon & Schuster AuthorFest Spring 2022 - Janet Evanovich & Nelson DeMille
Simon & Schuster is excited to present their second AuthorFest virtual event with Janet Evanovich and Nelson DeMille!
About this event
The Savannah Book Festival is pleased to partner with Simon & Schuster on their second AuthorFest virtual event, a seasonal author series in partnership with national book festivals and literary series.
Join # 1 New York Times bestselling authors Janet Evanovich and Nelson DeMille for a special evening moderated by Carol Fitzgerald of The Book Report Network.
Both DeMille and Evanovich have created some of the most iconic recurring characters in fiction, keeping them interesting, surprising, and fresh, novel after novel. In this fascinating conversation, these literary legends will discuss how to keep their readers coming back for more of their beloved characters.
About the Authors:
Over the last twenty-five years, #1 New York Times bestselling author Janet Evanovich has written a staggering twenty-eight novels in the Stephanie Plum series. In addition to the Plum novels, Janet has coauthored the New York Times bestselling Fox and O'Hare series, the Knight and Moon series, the Lizzy and Diesel series, the Alexandra Barnaby novels, and the graphic novel, Troublemaker (with her daughter, Alex Evanovich).
Nelson DeMille is the New York Times bestselling author of twenty-one novels, six of which were #1 New York Times bestsellers. His novels include The Deserter (written with Alex DeMille), The Cuban Affair, Word of Honor, Plum Island, The Charm School, The Gold Coast, and The General's Daughter, which was made into a major motion picture, starring John Travolta and Madeleine Stowe. He has written short stories, book reviews, and articles for magazines and newspapers. Nelson DeMille is a combat-decorated US Army veteran, a member of Mensa, Poets & Writers, and the Authors Guild, and past president of the Mystery Writers of America. He is also a member of the International Thriller Writers, who honored him as 2015 Thriller Master of the Year. He lives on Long Island with his family.
About the Moderator:
Carol Fitzgerald is the president and founder of The Book Report Network (TBRN) --- a group of websites about books and authors, including Bookreporter.com and ReadingGroupGuides.com, that have become the gathering places for a large and devoted community of booklovers since 1996.
Carol is known for her in-depth author interviews. In 2019, the company launched the "Bookreporter Talks To" video/podcast series, which she hosts. In 2020, "Bookaccino Live: A Lively Talk About Books," a book preview program and "Bookaccino Live: A Live Book Group Event" were added to the company's video programming.
Do you have a question for Janet Evanovich and Nelson DeMille? The authors will answer a limited number of questions submitted in advance by readers. Submit your question on the registration page and we will forward it for consideration.
After registering, a link to the virtual event streaming on Zoom will be provided in your confirmation email. As the event approaches, reminder emails containing the link will also be sent out. Please note: the link will be inactive until the event begins.
Order The Maze by Nelson DeMille and The Recovery Agent by Janet Evanovich from one of our partner booksellers: E. Shaver and Ex Libris.
By registering, you also agree to receive email updates from Simon & Schuster and agree to the privacy policy and terms of use.