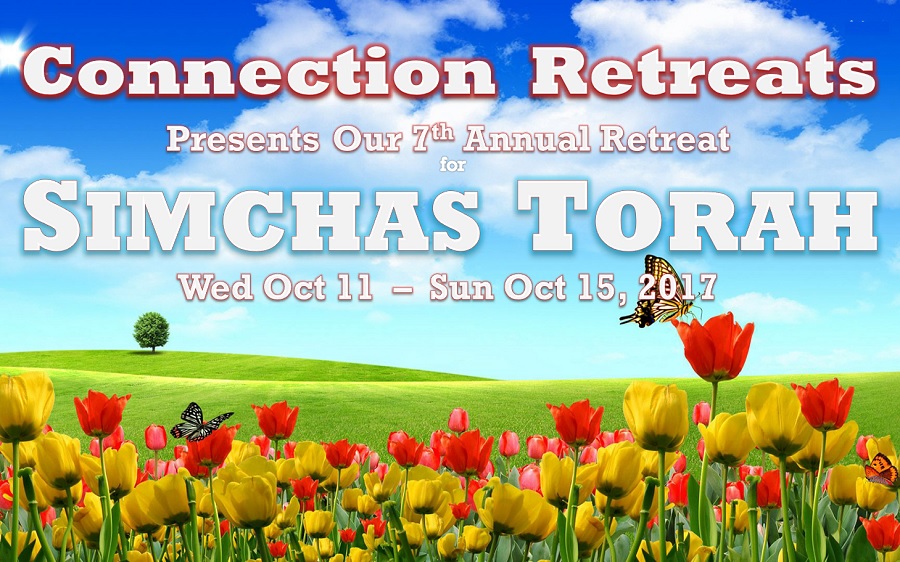 Connection Retreats 7th Annual Simchas Torah Retreat

VIRTUALLY SOLD-OUT!   JUST 4 SPOTS REMAIN!
● An inclusive, super friendly, warm and connected atmosphere, where
everyone feels genuinely welcomed and happy to meet new people.
● An exciting Simchas Torah experience with energetic Carlebach style singing and dancing. Join Hakofos featuring incredible Achdus and brotherhood among the men – and an equally joyous celebration and camaraderie among the women.
● Enjoy our comfortable accommodations, guided nature walks, beautiful waterfalls, serene
lake, and our extensive animal farm with geese, goats, rabbits, and Shetland ponies!





ACTUAL WATERFALLS ON OUR NATURE WALK
Click here to see more pictures of the stunning waterfalls on our nature walk
● Spend Yom Tov in an entertaining and fulfilling environment where you
never have to worry which meal you will eat by which relative.

● Affordability: It's an incredible bargain to go away to a retreat for
4 days and 4 nights and only pay our special blowout prices!

● Original, Fun & Innovative Singles Programming

● Bonfire Kumzitz BBQ after Shabbos!

● Two Age Groups: 1: Mid-20s & 30s. 2: 40s, 50s, 60s.

● Many Flying In From All Over.

● Transportation Options Available