Silverton Health Coaching Presents Wellness Basics Workshop Series (Wellnes...
Description
Silverton Health Coaching Presents Wellness Basics Workshop Series (Wellness Wednesdays)
Come join us in Silverton at the Live Local Meeting Space
Wednesday Evenings
5:30 - 6:30pm
Tickets: $10 per class or 6 for $50*
Reserve your seat! Space is limited.
Sometimes talking about "Health and Wellness" is the hardest topic to discuss. There are so many theories and conflicting opinions. It feels like an area of judgement. Everyone seems like an expert so it can be intimidating or overwhelming just to even start a conversation. Let's take the time to get real. Our goal is to simplify and make wellness something that brings simplicity and joy. Our goal is to give you real life tools and resources as a place to start your journey toward your health and wellness goals.
YOUR HEALTH IS YOUR GREATEST WEALTH... yet often overlooked.
:: As Certified Integrative Health Coaches, we have practices in Silverton and are a part of the community. We will present on topics each week that are important to helping you be the healthiest YOU you can be. Topics are outside of the normal box of typical health conversations and yet are so pivotal to the overall health of an individual. Integrative Health Coaches focus on educating, motivating and supporting an indiviual (or family) to bring the focus back on the body where everything is interconnected. We promote big words like bioindividuality, biohacking, nutrigenomics, and integrative wellness. And, we like to make these topics as fun and understandable as possible. Our goal is to provide tools and resources that enable you to take control of your own health. ::


WORKSHOP SCHEDULE: (Descriptions will be updated)
Keep an eye on the calendar we will be bringing in a variety of guest speakers throughout our series.
October 10 -- What is Healthy? Establishing a Personal Health Road Map
"Healthy" means different things to different people. In this workshop we will talk about various buzz words and concepts. You will leave with a Personal Health Road Map that will help you launch your wellness journey.
October 17 -- So Much Sugar!
October 24 -- Surviving the Holidays with essential oils w/ Suzy Lindgren of Joyful Solutions
October 31 -- NO CLASS
November 7 -- Deconstructing Your Cravings
November 14 -- Mindful Eating and Mouth Yoga
November 21 -- NO CLASS
November 28 -- Juicing fo
December 5 -- The Secrets of a Label - Learn the PISSED Method
December 12 -- Food Shaming and Reverse Food Shaming
December 19 -- Tips for Navigating THAT Holiday Meal
December 26 -- NO CLASS
January 2 -- NO CLASS
January 9 -- What is Healthy?
January 16 -- So Much Sugar!
January 25 -- Deconstructing your Cravings
January 30 - Mindful Eating and Mouth Yoga
*Notes:
Cost of Workshops can be applied to individualized Health Coaching Program. Tickets are non-refundable but 100% transferable.
We are aware of an issue with not being able to pay for multiple classes at one time. Please pay for them individually or purchase a punch card. We apologize for the inconvenience and are actively working at correcting this.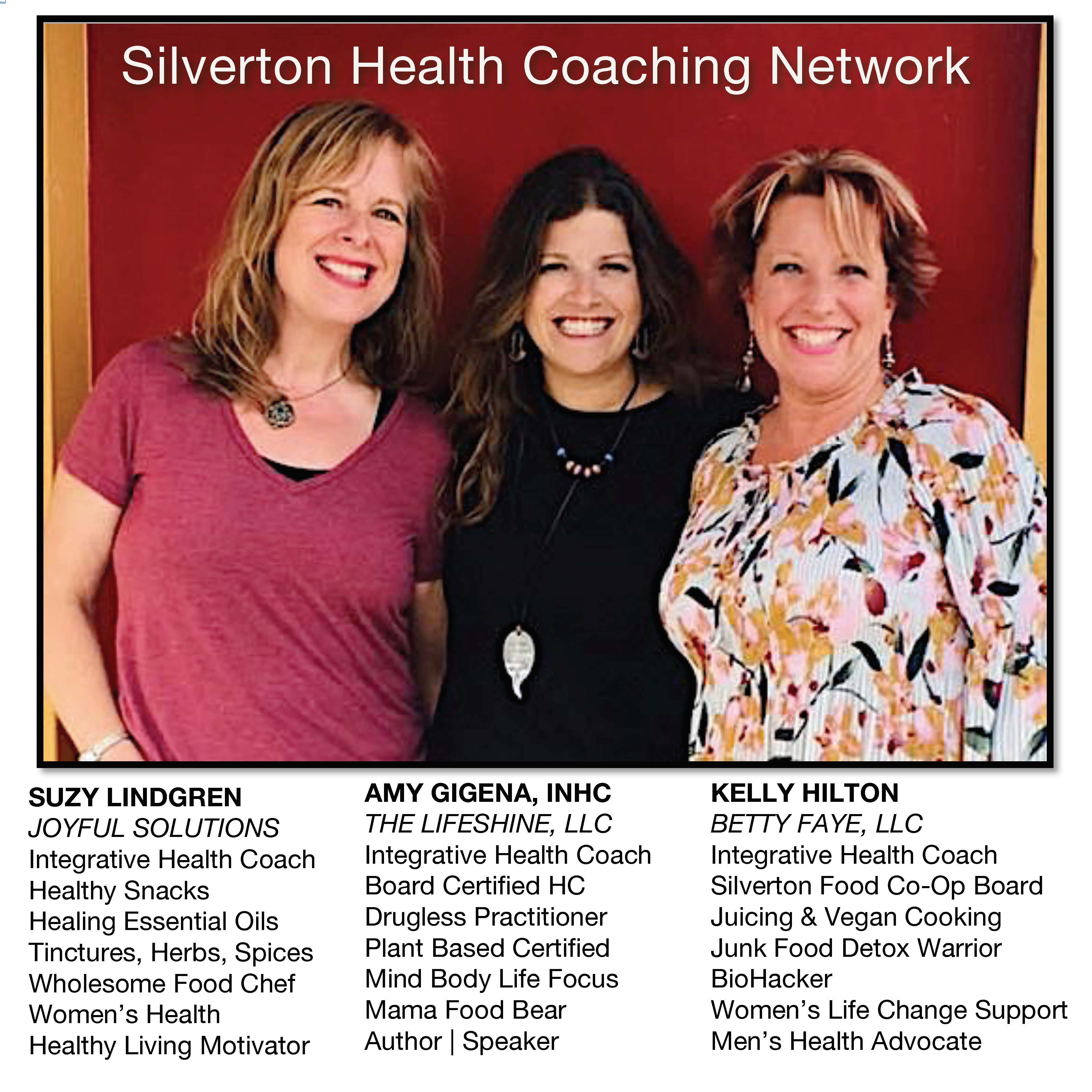 Questions or comments. Please send email to: silvertonhealthcoach@gmail.com