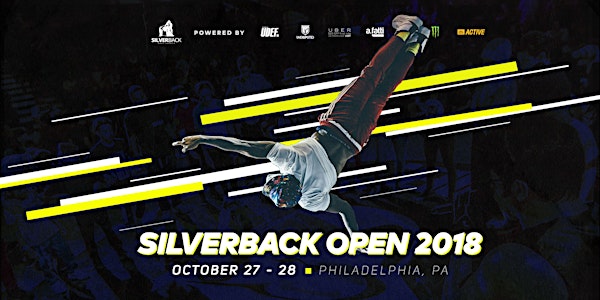 Silverback Open Championships 2018
When and where
Location
2300 Arena 2300 South Swanson Street Philadelphia, PA 19148
Description
Now in it's fifth year, the Silverback Open Championship is a Champions Series event on UDEF's Pro Breaking Tour.
Many of the world's top breakers will again be gathered in one space for a competition that is open for ALL to participate and FREE of cost.
For 2018, the battles include 1v1 Open, 3v3 Crews, 1v1 B-Girl, and Under 14 (U14).
Saturday features 1v1 Open and 1v1 B-Girl with preliminaries from 11:00am - 4:00pm and final rounds from 5:00pm - 10:00pm.
Sunday features 3v3 Crews and Under 14 (U14) with preliminaries beginning at 11:00am and final rounds form 5:00pm - 10:00pm.
Come to compete or to watch battles between world-class breakers from all around the globe.
To learn more, check out the event website.
Admission is free. The 2300 Arena venue has limited capacity and the Access Pass does not guarantee admission during periods in which the venue is at full capacity.