Silver Spring 5K Run/Walk

Saturday, April 6, 2019 from 8:00 AM to 12:00 PM (EDT)
Event Details
After race updates (4/6/2019):
Greetings All!
What a wonderful day and weather we had today during the Silver Spring 5K! Thank you to our 190 participants who signed up to be a part of this event and for making it so much fun and rewarding. Below are your race times and awards. I will send a link to the pictures and videos once we finish editing them.
Race Results: http://safetyandhealthfoundation.org/20190406.html
Hope to see you again next time.
Rachel Ledesma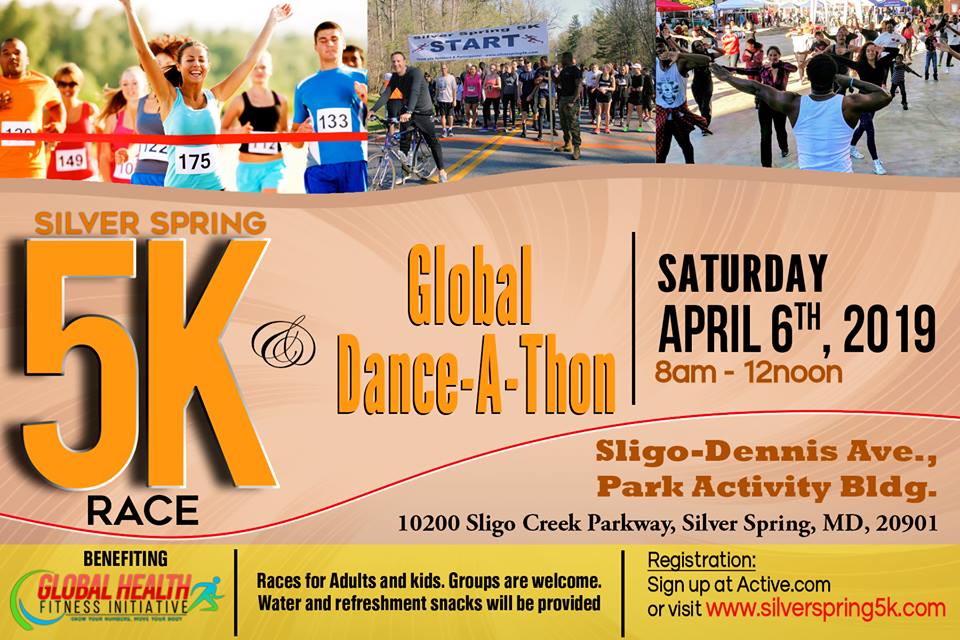 Silver Spring 5K Race - "Run/Walk for Global Health"
The Silver Spring 5K Race and Dance-A-Thon will take place on Sunday April 9, 2017. The 5K Race will be followed by an Award Ceremony. To sponsor this event, please contact us at silverspringdowntown@gmail.com or 301-565-8219.
Past Even Video: https://youtu.be/Edq11YPoRKo
Pictures: https://www.facebook.com/pg/silverspring5k/photos/?tab=album&album_id=394894610896043
Event Program Agenda
1. Registration: 730-830am
2. Opening Remarks: 830am
3. Group Warm Up: 845am
4. 5k Race Start: 930am
5. 5K Race Awards Ceremony: 11am
Awards:
1)Overall Champion
2) 2nd Overall Winner winner
3) 1st Female Winner and 1st Male Winner
4) Kid's awards: 1st Place Medal, Ribbons for every participant
*Program schedule is subject to change
The Race Course:
The race course is taking place along Sligo Creek Parkway in Silver Spring. While the race is timed for those race enthusiasts, families and friends are encouraged to come out and enjoy for fun. There will be course marshals stationed along the course, a water station, as well as refreshments at the Finish Line!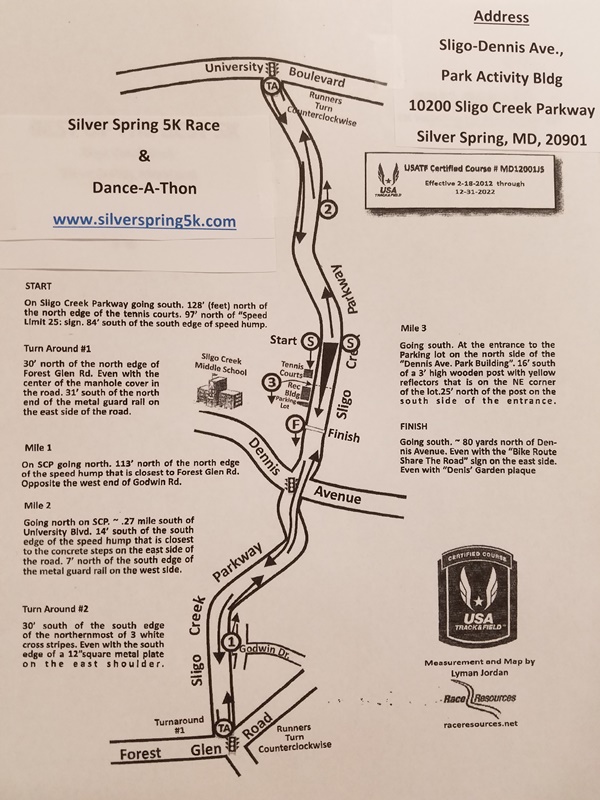 Race Packet Pick Up Time and Venue - TBA
For those who did not register online, you will have an opportunity to register at packet pick-up and on the day of the event.
Parking: Parking available on site.
Event Proceeds: Proceeds from this race will benefit a local health and wellness organization doing great work in the community and globally. 
For more information, please contact  silverspringdowntown@gmail.com.
Thank you for participating
Silver Spring 5K Race Organizing Committee.
When & Where

Sligo-Dennis Ave., Park Activity Building
10200 Sligo Creek Parkway
Silver Spring, MD 20901


Saturday, April 6, 2019 from 8:00 AM to 12:00 PM (EDT)
Add to my calendar
Organizer
We are an event planning, organizing and promotion team based downtown Silver Spring, MD. We have organized and promoted successful and well attended events in the Washington, DC area. We would like to help you make your next event in in the Washington, DC area, especially downtown Silver Spring, a success. Please contact us for more information at silverspringdowntown@gmail.com.
 - Watch our event VIDEOS: https://www.youtube.com/channel/UCl1hupJWTd_cyF0Z4igfh9g
- See our event PICTURES: https://www.flickr.com/photos/161962519@N03/albums
- Like/Follow us on Facebook: https://www.facebook.com/eventsdowntownsilverspring/
*Please scroll to the bottom to see a list of our upcoming events! Hope to see you there!*
 Events Downtowntown Silver Spring, Maryland are a must attend! Silver Spring, MD has been ranked as the one of the most diverse cities in the USA (#4). Silver Spring downtown is one of Washington, DC area's best kep secret! It's very diverse. It's where the world meets. It's also a great place for family and social outings and gatherings. There's always a lot of good and fun things taking place downtown Silver Spring from shopping, movies, events, delicious food and so much more! Connect with us and never miss a great event downtown Silver Spring!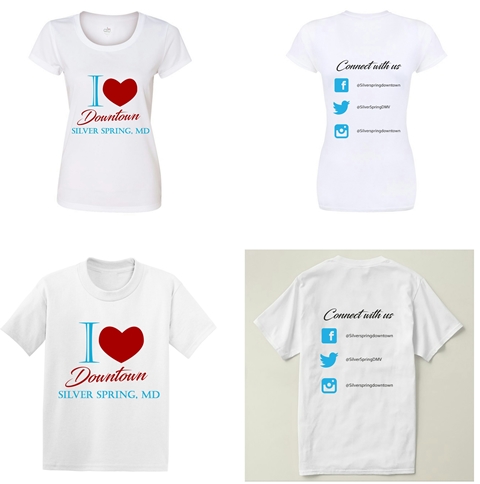 Purchase your "I Love Downtown Downtown Silver Spring, MD" events shirt on any of our events links posted below. You have an option to order the shirt with a printed or blank back. Companies have an option to sponsor their logo on the back of the t-shirt.