A Workshop for Researchers and Practitioners organised by the UK-Asia Social Innovation Linkages for Knowledge Exchange Network (SILKEN)
About this event
Funded by the British Council, the SILKEN project aims to devise and implement an engagement strategy for developing a long term, sustainable social innovation network of knowledge exchange and liaison between universities and external stakeholders and to produce and disseminate a roadmap for future engagement.
As part of the project we will be creating a sharing platform for research into different aspects of social innovation taking place within the region and forging collaborations between UK and Asian academics.
Featuring key speakers in the field:
Mark Majewsky Anderson, Director of Research and Innovation, Glasgow Caledonian University (chair)
Jinky B. Bornales, MSU-Iligan Institute of Technology, Philippines
Shahrina Md Nordin, Centre of Social Innovation, Universiti Teknologi Petronas, Malaysia
Professor Azlan Amran, Dean, Graduate School of Business, Universiti Sains Malaysia
Norah Wang; Founder of Impact Analytics, Hong Kong
Richard Hazenberg, University of Northampton Institute for Social Innovation and Impact, UK
Micaela Mazzei, Glasgow Caledonian University Yunus Centre for Social Business and Health, UK
This workshop is aimed at academics with an interest in social innovation and practitioners who may wonder about the relevance of social innovation research. It will highlight social innovation research already taking place in the UK and Asia. Researchers and practitioners from the two regions will discuss:
Cultural perspectives of Social Innovation - what do we know now and where are we going?
Global Challenges: How can social innovation successfully address the social, economic, political and environmental challenges of the 21st century?
The gap between practice and theory: How can we make social innovation research more relevant to practitioners?
The workshop will take place online via zoom. A link to the workshop will be sent out to participants once they have registered.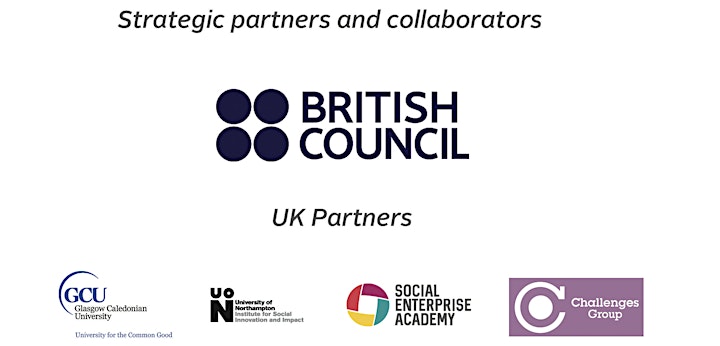 Asian Partners