Silicon Valley Funding Week 13thFeb - 16th Feb +Pitch Globally@WeWork, California Street

Wednesday, February 13, 2019 at 5:30 PM

-

Saturday, February 16, 2019 at 4:00 PM (PST)
Event Details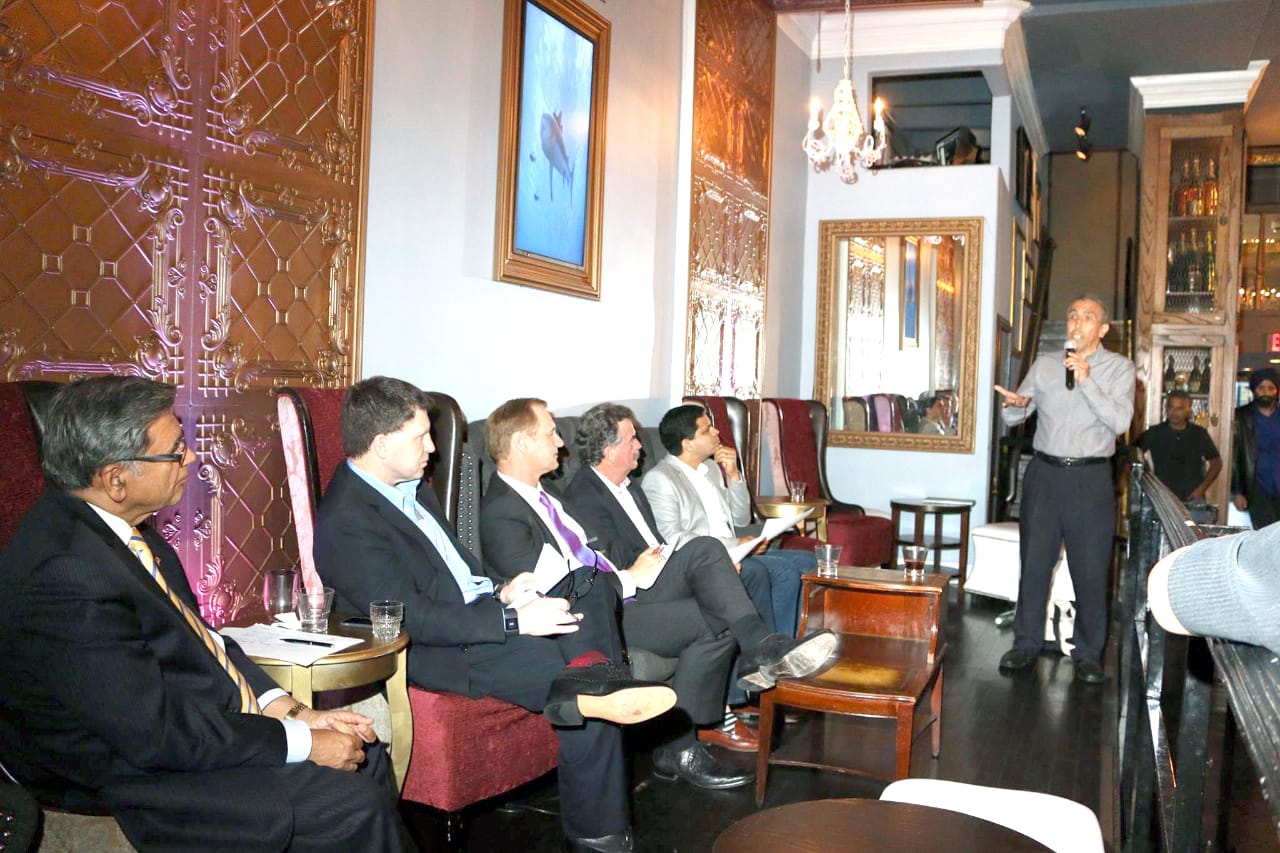 Pictured above from a prior Pitch Globally event : Silicon Valley legends (from left), Vish Mishra (Clearstone VC and longterm President of TIECON); Roger Royse, Owner of large Tech Law Firm, Royse Law; Bill Sautter (Galaxy VC and first US employee of Business Objects which SAP acquired for $ 8 b), Roger King (Founder Bay Angels). 
For instructions about Pitch Globally's Silicon Valley Funding Week, please watch this video 

Entrepreneurs from around the world have come to attend Pitch Globally's Sharktank Style Pitch & Networking events. Pitch Globally (www.pitchglobally.com), counts among our strategic partners, PitchForce (whose founder is key member of the Keiretsu Forum, known for being the first program where senior executives work for startups on equity during fundraising) and US Angels( the founder, also a member of Keiretsu Forum, Harvard Business Angels, and other funds). We host investor events which are a leading curated platform for local and global startups to connect with investors in Silicon Valley.
Members of major angel and reputed VC funds in Silicon Valley participate in our events. Based on demand from our partners in other cities and countries, we have developed Silicon Valley Week as a forum where startup founders obtain exposure to investors over the course of the first three days. On the fourth day, attendees will participate in a one-day bootcamp, "How to Master Silicon Valley Funding and Mindset" featuring lectures and hands-on workshops by mentors from the Vault SF and other subject matter experts. The bootcamp will be hosted at the Vault SF(www.thesfvault.com), our partner, and a leader in innovation ecosystem with locations at San Francisco, Oslo, Seoul and other places.
Agenda:
Wed., 13th February 2019, 5.30 pm to 8 pm: Intro to Silicon Valley Funding Keynote + Pitch Globally Sharktank Style to a distinguished Panel of Investors. (WeWork Golden Gate)
Thurs, 14th February :
Noon to 2.30 pm. No hosted Lunch at Stanford Campus and guided tour.
5 pm –8 pm. Invite-only Pitch and Networking event with introductions to investors.
Fri, 15th February @ The Vault :
1-4pm: Individual tours of recommended incubators and innovation labs in SF. Time to have private meetings with investors.
5 pm-8.30 pm: Demo and Pitch Globally Sharktank Style@ Vault, SF. After event Networking at the nearby Barbarossa Lounge.
Sat, 16th February, 2019 All day Bootcamp @The Vault, SF.
10 am –5 pm: How to master Silicon Valley Funding & Mindset–1 day bootcamp@Vault SF with lectures and hands on workshops by Mentors from Vault SF and other subject matter experts.
The main topics that will be covered are :
----How to master Silicon Valley Funding.
----How to network with Silicon Valley investors.
----How to acquire a Silicon Valley Mindset.
----- other related topics.
At the end of the day, every attendee will have a structured plan for the next steps.
Please email startups@pitchglobally.com for further questions.
Refund Policy: Credit may be provided for a future event at the discretion of the organizer
Have questions about Silicon Valley Funding Week 13thFeb - 16th Feb +Pitch Globally@WeWork, California Street?
Contact PITCH GLOBAL
When & Where

WeWork 600 California Street
600 California Street
11th Floor
San Francisco, CA 94109


Wednesday, February 13, 2019 at 5:30 PM

-

Saturday, February 16, 2019 at 4:00 PM (PST)
Add to my calendar
Organizer
www.pitchglobal.com
About Us: Pitch Global & predecessor cos have run investor events and summits in silicon valley, LA, London and ONLINE for almost a decade where tens of thousands of global entrepreneurs have connected with investors. We are unique since we not only run our own events, we also run/promote events for some of the biggest names in Silicon Valley. The following video, with footage from 2 events we ran, features some of the biggest names in Silicon Valley. Do watch Steve Jurvetson's words of wisdom about his experiences of investing in entrepreneurs like Elon Musk. https://youtu.be/Kmd2cJvirEQ
Examples of funding through Pitch Global events and how it has gone up in the online/covid era: The shut down mid March took us all by surprise but Pitch Global managed to convert our part online event co hosted by UC Berkeley Global into fully online on 20th March. At this event, one of our regular Founders, Erik Ekland of Telemetrak got some funding and he has consistently raised more funds across Q2 of 2020. It was great to get a shout from another of our regulars:
"Thanks for introducing me to a leading Bank in Silicon Valley. That led to us getting a line of credit" --- Russ Jones of Cargo Chief (you can see him Pitching at the above video)
We paired the Founders of Virtanza and Champions Round with the CEO of Expert Dojo LA which funded both of them in the COVID era. They also funded Meet Caregivers whose founder we met at the largest conference in silicon valley and invited her to Pitch with us after which she raised considerable amount from Pipeline Angels whose representative she met at our event. Later she got funding from Nex3/Sway Ventures which has invested in more than 10 startups they have met in our events including Ootify, the Sponsor of this video from one of our LA events where we have the local Heads of TIE, Plug&Play, Keiretsu Forum and others present. https://youtu.be/wBpvGUCunn4
Innovation& Entrepreneurial Education: Pitch Global has become a satellite of SBA affiliated agency as we are sponsored by US govt to Mentor startups with job creating potential. As a result of the Mentoring, which is FREE for selected startups as US Govt is paying us, cos like Ursaleo, Realkey, Plethy, Tutorfly etc have all gone on to raise solid capital. This video begins with Founder of Garden Tech co from London endorsing the value they got by becoming a sponsor and ends with leader of a group of CEO's from Poland endorsing our Innovation&entrepreneurial education classes. https://youtu.be/OqYIMdC2mi0
Why has funding success at PG online events gone up: 
---The  sophistication of the technical infrastructure/prowess provided by our world class partners like UC Berkeley Global and Angel to Exit.
----World class event hosts and their unique experience in matching entrepreneurs to those investors who is most likely to invest –in the examples of funding above, we had matched entrepreneurs with the exact investor who funded them. Cos hire us  to match them to the right investors and pitch privately to them outside of events so email us if you are interested.
Meet our world class event Hosts: 
 KC Wisdom: Founder Pitch Global. Co-author The First Mile (John Wiley)—project of TIE Global & author, Grow your Innovation Mindset. US Govt Sponsored Mentor/EIR +Mentor Alchemist Accelerator.  https://www.linkedin.com/in/kcwisdom/
 Axel Tillmann: Former US CEO of fund of funds. US Govt Sponsored Mentor/EIR. Led the Corporate Innovation spinoff for Ricoh on behalf of Pitch Global. https://www.linkedin.com/in/axeltillmann/
 Dr Fred Cohen: President of Keiretsu Forum (Pebble beach Chapter) till recently, Founder of Angel to Exit and active investor. Global leader in running online investor events and leading due diligence for decades. https://www.linkedin.com/in/dr-fred-cohen/
 Any questions: startups@pitchglobal.com