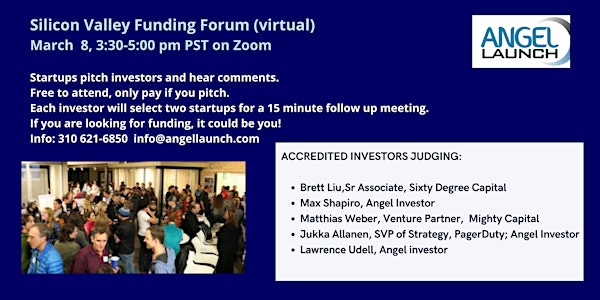 Silicon Valley Funding Forum
SILICON VALLEY FUNDING SUMMIT connects accredited investors with early and advanced stage startups seeking millions in funding
About this event
Silicon Valley Investing Forum
View past pitch event here Feb 8
SCHEDULE
3:30-4:00 Introduction and Investor Introductions
4:00-5:00 Startup Pitching and Investor q/a Comments
Investor Judges:
*Jukka Allanen, SVP of Strategy, PagerDuty; Angel Investor
*Matthias Weber, Venture Partner, Mighty Capital
*Bill Eichen, Gimmel Fund, Managing Director
PRESENTING STARTUPS
Jawad Arif Veizu (6 minutes)
Almas Akhmetzhanov Freefo (3)
_____________________________________________________________-
Now Accepting Startups to Pitch and Investors to Judge
We are now accepting startups to pitch. You simply register on this page for your number of minutes and will pitch using Zoom and share your screen with your slide deck. All startups compete for two follow up meetings which are selected by investor judges at their discretion. All past events have sold out.
Contact Us: 310 621- 6850 or info@angellaunch.com
Zahava Stroud, Founder Angel Launch
INVESTOR JUDGES
Accredited investors include: angels, family funds, venture capitalists, corporate and strategic investors.
If you are an investor and want to attend, just register with the link to attend. You do not need to say anything but can be passive attendee. If you want want to be a featured judge, then send us an email at info@angellaunch.com. You will introduce yourself and then ask questions to any relevant startups. We also request judges each agree to take two post event 15 minutes virtual meetings with startups they select. This allows each startup a compete for a 1 on 1 meeting with an investor.
VIRTUAL EVENT AGENDA FOR MARCH 8 from 3:30-5:30 pm
STARTUPS CAN NOW REGISTER TO PITCH WITH NEW FEATURES TO ENHANCE INVESTOR CONNECTIONS
Register as attendee, tech professional, startup or investor. We are trying to find creative ways to enhance the startup experience online to meet investors and welcome your ideas.
REGISTER TO PITCH: Register to pitch on this page for your number of minutes (1-5 minutes) followed by q/a and feedback from investors.
UPLOAD PITCH DECKS IN ADVANCE: We created a google drive link where presenting startups can post your slide deck for investors to view and download before and after the session. This allows investors to follow up with you or set up meetings.
WIN 1 on 1 MEETING WITH INVESTORS: We request the judges to agree to take two post event 15 minutes virtual meetings with startups they select for feedback or funding discussions. This allows each startup a chance to get a 1 on 1 meeting with an investor. The investor will select which startup; so some startups will have several meetings and some may have none.
Market Areas for Startups:
Consumer Ventures:
Media, entertainment, mobile, digital media, video, You Tube, music, audio, games, augmented reality, virtual reality, TV, hardware, Internet of Things, apps, retail, health, wearables, Internet of Things, connected cars, self-driving cars, consumer electronics devices, travel, hospitality, tourism, health and wellness, hardware products.
Enterprise Ventures:
AI, robotics, Cybersecurity, Internet of Things, Smart Cities, sensors, Mobile, big data, analytics, communications, hardware, Internet of Things, apps, eCommerce, security, infrastructure, chips, cars, services, transportation, workplace, retail, e-commerce, clean tech, energy.
Biotech/Life Sciences:
Life science, medical devices, ag tech, food tech, cannabis, healthcare services, management, operations, analytics, health and wellness apps.
Fintech Blockchain or Bitcoin:
Big data, crypto, NFTs, Def Fi, Banking, blockchain, bitcoin, alt coins, real estate, lenders, cloud services, digital currency
________________________________________________________________________________________
Startups that should attend or pitch:
Seed
Early stage
Advanced Growth
Pre-IPO
Scaling
Investors that should attend:
Angels
VCs
Corporate
Family Offices
Hedge Funds
Institutional
Private Equity
Academic
Accelerators/incubators
__________________________________________________________
PAST ANGEL LAUNCH EVENTS TESTIMONIAL:
Endorsement from Mitchell Kominsky, Futureland Ventures,
"I am an investor in early-stage startups that are creating a more sustainable, connected, and resilient future. I recently participated as a judge for a Silicon Valley Investment Forum with Angel Launch, and was very impressed by the quality of startups. In fact, I am in discussions with one of the startups about a possible investment; and am appreciative of Angel Launch making that connection. I highly recommend other investors to judge and attend the programs, and startups to attend or pitch."
Endorsement from Michael Gibstine, Managing Director, Hanover International. 
"I work in Silicon Valley and attend many venture forums and investment summits.   If you select one event to attend this year, I highly recommend Angel Launch events, either Silicon Valley Funding Summit in Las Vegas or  Silicon Valley Investing Summit on Oct 1 in San Francisco. I have known the founder Zahava Stroud for eight years, and she produces the best regarded, highest quality summits for startups and investors. The events feature high quality innovative attendees from startups, investors and corporate partners; exciting customer experience with lavish food and drinks; and exceptional attendee experience with engaging discussions. 
The events are impeccably organized with well crafted, thoughtful agendas addressing emerging tech trends; excellent speakers from top tier investment firms, VCs, corporate brands, and angels; and high level networking opportunities with demo tables.  I have had follow up discussions with many high quality startups or advanced growth companies seeking capital. I highly recommend this summit to any person, company or agency that wants to bolster its connections to Silicon Valley; network with investors; meet high growth startups looking to expand their offices; and learn how to emulate Silicon Valley in your region."
STARTUP SLIDE PREPARATION SUGGESTIONS
For the startups pitching 4 minutes, we strongly suggest this format:
Please follow this format and flow below (and use graphs and charts when appropriate) for your 4 min pitch.
Maximum 12 slides in total (20 seconds average per slide) and please rehearse.
Slide #1: Project's / Organization's Name + The idea
Summarize it in one sentence (max 20 words).
Slide #2: The Problem
Define the problem (need) being addressed by your project. What are you trying to solve, for whom? The current solutions: Who else is already doing and why there is an opportunity? i.e. benchmarking competition.
Slides #3-4: The Market Opportunity
Define Your Market: What space you are in? Total Market Size (TAM/SAM/SOM), Your niche, and US market potential and trends.
Slides #5-6: Your Solution / Technology
Technology readiness levels (TRL), competitive advantage, Product, price, place and promotion positioning (4P); strengths, opportunities, weakness or threats (SWOT) .
Why you? Founders' bios and achievements.
Slide #7-8: Revenue Model
Please describe how you are planning to make money. Cash Flows and Funding Strategy. Show Metrics and Scalability.
Slide #9-10: Achievements
Show your timeline and milestones to date. Existing Customers and Other Partnerships. Amount of funding obtained. IP protection.
Slides #11: Next steps
In general and for the US market. Raising capital: Amount, valuation, proposal.
Slides #12: Thank you, Team & Contact info.