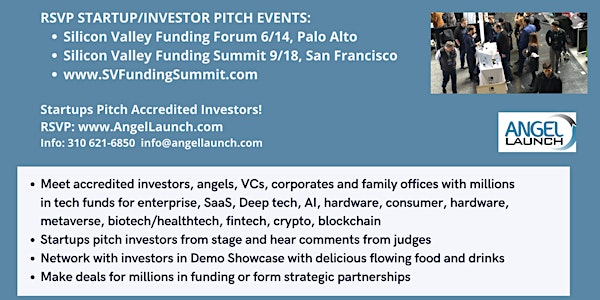 Silicon Valley Funding Forum
Startups pitch investors, networking in demo showcase over dinner and drinks.
Date and time
Wednesday, June 14 · 3 - 7pm PDT
Location
Palo Alto Middlefield free street parking Palo Alto, CA 94301
Refund Policy
Contact the organizer to request a refund.
About this event
Hosted by Angel Launch, leading producer of investment forums for startups and investors.
VIEW REGISTERED INVESTOR LIST BELOW.
NOTE: WE CHANGED DATE FROM JUNE 15 to JUNE 14.
We gave away 150 free tickets which we have now been distributed due to high demand.
Contact Us: 310 6216850 or info@angellaunch.com
Do you want to sponsor, speak from stage for 5 minutes, get demo table and the entire attendee list for $500? Contact us at 310 6216850
WE WILL SEND YOU THE ADDRESS ONE WEEK BEFORE EVENT. IF YOU DID NOT GET OUR EMAIL WITH THE ADDRESS CALL OR TEXT 310 621-6850 or 707 758-0686 FOR ADDRESS
Do you want to pitch in person or remotely on ZOOM?
We now offer Zoom pitching for startups. You can register to pitch on the ZOOM option below. You get four minutes to pitch and four minutes for q/a.
Startups, register to pitch now since all events sell out. View investors judges and full investor registration list below. Pitch now since pitch spots always sell out.
THERE ARE THREE OPTIONS TO ATTEND
1. Attendee:
Attend program with networking mixer as startup, vendor or tech professional.
2. Startups Pitch or Host Demo Table IN PERSON OR ON ZOOM:
Startups can register and self select how many minutes to pitch from the stage, get q/a from investors, and two hours of networking at a demo table. You can also host a demo table without pitching.
3. Accredited Investors:
If you are an accredited investor such as an angel, VC or corporate investor or family office or associated with an investment firm. We give out free tickets to subject to our verification and discretion. We reserve the right to cancel if we cannot confirm you are an accredited investor. We have many LPs attending if you are a GP looking for investors.
________________________________________________________________
THANKS TO OUR EVENT SPONSOR: TECH FUTURES FROM SBDC
EVENT SCHEDULE
3:00-3:30 Networking and Registration
3:30-5:15 Investor Introductions and Startups Pitching to Investor Judges
INVESTOR JUDGES:
--- Stratos Davlos, Angel Investor, Envine
-- Victor San Vicente, Angel Investor
-- Seow Lim, Angel Investor
-- Jonah Probell, Angel, Sandhill Angels
-- Charles Payne, Neptune Media, Investor
-- Girish Ahirwar, Angel Investor
STARTUPS PITCHING:
1. Gary Goldstein, CEO, Insynctive, Inc. (6 pitch/2 minutes q/a)
2. Russell Jones, CEO, Cargo Chief (4/2 minutes)
3. Srinivas Bharadwaj, Founder, Gnosis Learning (4/2 minutes)
4. Jose Bolonos, Founder, Nimbus-T Global inc (4/2 minutes)
5. Paul Kleen, Founder, PitchIt (4/2 minutes)
6. Brian Knott, Founder, RadTech Medical Devices (4/2 minutes)
7.Tim Zhang, Founder, Hey Remote Kitchen (3/2)
Startup House (Four Pitches)
5:15-6:45 Networking, Food, Drinks, Demo Showcase
_______________________________________________________________
PARTIAL LIST OF ACCREDITED INVESTORS REGISTERED FOR THIS EVENT:
Stratos Davlos Investor Evline
Robert Adler ceo pixoasis
Girish Ahirwar Co founder Create Protocol
Virender Ahluwalia Partner YES Labs
Patricia Berdejo Senior Advisor GT Ventures
Mamta Dhanuka Director KiwiTech
Dylan Gittleman Managing Director Catskill Consulting
Fethi Issa Founder GG
Ryo Kaneko Director of Innovations NEC X Inc.
Brian Kennison Managing partner HSQ Capital Group
JD Lau Venture Partner VUVP
Seow Lim Snr Director, Product Management NVIDIA
Amanda(Tong) Liu Investor WI Harper
As Mahashabde Director Nanban Ventures
Kaoruko Margeson Director MUFG Innovation Partners
Naoto Mizuguchi Director NEC X, Inc.
Anand Pai Kahuna Maxtier
Priyam Parikh CEO myBenefits.ai , Inc
Jonah Probell Investor Sand Hill Angels
Victor San Vicente Angel Investor SV-VCR
Shrikant Sathe Partner Vedanta Capital
Pooja Shah Investor Avanta Ventures
Jeany Stein Investor Pano Ventures
Ed Tan Venture Partner MiraclePlus
Luca Toscani Chief Operating Officer Valmar Capital LLC
Michael Verdone CEO Economic Concepts, Inc.
________________________________________________________________________________________
STARTUPS REGISTER TO PITCH IF SEEKING FUNDS:
Register to pitch investors followed by q/a including 2 tix and free demo table in demo showcase. Many past startups have received funding from our events. We prefer you pitch in person, but might consider zoom. If you want zoom send us an email info@angellaunch.com. Open for seed, early and advanced growth funding.
Presented on stage with full AV sound system and slide decks. Investors and audience can ask questions.
SPONSORS:
Sponsor this event if you are a Vendor or service providers seeking customers or promotion. Includes demo table, 4 minutes to audience and email and website .
AREA FOR STARTUPS TO ATTEND OR PITCH:
Consumer Ventures:
Media, entertainment, mobile, digital media, video, You Tube, music, audio, games, augmented reality, virtual reality, TV, hardware, Internet of Things, apps, retail, health, wearables, Internet of Things, connected cars, self-driving cars, consumer electronics devices, travel, hospitality, tourism, health and wellness, hardware products.
+++++++++++++++++++++++++++++++++++++++++++++++++++
Enterprise Ventures:
AI, robotics, Cybersecurity, Internet of Things, Smart Cities, sensors, Mobile, big data, analytics, communications, hardware, Internet of Things, apps, eCommerce, security, infrastructure, chips, cars, services, transportation, workplace, retail, e-commerce, clean tech, energy.
+++++++++++++++++++++++++++++++++++++++++++++++++++
Biotech/Life Sciences:
Life science, medical devices, ag tech, food tech, cannabis, healthcare services, management, operations, analytics, health and wellness apps.
+++++++++++++++++++++++++++++++++++++++++++++++++++
Fintech, Crypto, Blockchain
Big data, crypto, NFTs, Def Fi, Banking, blockchain, bitcoin, alt coins, real estate, lenders, cloud services, digital currency
________________________________________________________________________________
Startups that should attend or pitch:
Seed--- Early stage-- Advanced Growth--- Pre-IPO--- Scaling
Investors that should attend:
Angels --- VCs ---Corporate---Family Offices---Hedge Funds---Institutional---Private Equity---Academic---Accelerators/incubators
__________________________________________________________
NEW INVESTOR INTRODUCTION SERVICE: FREE INTRODUCTIONS TO INVESTORS AND MEETINGS
WE HAD MANY REQUESTS FROM STARTUPS WHO WANT INVESTOR MEETINGS WHICH IS NOT OUR FOCUS SINCE WE PRODUCE LIVE EVENTS.
WE ARE PLEASED TO ANNOUNCE A PARTNERSHIP WITH A GOVERNMENT AGENCY THAT OFFERS FREE CONSULTING SERVICES FOR SELECTED STARTUPS . THE FREE SERVICES INCLUDE: REVIEW OF SLIDE DECK, STRATEGIC ADVICE, ASSISTANCE IN HOW TO PITCH, ACCESS TO EXPERTS AND SERICE PROVIDERS, AND INTRODUCTIONS AND MEETINGS WITH INVESTORS. THERE IS NO FEE TO APPLY.
We are pleased to announce a partnership with a government agency consultant for these services. Your startup must have either: (1) residential or business mailing address in Northern Califiornia; or (2) a present or planned business presence in Northern California. If you qualify, please check off the box here and our consultant will review your application and contact you if it meets their requirements. There is no charge for these services. You do not need to attend our event to apply.
+++++++++++++++++++++++++++++++++++++++++++++++++++
PAST ANGEL LAUNCH EVENTS TESTIMONIAL:
Endorsement from Mitchell Kominsky, Futureland Ventures,
"I am an investor in early-stage startups that are creating a more sustainable, connected, and resilient future. I recently participated as a judge for a Silicon Valley Investment Forum with Angel Launch, and was very impressed by the quality of startups. In fact, I am in discussions with one of the startups about a possible investment; and am appreciative of Angel Launch making that connection. I highly recommend other investors to judge and attend the programs, and startups to attend or pitch."
Endorsement from Michael Gibstine, Managing Director, Hanover International.
"I work in Silicon Valley and attend many venture forums and investment summits. If you select one event to attend this year, I highly recommend Angel Launch events, either Silicon Valley Funding Summit in Las Vegas or Silicon Valley Investing Summit on Oct 1 in San Francisco. I have known the founder Zahava Stroud for eight years, and she produces the best regarded, highest quality summits for startups and investors. The events feature high quality innovative attendees from startups, investors and corporate partners; exciting customer experience with lavish food and drinks; and exceptional attendee experience with engaging discussions.
The events are impeccably organized with well crafted, thoughtful agendas addressing emerging tech trends; excellent speakers from top tier investment firms, VCs, corporate brands, and angels; and high level networking opportunities with demo tables. I have had follow up discussions with many high quality startups or advanced growth companies seeking capital. I highly recommend this summit to any person, company or agency that wants to bolster its connections to Silicon Valley; network with investors; meet high growth startups looking to expand their offices; and learn how to emulate Silicon Valley in your region."
_________________________________________________________________
STARTUP SLIDE PREPARATION SUGGESTIONS
For the startups pitching 4 minutes, we strongly suggest this format:
Please follow this format and flow below (and use graphs and charts when appropriate) for your 4 min pitch.
Maximum 12 slides in total (20 seconds average per slide) and please rehearse.
Slide #1: Project's / Organization's Name + The idea
Summarize it in one sentence (max 20 words).
Slide #2: The Problem
Define the problem (need) being addressed by your project. What are you trying to solve, for whom? The current solutions: Who else is already doing and why there is an opportunity? i.e. benchmarking competition.
Slides #3-4: The Market Opportunity
Define Your Market: What space you are in? Total Market Size (TAM/SAM/SOM), Your niche, and US market potential and trends.
Slides #5-6: Your Solution / Technology
Technology readiness levels (TRL), competitive advantage, Product, price, place and promotion positioning (4P); strengths, opportunities, weakness or threats (SWOT) .
Why you? Founders' bios and achievements.
Slide #7-8: Revenue Model
Please describe how you are planning to make money. Cash Flows and Funding Strategy. Show Metrics and Scalability.
Slide #9-10: Achievements
Show your timeline and milestones to date. Existing Customers and Other Partnerships. Amount of funding obtained. IP protection.
Slides #11: Next steps
In general and for the US market. Raising capital: Amount, valuation, proposal.
Slides #12: Thank you, Team & Contact info.
__________________________________________________________________________________________
COVID COMPLIANCE:
We encourage attendees to get vaccinated but not required for Covid -19. Please DO NOT attend If you are not comfortable with this policy, are high risk have close contact to high risk people or have any other concerns. We comply with County government guidelines which no longer requires masks for fully vaccinated attendees.
Please be advised that a risk of exposure to COVID-19 exists in any event or public space, including the Event. Prior to registering for and attending the Event, please ensure you have read the latest CDC Guidelines for Prevention. By attending this event, you acknowledge this inherent risk and, as a condition of entering this space , you acknowledge, understand and confirm each of the following in accordance with applicable health guidelines:
• That you are not currently experiencing any of the following symptoms of COVID-19, as identified at CDC.gov, including, but not limited to:
• Cold; Fever or chills; Cough Shortness of breath or difficulty breathing; Fatigue; Muscle or body aches; Headache; New loss of taste or smell; Sore throat; Congestion or runny nose; Nausea or vomiting; Diarrhea;
• That prior to attending you have not been in contact with someone with confirmed or suspected COVID-19 symptoms without completing a 14-day quarantine;
• That you are not under any self-quarantine orders;
Please do not attend this event if you cannot confirm all of the above criteria.
PRIVACY REQUIREMENTS AND GDPR/CCPA:
Privacy Compliance: GDPR Compliance: If you reside in EU Country, UK or Switzerland, we are GDPR compliant. You agree we can contact you for follow up emails from Angel Launch.
CALIFORNIA CCPA Compliant: If you reside in CA, you consent to receive emails from Angel Launch that we can provide your contact info to sponsors.
About the organizer
Angel Launch produces tech events which connects startups to investors to help launch early and midstage ventures. We hold seminars, mixers, conferences and venture forums in the San Francisco bay area and other cities.  Our events have generated millions in funding for startups and mid growth companies, and provide partnership opportunities for business growth. We also promote other high quality events for our tech partners.