Silicon Valley Food and Art Festival Contestants Registration
Description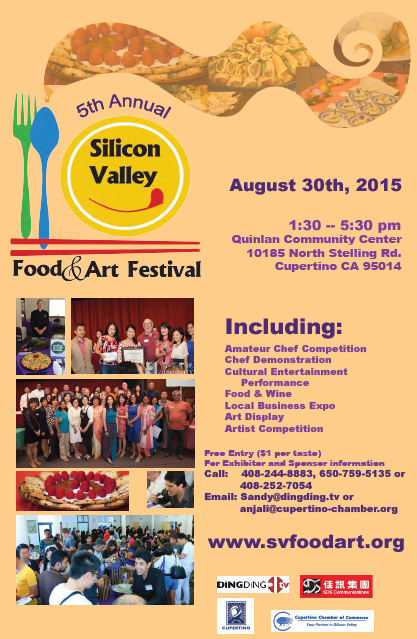 The 5th annual Silicon Valley Food and Art Festival will be held August 30th
2015. This multicultural event brings together the Silicon Valley for a fun
filled day for the entire family. This year's event includes world renowned
chef demonstrations, an amateur chef competition, food tastings by local
restaurants, multicultural performances, and an incredible art show. For
the first time, we have partnered with the Cupertino Chamber of Commerce to
bring popular local restaurants and some of the finest culinary talent to
this year's event. Last year we had a tremendous turnout and this year it
will be bigger and better!
We will provide stages and opportunities for:

. Amateur Chef Competition
. Chef Demonstration
. Cultural Entertainment Performance
. Art Display
. Food & Wine Tasting
. Local Business Expo Booths

The 2015 5th Annual Silicon Valley Food and Art Festival will be a
record-breaking event, with the numbers of expo booths, programs and exhibit
space being nearly tripled. The Fifth Annual Festival is presented by Ding
Ding TV, City of Cupertino, Cupertino Chamber of Commerce, Distinctive Taste
Magazine, and is supported by many media partners and community
organizations. Free Entry ($1 per taste)
Please Sign Up Online to Get a Small Gift here.

The Cooking Contest Registration Open Now. Please click here.
Purchase food ticket, please click here.

Please find more information from website www.svfoodart.org

Business Exhibitors and Sponsors? Please Call Now: 408-244-8883
Or Email Sandy@dingding.tv