Location
Outside SAP Center
525 W Santa Clara St
San Jose, CA 95113
Enjoy a fun ride and help Silicon Valley Bicycle Coalition raise money to make bicycling safer and more fun for everyone!
About this event
Join us for ¡Silicon Valley Bikes! – a new special addition to Viva Calle SJ on September 19, 2021 that raises money for Silicon Valley Bicycle Coalition!
Enjoy a fun and beautiful 10, 20, or 40 mile route to suit your fancy and have plenty of time to enjoy Viva Calle, too! There's a ride for any type of bicyclist from kids and families to cruisers and casual riders to hardcore cyclists . You may even join us for a Virtual Ride and ride any of our routes after the regular event or ride one of your own routes and still get a neck gaiter and be able to order our super special ¡Silicon Valley Bikes! jersey (we'll ship them to you after the regular event).
The 10 mile ride is solely on the closed of streets of Viva Calle SJ while the 20 and 40 mile rides are largely on off-street trails and feature cool bicycle infrastructure, fun sights, and some hidden passage ways that most bicyclists probably have never seen before. All rides include on call SAG support (so you can get a ride back to the start if needed) and plenty of fascinating points of interest along the way.
The longer 20 and 40 mile rides return to Viva Calle SJ in time for lunch so you can enjoy this fantastic open streets party in San Jose and eat at the many different restaurants and food trucks there.
All proceeds support the Silicon Valley Bicycle Coalition (SVBC)-- a 501(c)3 that makes biking better for everyone in Silicon Valley. Supporting SVBC enables healthier living for all and reduces climate change!!! This is critical, especially for our Communities! Bicycling is great for building and connecting communities and strong communities are sooo important right now! SVBC fills a critical role in making sure bike routes are safe and connected in all our communities. We ensure bicyclists are represented at meetings where key decisions are made about our communities. Without us there would be a big hole, so help fund us so we can make our communities better places to bicycle for all of YOU!
All riders will receive a stylish and useful neck gaiter/headband that can keep you cool or keep you warm. All riders are also automatically entered into a random drawing for cool bicycling gear prizes! Separately you can purchase the coveted ¡Silicon Valley Bikes! ride jersey as part of your registration. For sizing and pictures of the jersey and neck gaiter see our main Ride page.
It's more fun to ride with friends – you can also form teams! Teams are encouraged to dress up themselves and/or their bikes.
Finally for those who want to go the extra mile to make our world a better place to bicycle and breathe, riders have the option to get their friends, families, and colleagues to sponsor them so we can raise even more to fight climate change and make this world better for everyone. Those who raise the most as well as reach certain levels will receive special VIP recognition.
***
Silicon Valley Bicycle Coalition and Viva Calle SJ are partners for this event.
Pace: 40 mile riders should be able to return to the start within 4 hours. 10 & 20 mile riders, within 2 -3 hours. Please note that these are fun rides, not races. Significant portions of these rides are on multi-use trails with a speed limit of 15mph. They also go on routes and hidden bikeways you may have never known existed!
CA Helmet Law: Persons under age 18 must wear a helmet. We also strongly recommend anyone 18 and over wear a helmet.
Ride Ready: Review ABC Quick Check & bring gear
ABC Quick Check - Air, Brakes, Chain, Quick Release, and Check safety check on your bike to ensure it's in good working condition.
Gear - Helmet, water, and light/brightly-colored clothing, and card/cash/ID
COVID protocol: Please review and adhere to the latest Santa Clara County Public Health orders
***
Date: Sunday, Sept 19, 2021
Arrival windows:
6:30-7:30 am for the 40 mile ride (20 mile riders may optionally depart early)
9:00-10:00 am for the 10 & 20 mile rides
Departure times:
7:30am for the 40 mile ride (20 mile riders may optionally depart early)
(There is a 5K Viva Calle SJ run at the starting location from 8am to 9:30am)
10:00 am for the 10 & 20 mile rides
Any time on or after Sept 19 for Virtual Ride
Start & end point: All rides start and end next to SAP Center in San Jose – near the San Jose Diridon Station – so you can bike, take transit, or drive and park in the many parking lots around there. You can also do the 10 mile Viva Calle Route in addition to the 20 & 40 to turn your ride into 30 or 50 mile rides. Want to ride more than 50 miles? Then bike to the start, ride the 40, bike all of Viva Calle, and then bike home! No car needed and you are a champ!
***
Pricing
10 mile - $35 (early bird until 8/19) / $45 (regular)
20 mile - $45/55
40 mile - $55/65
Virtual Ride - $45 (you will receive the routes and we'll ship you your neck gaiter after 9/19)
Jerseys - $125 donation
All riders are encouraged to participate in our peer-to-peer fundraising challenge!
Viva Calle SJ itself is free for everyone!
***
All registrations are non-refundable. This policy applies to all registrants whether you are injured, have an unexpected family/business emergency, have a medical emergency, etc. If the course has to be altered or cancelled due to an act of nature, or the event time changed due to circumstances beyond our control, there are no refunds. If the in person event is cancelled, we will have pickup locations for neck gaiters and jerseys and everyone can do the routes at a time of their choosing (the maps and cue sheets will be provided to everyone).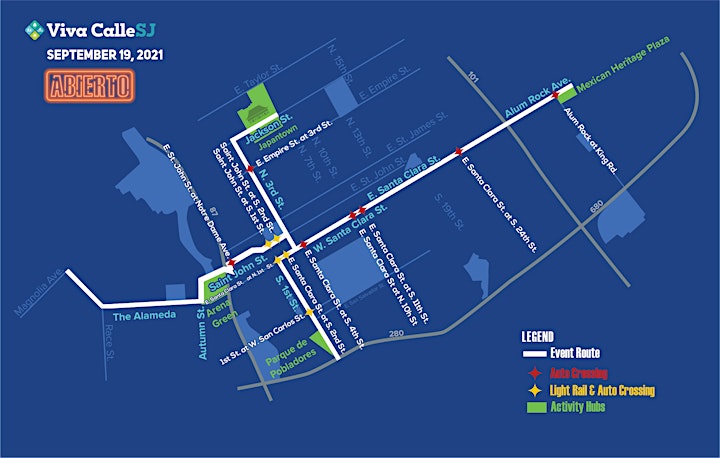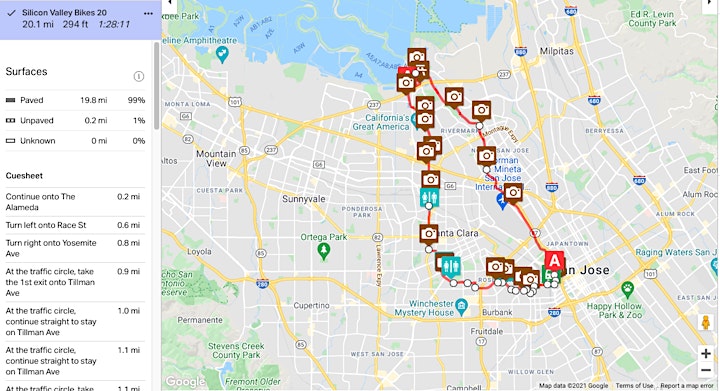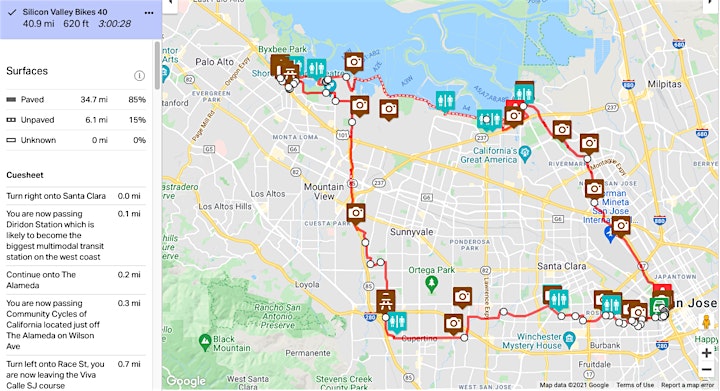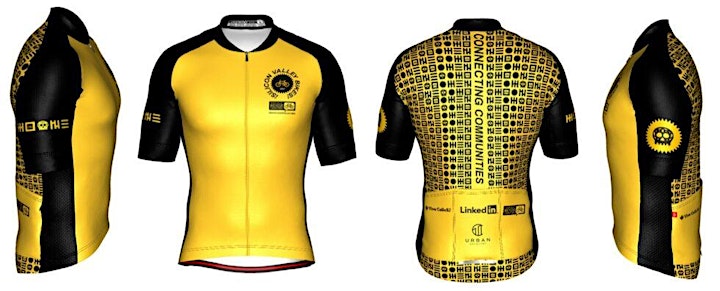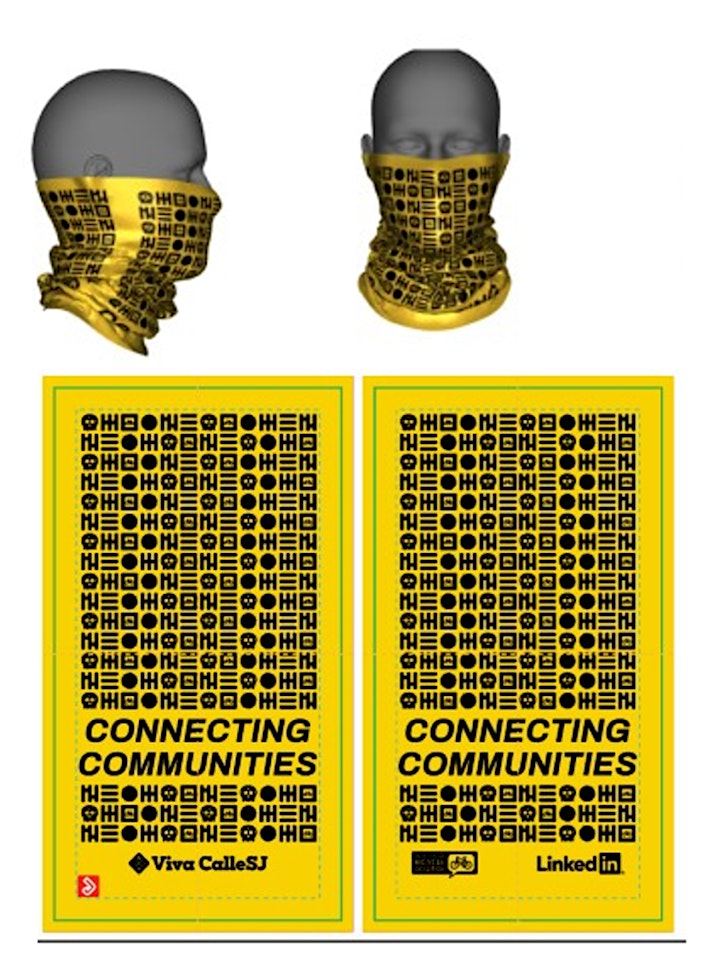 Many thanks to our partner Viva CalleSJ and our sponsors LinkedIn, Apple, Google, Harmonie Park, Signature Flight, Bird, and LendLease.