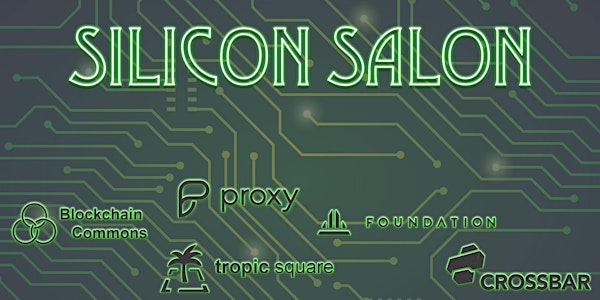 Silicon Salon (hosted by Blockchain Commons)
Refund policy
Contact the organizer to request a refund.
Eventbrite's fee is nonrefundable.
The Silicon Salon unites semiconductor manufacturers, crypto-wallet makers, and others to discuss semiconductor manufacture for cryptography
About this event
Blockchain Commons, with the support of semiconductor manufacturers, invites you to the Silicon Salon this June 1st at 9am PT / 6pm CET, for a discussion of semiconductor support for hardware wallets. We are inviting attendance by cryptographers, by hardware-wallet manufacturers, and by additional semiconductor designers & manufacturers, to facilitate a deep discussion of the needs and possibilities for hardware security moving forward.
Currently, there are no semiconductors designed specifically for crypto-wallets, forcing wallet manufacturers to cobble together solutions from what exists. Fortunately, that's about to change, thanks to semiconductor manufacturers such as CrossBar and Tropic Square seeking to directly address the cryptocurrency, digital identity & assets markets. This Silicon Salon hopes to guide the direction of this new work, to produce semiconductors that do exactly what the cryptocurrency market needs. It's your opportunity to voice your needs & desires for the future of cryptographic semiconductor design.
The Silicon Salon will feature presentations from silicon manufacturers, crypto-wallet makers, and experts in the field about how semiconductor design can support cryptographic functionality.
CrossBar will talk about their ReRAM technology, physical countermeasures, and system architectures.
Tropic Square will discuss their fully auditable Tropic01 secure chip.
Bryan Bishop and Christopher Allen will present cryptographic primitives they'd like to see implemented in silicon.
Proxy will be talking about building flexibility and future-proofing into hardware products.
The latter two-thirds of the virtual salon will then include facilitated discussion of topics intended to determine the needs of the hardware-wallet community. Specific questions may include:
Whether an integrated MCU + Secure Enclave environment is seen as more secure than the two elements existing separately.
To what extent UI software is an attack vector (boot, display, keypad, etc.).
How important secure and persistent storage is, and what features are required for that memory.
How important physical countermeasures are, and what invasive attacks people are most concerned about.
Whether hardware or software cryptography is preferred.
What open-source licensing features can be used or adopted for hardware designs and what form of pre-silicon hardware is useful.
How new semiconductor designs explicitly intended for cryptography can increase the security and efficiency of our work.
Join us to have your say on how we can do it right!
Thanks to our sustaining sponsors who make projects like this possible, including Bitmark, Blockchain Bird, Crossbar, Foundation Devices, Proxy, Tropic Square, and Unchained Capital, as well as our other GitHub sponsors.
We are limiting the number of attendees of this event to allow for Q&A from the community, thus we are charging US$25 to hold a space at this unique virtual event. So sign up soon! If you are one of our GitHub sponsors, please check your email or contact us directly, as you should already have a code to attend this salon.
Silicon artwork courtesy of Vecteezy.