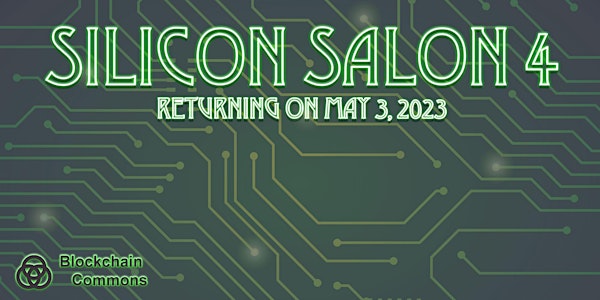 Silicon Salon 4
The fourth Silicon Salon continues the discussion of semiconductor manufacture and cryptographic requirements.
Date and time
Wednesday, May 3 · 9am - 12pm PDT
Refund Policy
Contact the organizer to request a refund.
Eventbrite's fee is nonrefundable.
About this event
This series of virtual Silicon Salons is intended to bring together digital wallet developers, semiconductor manufacturers, and academics. Their objective: to ensure that the next generation of cryptographic semiconductors meets everyone's needs, advancing the entire cryptography industry. There is a gap between wallet requirements and semiconductor development, between academic research and real-world practice; we want to bridge it.
Silicon Salon 4's first talk has been confirmed:
Anti-Exfil: Preventing Key Exfiltration Through Signature Nonce Data. (Andrew Poelstra.) Secure nonce generation is a critical part of generating EC signatures, such as ECDSA or BIP-340 "Schnorr" signatures. If a hardware wallet fails to generate these nonces uniformly at random, then key leakage will occur, in extreme cases in as few as 2 signatures. Furthermore, it is possible for a malicious implementor to exfiltrate key data this way, and such an attack would be practically impossible to detect. This talk introduces a protocol we term "anti-exfil", in which a hardware wallet and host computer engage in a 2-round interactive protocol to produce a signature, in which the host computer is able to provide randomness which it can verify was included in the signature nonce. Therefore, unless both the host computer and hardware wallet are simultaneously compromised, this attack vector is entirely closed.
We still have space for a few more. If you are interested in leading the discussion, please make a proposal. We want you to make a presentation about your unique experiences in the field, whether you're producing semiconductors with an eye toward cryptography support, working on digital-asset wallets, or researching and publishing about cryptographic capabilities. We want to highlight cutting-edge research, innovative technologies, and real-world applications that are shaping the future of silicon-based security architectures.
See https://www.siliconsalon.info/ for the salons to date. Some of our best presentations include:
Silicon Salon 4 will continue this discussion.
Thanks to our sustaining sponsors who make events like this possible: Bitmark, Chia, CrossBar, Foundation, Proxy, and Unchained Capital.
About the organizer
Blockchain Commons works with developer communities to design, build, and maintain secure & compassionate decentralized architectures & tools for digital assets & digital identity based on responsible key management; based on our Gordian Principles of independence, privacy, resilience, and openness; and based on our Self-Sovereign Identity Principles. Our goal is to reclaim human dignity & authority in the digital world. We also strive to educate & grow the blockchain community through online courses and our work with legislators and regulators.

Blockchain Commons supports the Silicon Salons, which bring together digital-asset wallet developers and semiconductor manufacturers to chart the future of cryptographic semiconductor design. By working together, we can ensure that the first generation of cryptographic semiconductors meets everyone's needs, advancing the entire cryptography industry.