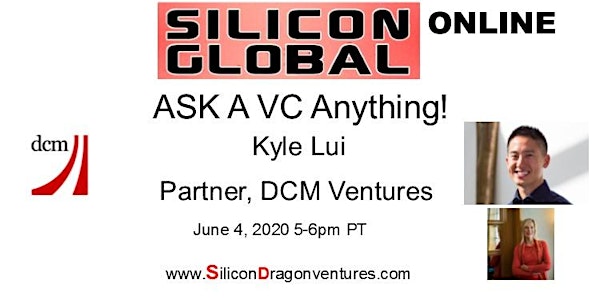 Silicon Global Online: Ask VC Kyle Lui of DCM Anything
Ask A VC Anything! Silicon Global Online: Kyle Lui, DCM
About this event
Silicon Global Online Presents
Ask A VC Anything!
Or Silicon Dragon host Rebecca Fannin will!
Bio: Kyle Lui
As a Partner at DCM, Kyle helps entrepreneurs scale their companies and focuses on consumer internet, SaaS, and financial technology. Kyle's investments include Tempo, Lime, Eaze, Hims & Hers, DocSend, Shift Cars, Fountain, Mendel Health, Wrike (Acquired by Vista Equity) and Tapingo (Acquired by Grubhub). Kyle also served as a board member for BitTorrent (Acquired by Tron) and SavingStar (Acquired by Quotient/Coupons.com), and is actively involved with SoFi, SigFig, and Matterport.
Prior to DCM, Kyle was the co-founder and CEO of a SaaS startup ChoicePass, which was acquired by Salesforce and Ripple.
A Harvard MBA, Kyle has worked globally, as a private equity and hedge fund investor with Pantheon and Clearwater Capital. He's an adventurer who loves traveling and once took an around-the-world trip.
Bio: Rebecca A. Fannin
Rebecca A. Fannin is the founder of news and events group Silicon Dragon Ventures. Her journalistic career covering global innovation began in Silicon Valley during the dotcom era. Following the venture capital trail to Asia, she was one of the first American journalists to write about China's entrepreneurial boom, interviewing Jack Ma of Alibaba and Robin Li of Baidu, among others. A regular media commentator and speaker, she also has frequently contributed to CNBC and Forbes, and her articles have appeared in Harvard Business Review, CEO and Inc. magazine. Rebecca's three forward-looking books, Silicon Dragon, Startup Asia and her latest title, Tech Titans of China, are a go-to resource on top innovation trends and players. A globe-trotter, she loves new discoveries.
About Silicon Dragon on Zoom
Silicon Dragon presents its online series, Ask A VC Anything. We kicked off the series with Bill Tai, a first investor in Zoom. Each week, we feature a VC in a Q&A session. This series helps startups and investors connect and provides valuable insights into what makes each VC tick. Whether you're raising capital, perfecting your business model, scaling during challenging times, or figuring out how to get unicorn status, an IPO or M&A deal, don't miss this series. Register and join us online.
Thanks to InvestHK
A special thanks to InvestHK. For further information about Hong Kong's startup and investment community and funding and support offered, please contact Lawrence Tang, Head of Investment Promotion at Invest Hong Kong in San Francisco (lawrence_tang@hketosf.gov.hk).