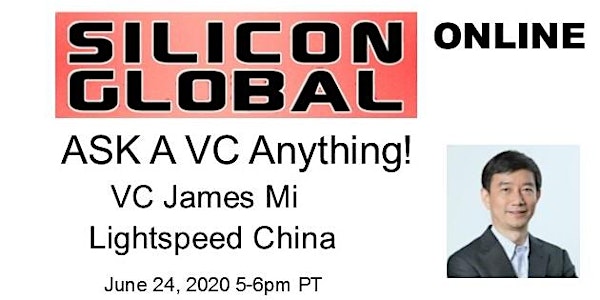 Silicon Global Online: Ask VC James Mi of Lightspeed China Anything
Ask A VC Anything! Silicon Global Online: James Mi, Lightspeed China
About this event
Silicon Global Online Presents
Ask A VC Anything!
Join Us for an Online Chat
Ask your question !
Or Silicon Dragon host Rebecca Fannin will!
Bio: James Mi
In the 2000s, Mi built Google's China operation from scratch and headed up M&A where he spearheaded investments in Baidu. After five years, he jumped to Lightspeed Venture Partners, before helping found the firm's China offshoot. There, he has made early bets on Meituan-Dianping and Pinduoduo, two e-commerce giants that are now worth a combined $100 billion. Next up: video conferencing software Nemo. He made an early $5 million investment in Nemo, which added 120,000 paid customer seats in one week in the middle of the coronavirus outbreak. Mi calls it the "Zoom of China." James ranks as one of the top VCs in the world.
Bio: Rebecca A. Fannin
Rebecca A. Fannin is the founder of news and events group Silicon Dragon Ventures. Her journalistic career covering global innovation began in Silicon Valley during the dotcom era. Following the venture capital trail to Asia, she was one of the first American journalists to write about China's entrepreneurial boom, interviewing Jack Ma of Alibaba and Robin Li of Baidu, among others. A regular media commentator and speaker, she also has frequently contributed to CNBC and Forbes, and her articles have appeared in Harvard Business Review, CEO and Inc. magazine. Rebecca's three forward-looking books, Silicon Dragon, Startup Asia and her latest title, Tech Titans of China, are a go-to resource on top innovation trends and players. She loves new discoveries.
About Silicon Dragon on Zoom
Silicon Dragon presents its online series, Ask A VC Anything. We kicked off the series with Bill Tai, a first investor in Zoom. Each week, we feature a VC in a Q&A session. This series helps startups and investors connect and provides valuable insights into what makes each VC tick. Whether you're raising capital, perfecting your business model, scaling during challenging times, or figuring out how to get unicorn status, an IPO or M&A deal, don't miss this series. Register and join us online.
Thanks to InvestHK
A special thanks to InvestHK. For further information about Hong Kong's startup and investment community and funding and support offered, please contact Lawrence Tang, Head of Investment Promotion at Invest Hong Kong in San Francisco (lawrence_tang@hketosf.gov.hk).