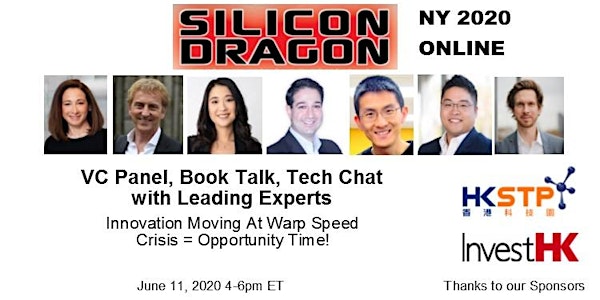 Silicon Dragon Online NY Forum 2020
Innovations, Breakthroughs, Game Changing Tech Speeds Up: VCs, Founders & Deal Makers Discuss and Show The Way
About this event
Silicon Dragon Online NY Forum 2020
Innovations, Breakthroughs, Game Changing Tech Speeds Up
Rethinking Business in Times of Crisis = Opportunity
4pm Introduction
Rebecca A. Fannin, Founder/Editor, Silicon Dragon Ventures
4:05pm Book Talk & Q&A
Christian Busch, Author, The Serendipity Mindset (June 2020) Full-time Faculty & Director, Global Economy Program, Center for Global Affairs, New York University
4:30-5:15pm VC /Dealmaker Panel
Mason Du, Angel Investor & Board Member, Harvard Business School Alumni Angels
Melissa Guzy, Co-founder & Managing Partner, Arbor Ventures
Sean O'Sullivan, Managing General Partner, SOSV/ Chinaccelerator
Robin Li, Principal, GGV Capital
Kamran Ansari, Venture Partner, Greycroft
5:15 - 5:30pm Q&A with VC Panel
5:30pm Tech Chat
Ricky Chiu, Chairman & CEO, Phase Scientific International
introduced by Edward Chan, Senior Business Development Manager, Hong Kong Science & Technology Parks
5:45-5:55 pm Q&A
5:55pm Closing Remarks & Virtual Toast
Douglas Lee, Head of Investment Promotion, Invest Hong Kong
6 pm - 6:30pm Online Networking Session
Thanks to Our Sponsors & Supporters
InvestHK, Hong Kong Science & Technology Parks
Author Bio: Christian Busch
Dr. Christian Busch teaches at New York University (NYU) and the London School of Economics (LSE). At NYU, he directs the Global Economy program of the Center for Global Affairs. Previously, he co-directed the LSE's Innovation and Co-Creation Lab and served as a course leader. He is a co-founder of Sandbox Network, a leading community of young innovators active in over 20 countries, as well as Leaders on Purpose, an organization convening high-impact leaders. Christian is a member of the World Economic Forum's (WEF) Expert Forum and a Fellow of the Royal Society of Arts, and frequently speaks at conferences such as the WEF, TEDx, and Financial Times Sustainability Summit. He was a finalist in the Financial Times/McKinsey Bracken Bower prize as well as for the Thinkers 50 'Distinguished Achievement' Award for his work on serendipity. He holds a PhD and MSc from the LSE. His book, The Serendipity Mindset (Penguin Random House, June 9, 2020), is now available for pre-order here.
Host Bio: Rebecca A. Fannin
Rebecca A. Fannin is the founder of news and events group Silicon Dragon Ventures. Her journalistic career covering global innovation began in Silicon Valley during the dotcom era. Following the venture capital trail to Asia, she was one of the first American journalists to write about China's entrepreneurial boom, interviewing Jack Ma of Alibaba and Robin Li of Baidu, among others. A regular media commentator and speaker, she also has frequently contributed to CNBC and Forbes, and her articles have appeared in Harvard Business Review, CEO and Inc. magazine. Rebecca's three forward-looking books, Silicon Dragon, Startup Asia and her latest title, Tech Titans of China, are a go-to resource on top innovation trends and players.
About Silicon Dragon on Zoom
Silicon Dragon launched its online series, Ask A VC Anything, in early in April 2020. We kicked off the series with VC Bill Tai, a first investor in Zoom. Each week, we feature a VC in a Q&A session. This series helps startups and investors connect and provides valuable insights into what makes each VC tick. Whether you're raising capital, perfecting your business model, scaling during challenging times, or figuring out how to get unicorn status, an IPO or M&A deal, don't miss this series.
This year's Silicon Dragon NY forum is online for the first time. Hope you enjoy!
About Hong Kong
If you would like to receive information about Hong Kong as a startup hub or venture investment destination, please let us know: events@silicondragonventures.com
We can put you in touch with representatives from Hong Kong Science & Technology Parks and with InvestHK in New York and San Francisco.