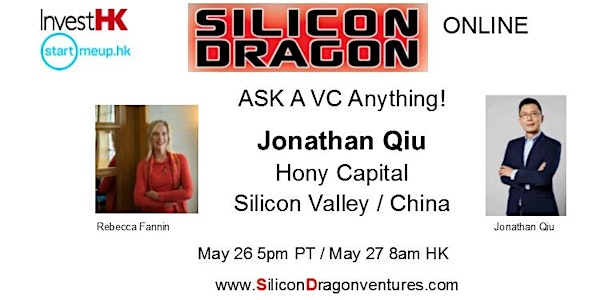 Silicon Dragon Online: Ask China-US VC Anything! Jonathan Qiu, Hony Capital
Ask A VC Anything! Q&A and chat with VC Jonathan Qiu of Hony Capital, hosted by Silicon Dragon Ventures' Rebecca Fannin
About this event
Silicon Global Online Presents
Ask a VC Anything!
Jonathan Qiu, Managing Director, Hony Capital
Bio
Jonathan Qiu is now Managing Director of Hony Capital, a top PE/VC fund in China, focusing on technology driven investments in both China and US.
Before Hony, Jonathan was the Chief Representative of Fosun Group in Silicon Valley and MD and head of US/Israel of Fosun RZ Capital. Previously, Jonathan co-founded Sky9 Capital, a $600 million venture fund.
Jonathan was Managing Director and Head of the Investment Committee of Decent Capital, a top-ranked VC fund created by Tencent co-founder Jason Zeng. Prior to that, Jonathan was an early leader of Tencent's Cloud initiatives, as its Chief Architect and Director of Network Infrastructures. Before Tencent, Jonathan worked in Silicon Valley for 12 years, assuming various senior management positions at Brocade and Cisco.
Jonathan holds a B.S. in Computer Science from Peking University and a M.S. in Computer Science from University of Southern California, and was a Ph.D. candidate in USC's Artificial Intelligence program.
Bio: Rebecca A. Fannin
Rebecca is the founder of news and events group Silicon Dragon Ventures. Her journalistic career covering global innovation began in Silicon Valley during the dotcom era. Following the venture capital trail to Asia, she was one of the first American journalists to write about China's entrepreneurial boom, interviewing Jack Ma of Alibaba and Robin Li of Baidu, among others. A regular media commentator and speaker, she also has frequently contributed to CNBC and Forbes, and her articles have appeared in Harvard Business Review, CEO and Inc. magazine. Rebecca's three forward-looking books, Silicon Dragon, Startup Asia and her latest title, Tech Titans of China, are a go-to resource on top innovation trends and players. Rebecca has worked in the world's leading tech hotspots as a pioneering journalist and host of numerous events and forums.
About Silicon Dragon on Zoom
Silicon Dragon presents its online series. We kicked off the series with Bill Tai, a first investor in Zoom. We regularly feature a VC or Tech Titan in a Q&A session. This series helps startups, strategists and investors connect and provides valuable insights into what makes them tick. Whether you're raising capital, perfecting your business model, scaling up, going for unicorn status, an IPO or M&A deal, or figuring out your Give Back strategy, don't miss this series. Register and join us online.
Our thanks to InvestHK for their series participation and support!