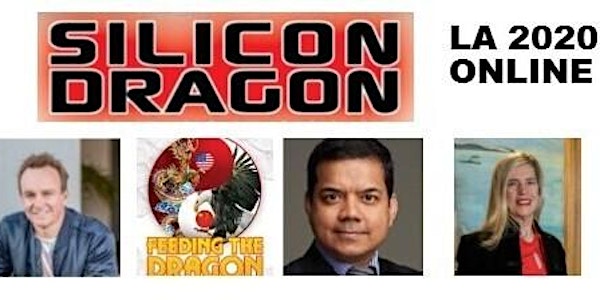 Silicon Dragon LA Online 2020
Silicon Dragon LA Online 2020
About this event
Silicon Dragon LA Online 2020
Introduction: Rebecca A. Fannin, Founder/ Editor, Silicon Dragon Ventures
Book Talk: Chris Fenton
Author, Feeding the Dragon: Inside the Trillion Dollar Dilemma Facing Hollywood, the NBA, & American Business (Simon & Schuster, July 2020)
For 17 years, Chris Fenton served as president of DMG Entertainment Motion Picture Group and GM of DMG North America, internationally orchestrating the creative and business activities of DMG—a multi-billion dollar global media company headquartered in Beijing. He has produced or supervised twenty-one films, grossing $2 billion in worldwide box office. As an author, Fenton chronicled much of that work in FEEDING THE DRAGON: Inside the Trillion Dollar Dilemma Facing Hollywood, the NBA, & American Business. A China expert and frequent speaker, he is also CEO of Media Capital Technologies, and a past Senior Advisor to IDW Media Holdings focused on streamlining operations, expanding international business and restructuring investments.
Ask A VC Anything
Anis Uzzaman, General Partner & CEO, Pegasus Tech Ventures
As CEO of Pegasus Tech Ventures, Uzzaman operates this venture capital as a service model that partners with global corporations and manages funds that invest in innovative tech startups worldwide. Pegasus has provided financing for as many as 170 emerging companies in the U.S., Japan and Southeast Asia. Its corporate partners include ASUS in Taiwan and Sega in Japan. Among the prominent startups in the Pegasus team portfolio are Quibi, SpaceX, 23andMe, SoFi and Bird. Located in Silicon Valley, Pegasus Tech Ventures focuses on investments in health IT, artificial intelligence, IoT, robotics, big data, virtual and augmented reality, fintech and next generation technologies. The venture group recently invested in Triller, a video and music app that has been compared with TikTok. A guest speaker and author, Uzzaman also currently sits on the board of six companies.
Host: Rebecca A. Fannin
Rebecca A. Fannin is the founder of news and events group Silicon Dragon Ventures. Her journalistic career covering global innovation began in Silicon Valley during the dotcom era. Following the venture capital trail to Asia, she was one of the first American journalists to write about China's entrepreneurial boom, interviewing Jack Ma of Alibaba and Robin Li of Baidu, among others. A regular media commentator and speaker, she also has frequently contributed to CNBC and Forbes, and her articles have appeared in Harvard Business Review, CEO and Inc. magazine. Rebecca's three forward-looking books, Silicon Dragon, Startup Asia and her latest title, Tech Titans of China, are a go-to resource about top innovation trends and players. Her career has taken her to the world's leading tech hot spots, where she has hosted numerous forums for innovators, venture investors and the startup ecosystem.
Q&A/ Discussion / Networking
About Silicon Dragon Online
Silicon Dragon presents its online series of forums and Ask A VC Anything series. We kicked off this series with Bill Tai, a first investor in Zoom. In our weekly episodes, we feature thought leaders and VCs in Q&A and chat sessions. This series helps startups and investors connect and provides valuable insights into the latest tech trends and what makes VCs tick. Whether you're raising capital, perfecting your business model, scaling during challenging times, or figuring out how to get unicorn status, an IPO or M&A deal, don't miss this series. Register and join us online.