Description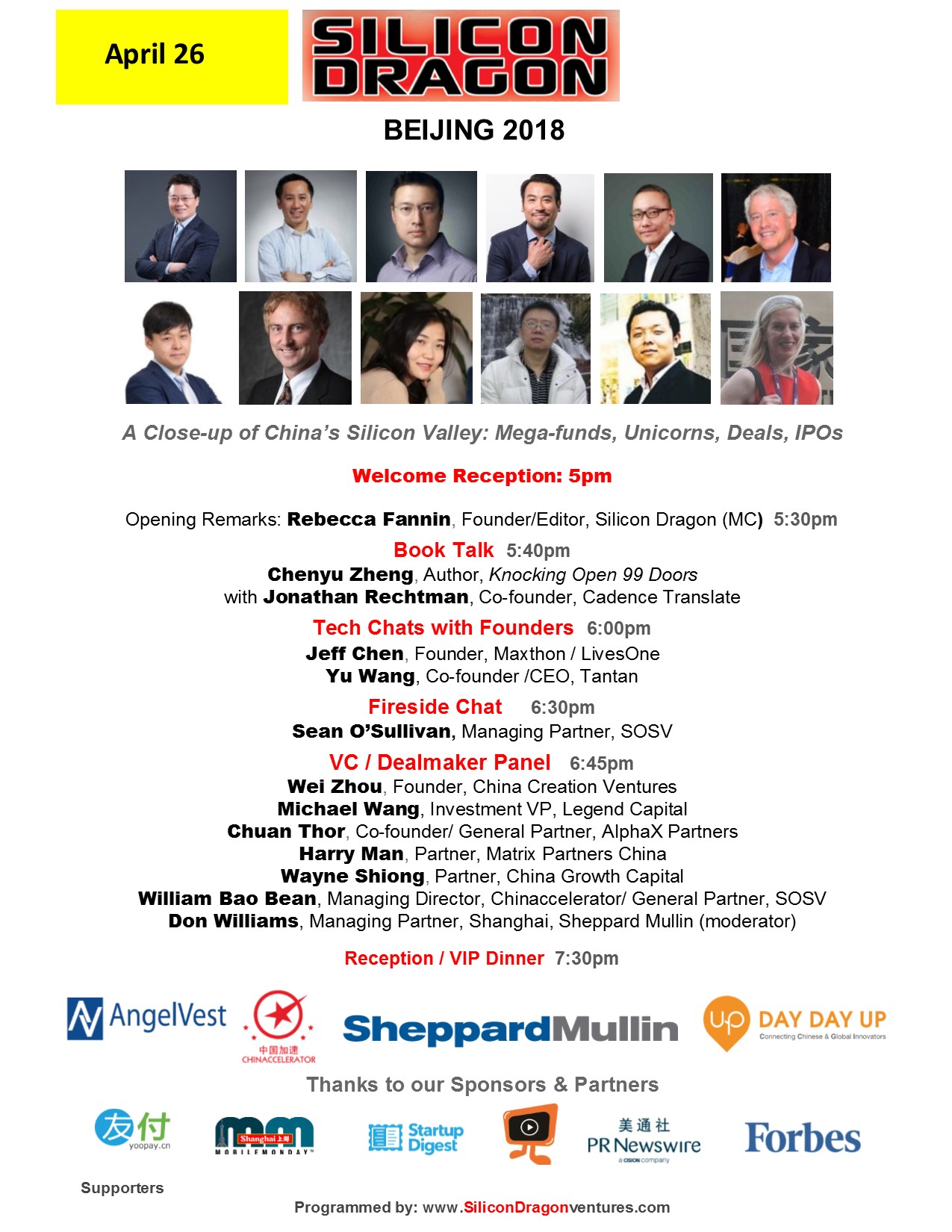 BUY TICKET IN RMB:
https://yoopay.cn/event/12208059
Welcome Reception: 5pm
Venture Dealmakers
Wei Zhou, Founder, China Creation Ventures
MIchael Wang, Investment Director, Legend Capital
Chuan Thor, Co-founder/ General Partner, AlphaX Partners
Harry Man, Partner, Matrix Partners China
Wayne Shiong, Partner, China Growth Capital
William Bao Bean, General Partner, SOSV
Don Williams, Managing Partner, Shanghai / Partner, Corporate Practice Group, Sheppard Mullin
Fireside Chat
Sean O'Sullivan, Managing Partner, SOSV

Book Talk
Chenyu Zheng, Author, Knocking Open 99 Doors
Tech Chat
Jeff Chen, Founder, Maxthon / LivesOne
Yu Wang, Co-founder & CEO, Tantan

MC: Rebecca Fannin, Founder/Editor, Silicon Dragon
VIP DINNER: 7:30pm - 9:30pm
Thanks to our Sponsors & Partners
Sheppard Mullin DayDayUp Innovation Community, AngelVest, AAMA
Supporters: YooPay, AppInChina, Startup Digest, Forbes, PR Newswire
About Silicon Dragon:
Silicon Dragon is a media and events group that is focused on international venture capital and technology innovation. Formed in 2010 by journalist and book author Rebecca A. Fannin, the group publishes a weekly e-newsletter, covers news and produces several flagship forums annually in leading hubs including Silicon Valley, Beijing, New York, Shanghai, Los Angeles, Hong Kong, Tel Aviv and London. The Silicon Dragon network includes corporate and individual members who receive special invitations to the group's VIP events. Silicon Dragon's community consists of venture and angel investors, corporate strategists, deal makers, and founders and leaders of emerging innovative companies. The group is 30,000 strong and enjoys support from many leaders in technology innovation and investment.
About Sheppard Mullin: A leading international law firm, Sheppard Mullin has 780 attorneys in North America, Europe and Asia. The full-service firm has 10 major practice areas. The China offices in Beijing and Shanghai have legal expertise in the corporate and securities, finance, commercial, trade, intellectual property and disputes fields.
About DayDayUp:
DayDayUp is a business community connecting corporates, startups and investors together to foster innovation. With a focus on Industry 4.0, Smart Cities, Mobility and Healthcare – industries most vital for "Made in China 2025", DayDayUp aims to build an open ecosystem to link community members with the right partnerships to drive growth.
With a wide network established within the TMT sector, DayDayUp is well-poised to help international businesses to succeed in China by providing concrete opportunities to collaborate with large corporates, leading startups, investors and governmental organizations, etc. Our services include:
· Corporate Innovation – matching high potential startups with large corporate partners
· Startup Acceleration – accelerator programs, mentorships and deal sourcing for startups
· Innovation Space – Physical space for coworking, offices and events"
About Chinaccelerator
Chinaccelerator, the first startup accelerator to launch in China, is a mentorship-driven program helping internet startups from around the world cross borders – from the world into China and from China to the world. It is operated by the venture fund SOSV with $300M AUM operating seven global accelerators. Chinaccelerator offers three months of rigorous guidance, training and resources from mentors, partners and investors. The robust and supportive alumni network continues beyond the Chinaccelerator program.
Organizer of Silicon Dragon Beijing 2018
Silicon Dragon publishes news of technology, venture capital and startup trends in emerging markets and hosts forums in innovation hubs globally: New York, Silicon Valley, Los Angeles, London, Beijing, Shanghai, Hong Kong, Singapore and Tel Aviv. 
Silicon Dragon was formed in 2010 by Forbes journalist, author and media entrepreneur Rebecca Fannin. Ms. Fannin has been covering tech innovations trends globally for 15 years, beginning with Red Herring magazine during the dotcom era. She is the author of three influential and well-received books, Silicon Dragon (McGraw-Hill, 2008) and Startup Asia (Wiley, 2011), including her new book, Tech Titans of China (Hachette, 2019). 
Silicon Dragon spans a global network of startups, emerging companies, venture capitalists, angel investors and startup stakeholders. The group is based in Silicon Valley with offshoots in New York City and Hong Kong.
For more info, see:
and
http://www.forbes.com/sites/rebeccafannin/
@rfannin
@silicondragon