Location
Stripe HQ
3180 18th Street
San Francisco, CA 94110
Description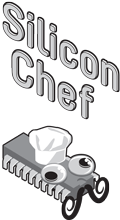 SILICON CHEF 2014 will be happening again September 27-28 in San Francisco - SIGN UP HERE TO HACK OR MENTOR!
Silicon Chef is a women-centric hardware hackathon for humans who identify as female coming up this October 5-6, 2013 in San Francisco's Mission district. This is Hackbright Academy's first hackathon - we'd love if you can join us!
We'll be providing Arduinos, microcontrollers, LEDs and sensors (to keep - if you make something with it). We'll also bring in people who've done this kind of thing before to help anyone who isn't sure where to start or how to finish.
We are dedicated to providing a safe place for attendees to learn and make cool things! You bring the ideas, the curiosity, we'll supply the bagels and silicon.
Beginners are welcome! Mentors are welcome!
WHO SHOULD COME?
Hardware Hackers: This ticket are for those that identify as female. Beginners are welcome!
Allies: These tickets are for those that identify as male. Though beginners are welcome, we're trying to keep it mostly female though, so consider making a donation! If are interested, please contact us and to let us know and we'll give you a ticket.
Mentors: People experienced in hardware, like Arduino, other microcontrollers, etc.
SILICON CHEF HACKATHON SCHEDULE (OCTOBER 5-6, 2013)
-- Saturday, October 5th --
10:00am -- Coffee & Networking (Meet Potential Team Members @ Coffee shops in the Mission!)
11:00am -- Welcome, Registration & Logistics (At Stripe)
Noon -- Lunch
12:30pm -- Welcome from Shannon Spanhake, Deputy Innovation Officer, City of San Francisco in the Office of Mayor Edwin M. Lee
12:45pm -- Welcome from Brady Forrest, Vice President, Highway1
1:00pm -- "Software Girl in a Hardware World" by Julia Grace, Head of Engineering, Tindie
1:15pm -- "Beyond Hard Electronics: Empowering Soft Tech with Soft Circuits" by Kanjun Qiu
1:30pm -- "Launch - How to get your idea to market" by Katherine Hague, CEO & Co-Founder, Shoplocket
1:45pm -- "What's in the Box" by Star Simpson, maker of many projects
2:00pm -- Hackathon Starts - Teams receive hardware boxes!
8:00pm -- GO HOME!
-- Sunday, October 6th --
10:00am -- Breakfast
11:00am -- Hack!
1:00pm -- Lunch
2:00pm -- Hack!
5:00pm -- Presentations & Prizes
6:00pm -- GO HOME!
FREQUENTLY ASKED QUESTIONS
How do I get a box?
1) You must register on Hackathon.io on a team of 5-7 people. Teams of 5-7 people will get ONE box. Click the projects tab to register a new team.
2) Everyone on your team must have an Eventbrite ticket. Mentors do not count towards your 5-7.
3) At least 5 people on your team must be present at the event at the time we're giving out boxes to receive a box.
Supplies are limited, please arrive on time!
Do you need to come with a team?
You can come with a team, or join/form a team on Monday, September 30 at the Intro to Hardware Hacking Workshop -or- the morning of Saturday, October 5 at the Silicon Chef hackathon.
Teams of 5-7 people will receive a box to hack on at Silicon Chef.
Do you supply the hardware? What exactly?
Yes, we will be supplying the hardware. Each box is guaranteed to have an Arduino. That is all we can say. We're keeping it a suprise because suprises are awesome! It is recommended that you bring a laptop and your enthusiasm.
What are the guidelines for prizes?
You'll be handed a prize for just walking in the door with your team - a box to hack on! The point of this hackathon is not to win. It is to learn and make something that you are proud of with your team. There are some fun prizes (ie. "best team name", "best hack", "crowd favorite").
Who are the mentors?
Our mentors include many people with varied backgrounds with hardware. We have in the mix roboticists, mechanical engineers and self-taught hardware hackers.
THE RULES
We reserve the right to remove anyone from the event if they do not follow the rules and code of conduct!
SPECIAL THANKS TO OUR PLATINUM SPONSOR:
SPECIAL THANKS TO OUR GOLD SPONSOR:
SPECIAL THANKS TO OUR SILVER SPONSOR:
THANKS TO OUR SUPPORTER SPONSORS:
BECOME A SPONSOR!
Take a look at our sponsorship levels and contact liz@hackbrightacademy.com