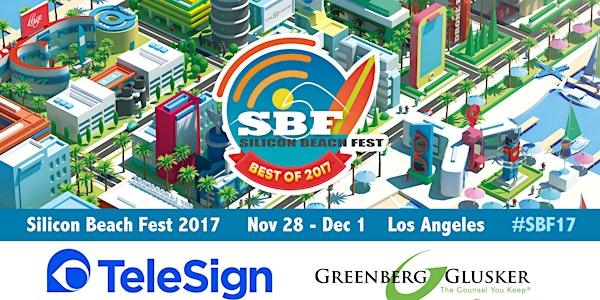 Silicon Beach Fest REGISTRATION - Nov 28 - Dec 1, 2017
When and where
Location
CTRL Collective (Playa Vista, DTLA, Pasadena) 12575 Beatrice St. Los Angeles, CA 90292
Description
WELCOME to Silicon Beach Fest- Best of 2017
Nov 28 - Dec 1, 2017
Silicon Beach Fest is LA's original festival celebrating LA tech, entertainment & startups with panels, keynotes, workshops, mixers, and more. Our 6th year is a Best of the 2017 / Trends of the Year / Predictions for 2018 theme. Highlights include: keynotes with top tech leaders, panels, hands-on workshops, and more. Plus multiple networking parties and mixers.
Attendees include startup CEOs, accelerators, VCs, investors, Hollywood execs, agencies, content creators, social media gurus, developers, designers, virtual reality experts, and more from LA and surrounding areas.
_____
SBF OVERVIEW

This year's fest is packed with panels and networking opps including...
- Panels: Featuring LA's top startups, CEOs, VCs, investors, and Hollywood execs.
- Sponsor Tables: Promote your product at sponsor tables in the Startup Village area (December 1).
- Parties: Closing Party at CTRL Collective on Decmeber 1.
- Startup Showcase: Meet up-and-coming Silicon Beach startups who'll pitch for their chance to win the grand prize and SBF 2017 - Startup Showcase Title.

__________________
AGENDA (subject to change)
TUESDAY NOV 28: PASADENA DAY at CTRL Collective Pasadena, 45 S Arroyo Parkway
6-8p Open House at the new CTRL Collective Pasadena.
First look at CTRL Collective's new offices in the middle of Old Town Pasadena!
Join us for casual networking and snacks.

WEDNESDAY NOV 29: DOWNTOWN DAY at CTRL Collective Downtown LA, 833 S Spring St.
7-8p: Check-in and networking
8-9p: Rise of the Downtown LA Ecosystem panel (Main Room)
Diverse founders and leaders discuss the burgeoning DTLA ecosystem and community.
- Moderator: Miki Reynolds, Grid110, Executive Director
- Greg Toroosian, Hyperloop One, Lead Engineering Recruiter
- Elizabeth Reynolds, COO of HyreCar
- Jeremy Wall, CEO/Founder of Lumenus IOT bike lights
- Michael Sueoka, Gimbal, Head of User Experience
8-9p: Our Future AI Overlords: Friend or Foe? (Classroom)
Are nightmare scenarios cause for concern, or can AI machines elevate humanity?
- Moderator: Todd Terrazas, AI.LA Community, Leader
- Steven Schkolne - Founder/CEO 3d Sunshine
- August Bradley Cenname - Executive Producer - MIND & MACHINE
- Chairman - Technarte LA 2017
- Ross Mead - Founder/CEO Semio Robotics
- Ramsay Brown - Founder & COO - Dopamine Labs
- Sabri Sansoy - CEO & Roboticist @ Orchanic
- Kelsey Scharnhorst - Artificial Neural Network Researcher at UCLA
9-10p: Networking Reception

THURSDAY NOVEMBER 30: WEST SIDE DAY with events in Playa Vista, Santa Monica
11a-12p: Check-in and networking
12p-1pm: Women On Top In LA Fashion (Main Stage)
A conversation about the future of fashion + digital with the women leaders
at TechStyle Fashion Group.
- Moderator: Bailey Mobley, ShoeDazzle, Social Media Manager
- Traci Milholen Inglis, Brand President of Fast Fashion (JustFab + ShoeDazzle)
- Isamar Batista, Director of Brand Marketing and CRM, ShoeDazzle
- Carly Dahlen, Sr. Director of Customer Acquisition, Fabletics
1 - 2pm: Women Founders (Main Stage)
Women Founders share stories of building successful Silicon Beach companeis.
- Stacy Stubblefield, TeleSign, Co-Founder
- Mari Bower, Kitterly, CEO/Founder.


FRIDAY DECEMBER 1: MAIN DAY at CTRL Collective Playa Vista, 12575 Beatrice St., LA
More than 24 panels 3 concurrent rooms (Main Stage, Creative Lab or Boardroom 10a-6pm.
VR Lounge in the VRScout. Lounge in the Art Studio Lounge
9a Registration opens.
Pick up your badges at SBF Registration at CTRL Collective PV front desk

9:55a Welcome to Silicon Beach Fest and Opening Remarks
- Kevin Winston, Silicon Beach Fest Director and Digital LA, CEO, Founder

10a - 10:45a: How to Raise Capital? (Main Stage)
What are Vcs and investors looking for? The do and don'ts of raising capital.
- Moderator: Asher Leids
- Michael Tam, Crosscut Ventures
- Austin Clements, TenOneTen Ventures
- Chang Xu, Upfront Ventures
- Britt Danneman, Alpha Edison Ventures
- Maxine Koven from LDR Ventures
- Brian Mac Mahon, Expert DOJO, Founder
10a - 10:45a: Blockchain and Influencers (Creative Lab)
How Blockchain companies are partnering with online social influencers
- Moderator: Nathan Chandra RYSE / APEX
- Taryn Southern, Internet Personality / Artist.
- Steve Stewart, VEZT, CEO. Artists monetize music via fans - blockchain
- Don Meek, APEX, COO of APEX - Influencer Exchange on the blockchain
- Jim Sellers, Tagger Media, CEO- Influencer Marketing Platform
- Dr. Wallace Lynch, Alpha Token Foundation, Founder and CEO.
10a - 10:45a: UX and Diversity (Boardroom)
Learn how unconscious bias in UX/UI design can affect diversity & inclusion
- Moderator: Heather Wetzler, Cue Career, Co-Founder and COO
- Roe Astuto, NBC Entertainment, Sr Dir of Brand and Digital Marketing
- Zorina Ohanian, Sony Pictures Entertainment, EVP Worldwide Sales
- Cassie Betts, District2, Founder and CEO
- Delali Kpodzo, WeAreOnyx, Co-Founder and CPO
- Bernadette Irizarry, Velvet Hammer/VLVT, Founder and CEO


11a - 11:45a Video Content, Monetization, and Distribution (Main Stage)
- Moderator: David Bloom, Tubefilter
- Jon Skogmo, Jukin Media, CEO
- Jane Weedon, Twitch, Director of Business Development
- Julie Kennedy, Fullscreen, VP Talent
- Javon Frazier, Studio71, EVP Partnerships
- Jason Dimberg, Machinima, VP, Programming & Talent
- Jesse Saivar, Greenberg Glusker, Partner
- Gayle Gilman, Ripple Entertainment, CEO
- Zack Coffman, One World Studios, Head of Content
11a - 11:45a You will be Hacked: Cybersecurity Trends & Predictions (Creative Lab)
Cybersecurity can no longer be ignored, whether you are a small start-up,
Fortune 500, or an individual with email or credit card. Hear from experts
discussing how 2017 was so groundbreaking, 2018 predictions, and how
you can design the right program with your business interests in mind.
- Moderator: Ilanna Bavli, Principal, Eleven/11; Consultant at Lionsgate
- Barbara Allen-Watkins, City National Bank, SVP & Team Manager
- David Grazer, Tevora, Information Security Consultant
- Wendy Wu, Stroz Friedberg, Vice President
- Stan Stahl, PhD, President, Citadel Information Group
11a - 11:45a Hiring Secrets for Startups: Get Funded & Succeed (Boardroom)
How do experts find and hire people to se you up for success?
What common but avoidable mistakes do many founders make that can sink
their company or make it unattractive to potential investors?
PRESENTED BY HIRED
- Moderator: Margeaux Sullivan, Quest Complete
- Neal Bloom, North America Marketing, H I R E D
- Kelly Shapiro, General Counsel at Thesis Couture
- Marissa Peretz, Silicon Beach Talent
- Rachel Bullock, Render Media, COO
- Carmen Palafox, Make in LA, Venture Partner
- Mark Landay, Managing Director at Dynamic Synergy Corporation
12p - 10p Art Lounge open for you to relax, charge, chill, meet others and
take selfies witih dinosaur skeletons in Tyler's art studio in the back.
12-12:45pm Digital Marketing Trends: Vision 2018 (Main Stage)
The rise of social engagement breathes life into face-to-face marketing.
Brands are realizing F2F can be great social-content creation opportunities.
- Moderator: Marc Fernandez, Denizen Company, Chief Growth Officer
- Gustavo A. Leone, Netflix, Product Creative, Originals
- Joy Ofodu, Trends Analyst, Social Strategist
- Darrius Sankey, Innovation Acceleration Capital, VC Partner
- Iris Ichishita, Mattel, Director of YouTube Content
- Chad Campbell, WeWork, Head of Marketing, US & Canada
12 - 12:45p Chip off the Old Block(chain) (Creative Lab)
- Blockchain has emerged as a game-changing technology with the potential
to impact many applications and industries. We'll discuss the
distributed nature of blockchain and how it isn't a chip off the old block.
- Moderator: David Bloom
- Kristoffer Nelson, COO of SRAX and head of BIGtoken
- Yu-Chi Lyra Kuo, founder of stealth cryptocurrency hedge fund
- Grant P. Fondo, partner at Goodwin
- Josh Smith, CTO of VEZT.co
- Randy Saaf, CEO of Cryptibles.com


12-12:45pm Does This Need to Be in VR? (Boardroom)
VR experts discuss how to address a concept's viability in VR and how to
steer clients toward narratives that are custom-tailored to a VR environment.
-Moderator: Malia Probst, VRScout, Partner; Real Virtual Show Podcast host
- Ela Topcuoglu, Start VR, Producer
- Ian Forester, VR Playhouse, CEO
-Kevin Shah, SunnyBoy Entertainment, Senior Producer
1 - 1:45pm How to Find Local Professionals to Maximize Your Value (Main Stage)
PRESENTED BY PROVISORS
- Moderator: Jody Simon, Fox Rothschild, Partner, Entertainment and IP
- Scott Alderton, Stubbs, Alderton & Markiles; Managing Partner
- Zoe Bekas, Attorney at Thomas Employment Law; Employment
- Eli Eisenberg, Straight Line Management, Founder
- Farida Fotouhi, President of Reality2 Reality-Based Marketing
1 - 1:45pm FinTech panel (Creative Lab)
- Moderator: Peter Mansfield
- Shivani Siroya, Tala, CEO
- Willis Chang - VP of Innovation Kinecta Federal Credit Union
- Simon Jaud, City National Bank, VP payments
- Elan Mevasse – CEO VRAY
1 - 1:45pm Live Video Creates Content, Influencers and Money (Boardroom)
Live video influencers are becoming millionaires as the live streaming
market matures. Experts dispel live streaming myths and discuss untapped
opportunities for editorial, brands, and companies in this new media space.
- Moderator: Dawn Chmielewski, Deadline.com
- Khudor Annous, Live.me, Head of Marketing and Partnerships
- Shira Lazar, What's Trending, Co-Founder/CEO, and Host of Circa Pop Live
- Eric Jacks, Collab, Chief Strategy Officer
- Damian Pelliccione, REVRY, CEO
- Lizza Monet Morales, XOXO Lizza, Inc., Founder/CEO; Influencer


2 - 2:30pm Keynote: Brock Pierce, Blockchain Capital (Main Stage)
2- 2:45pm Social, Chatbots, and Innovations in Digital Marketing (Creative Lab)
- Moderator: Joe Famalette, CEO & Co-Founder, LiveRaise / Startup Grind LA
- Eric Jamison, Burt's Bees, Marketing / E-commerce
- Lindsay Mauch, Founder & CMO, LTM Digital
- Steve Weiss, Founder & CEO, MuteSix
- Seth Greenfield, Co-Founder & CEO, Imperson

2:30-2:45p Sean Kelly, SnackNation: Creating a Best Place to Work (Main Stage)
What does it mean to create a good company? How do you create an
environment where people have the opportunity to become the best versions
of themselves? This talk dives into all of these essential topics and touches
upon secrets learned in creating a best place to work.
2- 2:45p Tech Hiring Trends (Boardroom)
Advice to new developers job hunting in LA. How LA tech differs from
the Bay Area. What companies in LA need to look for in candidates.
- Jason Stomel, Founder of Cadre
- Tony Karrer, CoFounder of LA CTO Forum
- Giana Korth, Director of Talent, West Coast - Meltwater
- Shara Karasic, CoFounder of CoderDojo LA
- Brant Barger, Lead Frontend Engineer - Automation Anywhere
- Lauren Evans, Director, Marketing Campaign Production
- Leah Nanni, Business Consultant, Startups
3 - 3:45pm Rise of the Accelerators panel (Main Stage)
Representatives from LA's top accelerators discuss their role
helping entrepreneurs, and how they can help today's founders.
- Moderator: Justin Wolske, Grid110 tech/fashion acceleratro; Caseworx
- Anna Barber, Techstars LA, Managing Director
- Eric Pakravan, Amplify LA
- Noramay Cadena, Make in LA. Hardware/IOT accelerator
- Maureen Klewicki, Techstars Health Acceleartor, Program Director
- Heidi Hubbeling, Stubbs Alderton Preccelerator
3 - 3:45pm ICOs: Funding The Future (Creative Lab)
What actually is an ICO? Are they legal? How much can you raise?
How do you ICO? What do prospective ICO investors buy?
What kinds of companies are holding ICOs? Shoud you ICO or IPO?
Should traditional VCs worry about being replaced?
- Dan Fleyshman, On Huffington Post 5 Blockchain Entreprenurs
- Lawrence Lanoff, TokenAI, Co-Founder
- Justin Wu, CoinCircle, Blockchain Growth
- Chad Anderson, MT Digital Assets; ICO Advisor
- Jason Crilly, APEX, Founder
3 - 3:45pm Startups To Fortune 500: How AdTech Changes The Game (Boardroom)
Insider access to the power of digital advertising. Attendees will come away
from this panel understanding how ad tech is used for business.
- Moderator: Robert Brill, BrillMedia.co, Founder / CEO
- Steven Kaufmanm OMD USA, Managing Director, Programmatic
- Juan Suarez, Adobe, Group Director
- Rick Robinson, Billups Worldwide, COO
- Heather Luttrell, Field Test, Co-Founder, Formerly Co-Founder Indieclick
3p - 9pm VRScout VR demos in the VR Lounge

4 - 4:45pm VCs Panel (Main Stage)
Leading VCs discuss what they are looking for in Silicon Beach
- Moderator: Mark Landay, Dynamic Synergy
- Peter Liu, Pritzker Group, Vice President
- Colleen Poynton, Core VC, Vice President
- Mark Yung, OCV, Co-Founder, Managing Principal, $200million fund
- Karan Wadhera, Casa Verde Capital. Snoop Dogg's cannabis fund
- Mike Velcich, K1, Vice President. Exclusively invests in B2B software

4 - 4:45pm AR / VR: What's Working, Innovative, Next? (Creative Lab)
Experts in AR VR discuss what's working, innovative new uses of AR/VR,
issues in access, and preditions for next year.
- Moderator: Joanna Popper, Media and Marketing
- Natascha French, VNTANA, CMO. Branded AR Hollagrams at events
- Nicholas Robinson, RLTY CHK, co-founder. Interactive VR game show
- Georgia Van Cuylenburg, Arts Bridging the Gap; previously Starbreeze VR
- Michael Ronen, Spil.ly, Berlin-based AR app

4 - 4:45pm Influencers Cross Platform (Boardroom)
Influencers cover the latest trends, opportunities, and insights across
top platforms this year and predictions for next year.
- Moderator: Mike Prasad, Tinysponsor, Founder & CEO. Formerly Kogi BBQ
- Sara Mills, @saraontheinternet, beauty/fashion w 1.4M followers across platform
- Tay Zonday, Singer/comedian with >1M YouTube subscribers and 200M+ views
- Jarrell "Pyro2Sick" Johnson, Live.Me Top Streamer and micro-influencer
- Peggy Glenn a.k.a. Granny Pottymouth, YouTuber / Actress with 200M views.
5 - 6pm Startup Showcase (Main Stage)
4-5 startups will pitch for 5 minutes each for the Statup Showcase 2017 title!
Startups:
- Blue Fever: Netflix for women; texts video content to girls. Techstars LA alum
Lauren Tracy, Blue Fever, CEO; Greta McAnany, Blue Fever, Founder

- Lumenus: Internet of Things bike light with directions, safety. Grid110 alum
Jeremy Wall, Lumenus, Founder / CEO

- Joel Ifill, DASH, Founder. Drone package delivery. Make in LA alum

- Ayinde Alakoye, nēdl, Founder. Talk to search 100,000+ live news,
sports, talk, and music broadcast streams to listen or add your voice.

- Vampr, Josh Simons, Co-Founder. Music directory app connects musicians
Judges:
- Bob Vanech, Treble, CFO; investor
- Noramay Cadena, Make in LA, Partner/Founder, Hardware/IOT accelerator
- Cveti Yotova, Harvard Business School Angels of Southern California, Co-Chair
- Professor Jeremy Dann, USC Lloyd Greif Center for Entrepreneurship
- Mari Bower, Kitterly, CEO Founder. Winner of last year's SBF Startup Showcase
- Monica Mirakhor, LA Clean Tech Incubator, Investments Analyst

5- 6pm High Tech: Cannabis Startups Grow. (Boardroom)
Cannabis companies are using tech tools from apps to blockchain. These
experts will discuss how they use technology to innovate in this growing field.
- Moderator: Matt King, Royal Cannabis Advisors
- Yoni Meyer, Casa Verde Capital (Snoop Dogg's) fund, Partner
- Noah Rubin, Merry Jane, Editor-in-Chief
- Olivia Alexander, The Crystal Cult, Founder. High-end blinged vape accessories
- Tim Lewis, Genezen, cannabis tech procurement; Blockchain Cannabis
- Jude Widmann, GreenRush, VP Business Analytics
- Tamar Nimitz, BDS Analytics
- Jeff Chen, UCLA Cannabis Research Institute

6-8 pm Cocktails (Startup Village)
6-9pm VRScout VR demos in the VR Lounge
8-11pm Closing Party (Main Stage)
8-9pm Two Planet LA Bands: Elijah and Polar Tropica
9-11p DJ Nate Shines

Food trucks will have food available for purchase. Use Best Food Trucks
to order ahead, skip the line, get texted when it's ready at bestfoodtrucks.com/sbf
___

CONFERENCE DETAILS

REGISTRATION
- Includes badge allowing admission to most panels and parties. Some sessions may require separate registration or a VIP pass. Does NOT include: Parking, food, or drink. Parties are cash bar unless otherwise indicated. Some events may have complimentary snacks or beverages.
- Passes will not be mailed; pick them up at registration

FOOD: Lunches and dinners are not included with Silicon Beach Fest. Light breakfast and coffee will be available. Watch for food trucks. Complimentary snacks are available from in-kind sponsors and more (please tweet thanks!). Cash bar at most events unless otherwise indicated. Some venues are 21+ only and require a photo ID. If you'd like to provide in-kind food, email info@digitalla.net with INKIND as subject
WIFI: CTRL Collective has free wifi at all locations.
CHARGING STATIONS: Bring your own USB charging cord.
SBF DISCOUNTS: Dozens of Silicon Beach apps and other companies are offering discounts, which will be listed soon. If you'd like to offer a discount for your app, etc. email info@digitalla.net with DISCOUNT as the subject.
Silicon Beach Fest registration is not refundable. All sales are final.
___

GET INVOLVED!

SPONSOR: Sponsor Silicon Beach Fest overall, or a track or a party to increase your company visibility and branding among LA's startup entertainment community. Sponsorship starts at $2.5K, $5K, $10K, $20K and up. Email info@digitalla.net with SPONSOR as subject so we can send you the SBF sponsor deck.
IN-KIND SPONSORS: If you can provide free product (food, drink, other services), we will add your logo to our in-kind sponsor page. Email info@digitalla.net with INKIND as subject.
COMMUNITY PARTNER: We are happy to extend an SBF discount to established tech groups with sizable audiences and followings. Email info@digitalla.net with SBF COMMUNITY as subject
MEDIA PARTNER: We are happy to extend comp ticket giveaways to established media partners. Email info@digitalla.net with SBF MEDIA as subject

TABLES: Tables are available at the Startup Village at CTRL Collective on December 1. Register above and send a follow up email to info@digitalla.net with TABLE as the subject, and we will foward you to our logistics team for load in details.

PRESS: Press registration will be available by early November. Our previous SBFests have been covered or mentioned by local and national press including Forbes, New York Times, LA Times, LA Business Journal, Pando Daily, Huffington Post, and more.
VOLUNTEERS: Volunteers can register at the spearate volunteer registration which will be released via the Digital LA newsletter.

SOCIAL MEDIA: #SBF17 @DigitalLA @SBFestLA. Instagram: SiliconBeachFest

THANKS TO:
- Kluge Interactive for design and branding Silicon Beach Fest. @HeyKluge.
- Media Temple for hosting the Silicon Beach Fest site and Digital LA site. @MediaTemple.
- Venue hosts: CTRL Collective


ABOUT SBF: Silicon Beach Fest is created by Digital LA. The Silicon Beach Fest board consists of leaders from LA's tech scene, who help organize tracks and panels. Silicon Beach Fest takes places as a multiday event in the summer, and a one-day event in Hollywood or another part of LA in the fall. Last summer's Silicon Beach Fest attracted more than 2,000 attendees who attended main and related events that week. Silicon Beach Fest has been covered in Forbes, New York Times, LA Times, LA Business Journal, Pando Daily, and more.