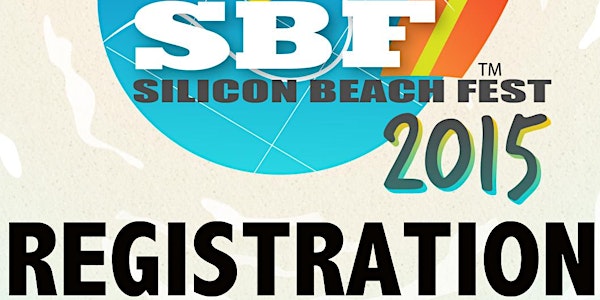 Silicon Beach Fest REGISTRATION - June 2015
When and where
Location
Marina Del Rey Hotel 13534 Bali Way Marina del Rey, CA 90292
Description
Welcome to Silicon Beach Fest 2015
June 24 - 27, 2015!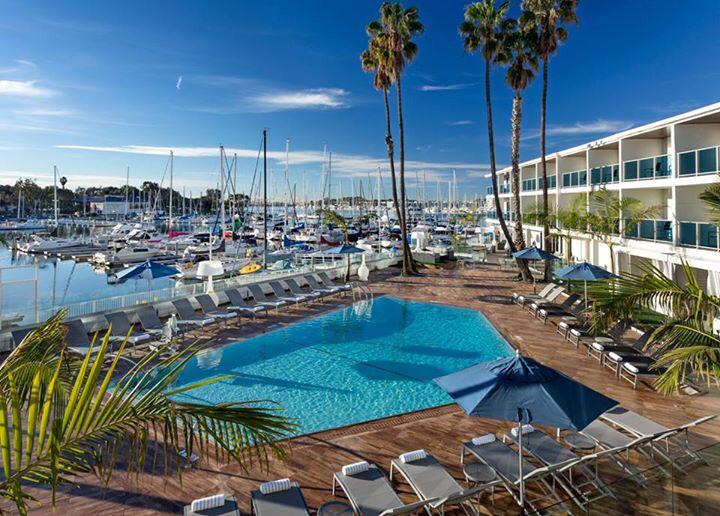 Silicon Beach Fest is LA's original festival celebrating LA tech, entertainment & startups with panels, keynotes, workshops, mixers, and more June 24-27, 2015 in LA. We're excited that this year's panels will be centralized at a brand new venue, the stunning new Marina Del Rey Hotel which just had a $25M renovation with gorgeous views of the marina, water and boats from every conference room. In addition to our Startup, Investor, Developer, Digital Content, and other tracks, we've added new tracks this year including Virtual Reality and Hard Tech, International, and more. Plus we added Playa Vista Open House day so you can visit tech companies that have moved to the area, and a VIP yacht cruise!
Attendees include startup CEOs, accelerators, VCs, investors, Hollywood execs, agencies, content creators, social media gurus, developers, designers, virtual reality experts, and more from LA, Silicon Valley, OC, San Diego, New York, and international. Join us at the marina this summer to celebrate LA's digital innovators in tech, startups, entertainment, marketing, and more!
SCHEDULE: http://siliconbeachfest.com/schedule
MAP: http://siliconbeachfest.com/map
DISCOUNTS: http://siliconbeachfest.com/sbf-discounts
Thanks to our SPONSORS! http://siliconbeachfest.com/sponsors

SBF OVERVIEW
This year's fest is packed with panels and networking opps including...
- Panels: Featuring LA's top startups, CEOs, VCs, investors, and Hollywood execs, June 25 and 26
- Parties: Networking parties every night to help you meet key players and friends including the Opening Party June 24, Thursday Night SBF Tech Theme Park Party, and Closing Party June 26. Plus VIP-only parties and other networking events including...
- VIP Yacht Cruise around Marina Del Rey June 26, open to paid VIP tickets, sponors and select guests
- Startup Showcase: Meet 25 up-and-coming Silicon Beach startups who'll pitch for their chance to win the grand prize and SBF 2015 - Startup Showcase title and prize package.
- Gadget Sandbox: "Tech you can Touch" w 3D printers, Virtual Reality and Augmented Reality, and more
- Beach Games: Surf, play basketball, beach volleyball or ride bikes at our beach games on Sat Jun 27. We're the only tech fest that includes beach games to network with friends you've made during the fest!
- Sponsor Tables: Promote your product at sponsor tables on June 25 or June 26, or at the Thursday Tech Theme Park.
- Pre-Events: Tech organizations in LA are encouraged to organize pre-events all around LA, particularly on the following days: Monday June 22: Pasadena Day; Tuesday June 23: Downtown / Beverly Hills / Culver City Day; Wednesday June 24: Playa Vista Day. SBF attendees should be able to attend for free or at a discount. If you'd like us to list your event, apply by emailing info@digitalla.net with details about your event.
___
SBF SCHEDULE HIGHLIGHTS (subject to change)
WEDNESDAY OPENING DAY 6/24: Playa Vista Open House Day, Women's Lunch and Opening Party.
- Playa Vista Open House. Playa Vista has been getting national attention with several large tech companies moving to the area. Now it's time for you to meet them. Visit several Playa Vista companies offering Open House receptions for Silicon Beach Fest attendees: Univision hosts a Latino panel and taco lunch (10a-1p), Belkin (1-3p) Regus Playa Vista reception (3-5p), and Fullscreen open house in their new space (5-7p). Registered SBF attendees who've registered for Full, VIP, 1 day, volunteers, or 1 party can just show up and we will check you off our list.
- Women's Lunch: CTRL Collective hosts the Women's Lunch (12-2p). Open to SBF passholders.
- Opening Party. Head to the Marina Del Rey Hotel lawn for the Opening Party to see this brand new venue, and enjoy beautiful sunset views of the marina 7-10p. Visit the TeleSign area, and look for the Hoovy drones flying Silicon Beach Fest banners!
THURSDAY 6/25
Panels, Keynotes, Workshops, Sponsor Lounge, 10a-6p at the Marina Del Rey Hotel
- Opening Keynote by DIRECTV's Tony Goncalves at 10a.
- Panel tracks include: Startups, Investors, Mobile, AdTech, Influencers, Content, Social Media
- Gadget Sandbox includes AIO Robotics 3D printers, DJI Drones, VR, and more, 10a-6p
- Startup Showcase: See new Silicon Beach startups at the Startup Showcase Semi-Finals 4-6p, featuring more than 20 startups pitching, including winners of Digital LA and other local startup pitch competitions.
- Sponsor Lounges: Relax in the Indoor Sponsor Lounge to visit DIRECTVm Business Wire, Instantly, LA Tech and Media Law
- Media Temple Startup Village on the lawn features several startups and the Grindr tent.

Parties:
- Sunset Cocktails at the Marina Del Rey Hotel lawn 6-8p
- Thursday Night SBF Tech Theme Park Party with Media Temple and TeleSign, at the brand new 26,000 sq ft. CTRL Collective space in Playa Vista from 8p-11p. We're creating the first SBF Tech Theme Park, where you can meet dozens of startups at their tables on Startup Main Street, see 3D printing companies in 3D-Land, watch drones fly at the Drone Arena, visit food trucks, and get free balloons, and popcorn. If you'd like to demo your startup, drone, 3D printing company, just register above for a $200 table including 3 admission tickets.
FRIDAY 6/26
Panels, keynote, workshops, Sponsor Lounge, 10a-6p at the Marina Del Rey Hotel.
- Keynotes: 10a: Sean Moriarty CEO of Demand Media; 2p: Will Keenan, President of Endemol Beyond
- Panel tracks include: Entertainment, Communities, Design Fridaypresented by Kluge Evenings at the Loft, Developers presented by DIRECTV, Virtual Reality and Hard Tech, and International by Euro Vat Refund.
- Startup Showcase Finals are 5-6p. Finalists will pitch for the SBF 2015 title and prizes!
- WeWork Santa Monica Cocktails. 6-8p. Get an advance peek at the new WeWork Santa Monica!
- VIP Yacht Cruise: Paid VIP passes, select speakers and sponsors are invited to this three-hour FantaSea yacht cruise 6-9p, including one hour dock, and two hours sailing.
- SBF Closing Party with a nautical theme and marina views, and surprise DJ at Killer Shrimp from 8p-11p
SATURDAY BEACH GAMES 6/27
The Silicon Beach Sports League is organzing beach dodgeball, plus we are doing Vilebrequin Volleyball again.
- VIP Venice Beach House Cocktails, 1-4p. We will email VIP passholders details

SUNDAY POOL PARTY 6/28. Continue networking LA style at our Sunday pool party (optional). Venue TBA.
- VIP Malibu Beach House Cocktails, 6-8p and Digital Real Estate Panel

The conference agenda and panels is at http://siliconbeachfest.com, with updates daily.
If you'd like to sponsor any of these specific parties or events, email info@digitalla.net with SPONSOR as the subject.
___

CONFERENCE DETAILS

REGISTRATION
- Includes badge allowing admission to most panels and parties. Some sessions may require separate registration or a VIP pass. Does NOT include: Parking, food, or drink. Parties are cash bar unless otherwise indicated. Some events may have complimentary snacks or beverages.
- Passes will not be mailed; pick them up at registration at the Marina Del Rey Hotel, on Thursday June 25, 9a-6p, or Friday June 26, 9a-5p

FOOD: Lunches are not included with Silicon Beach Fest. Light breakfast and coffee will be available. Watch for free food trucks: Wings and Things by Privlo on Thursday, and the Grilled Cheese Truck on Friday thank to Cornerstone On Demand. Complimentary snacks are available from in-kind sponsors and more (please tweet thanks!). Cash bar at most events unless otherwise indicated. Some venues are 21+ only and require a photo ID. If you'd like to provide in-kind food, email info@digitalla.net with INKIND as subject.
HOTEL: The Marina Del Rey Hotel is offering a special SBF rate for out of town guests, or if you'd like to staycation. Use code "SBF" for our special Silicon Beach Fest rate of $229 when you book online by June 9, 2015 at http://marinadelreyhotel.com
PARKING: Recommended $10 valet parking at the Marina Del Rey Hotel, or
- $7 at Public Parking Lot #5, enter on the right from Bali after your pass Admiralty intersection, 5 min walk
- Free public lot approximately 15-20 minutes walk from the hotel at Dock 52, 13501 Fiji Way.
SBF does not cover parking or parking tickets.

WIFI: Marina Del Rey Hotel has free wifi, as do most venues. Look for the wifi password on on the back of your nametag.

CHARGING STATIONS: Bring your own USB charging cord, or use the Bezalel or Belkin charging stations.
SBF DISCOUNTS: Dozens of Silicon Beach apps and other companies are offering discounts. Visit http://siliconbeachfest.com/discounts
___

GET INVOLVED!
SPONSOR: Sponsor Silicon Beach Fest overall, or a track or a party to increase your company visibility and branding among LA's startup entertainment community. Sponsorship starts at $2.5K, $5K, $10K, $20K and up. Email info@digitalla.net with SPONSOR as subject so we can send you the SBF sponsor deck.
IN-KIND SPONSORS: If you can provide free product (food, drink, other services), we will add your logo to our in-kind sponsor page. Email info@digitalla.net with INKIND as subject.

TABLES: Tables are available at the Sponsor Lounge at the Marina Del Rey Hotel on Thurs June 25 and June 26 from 10a-6p, and at the Thursday Night Theme Park Party 8p-11p for $200.

PRESS: Email sbf@radixcollective.com to apply for press credentials. Please include the name of your outlet and how you plan to cover. Our previous SBFests have been covered or mentioned by local and national press including Forbes, New York Times, LA Times, LA Business Journal, Pando Daily, Huffington Post, and more.
STARTUP SHOWCASE PITCH Your startup at the Startup Showcase. Apply http://sbf15ss.eventbrite.com

SOCIAL MEDIA: #SBF15 @DigitalLA @SBFestLA. Instagram: SiliconBeachFest

ABOUT: Silicon Beach Fest is created by Digital LA. The Silicon Beach Fest board consists of leaders from LA's tech scene, who help organize tracks and panels. Silicon Beach Fest takes places as a multiday event in the summer, and a one-day event in Hollywood or another part of LA in the fall. Last summer's Silicon Beach Fest attracted more than 2,000 attendees who attended main and related events that week, and was covered in Forbes, New York Times, LA Times, LA Business Journal, Pando Daily, and more.
THANKS TO:
- Our Sponsors: Demand Media, Media Temple, City National Bank, Richardson Patel, DIRECTV, Instantly, Business Wire, Grindr, Univision, Maker Square and more
- Radix Collective for managing our SBF PR. @radixcollective
- Kluge Interactive for design and branding Silicon Beach Fest. @HeyKluge.
- Media Temple for hosting the Silicon Beach Fest site and Digital LA site. @MediaTemple.
- Venue hosts: The Marina Del Rey Hotel, CTRL Collective and WeWork

Silicon Beach Fest registration is not refundable. Schedule is subject to change.
Visit http://siliconbeachfest.com