Description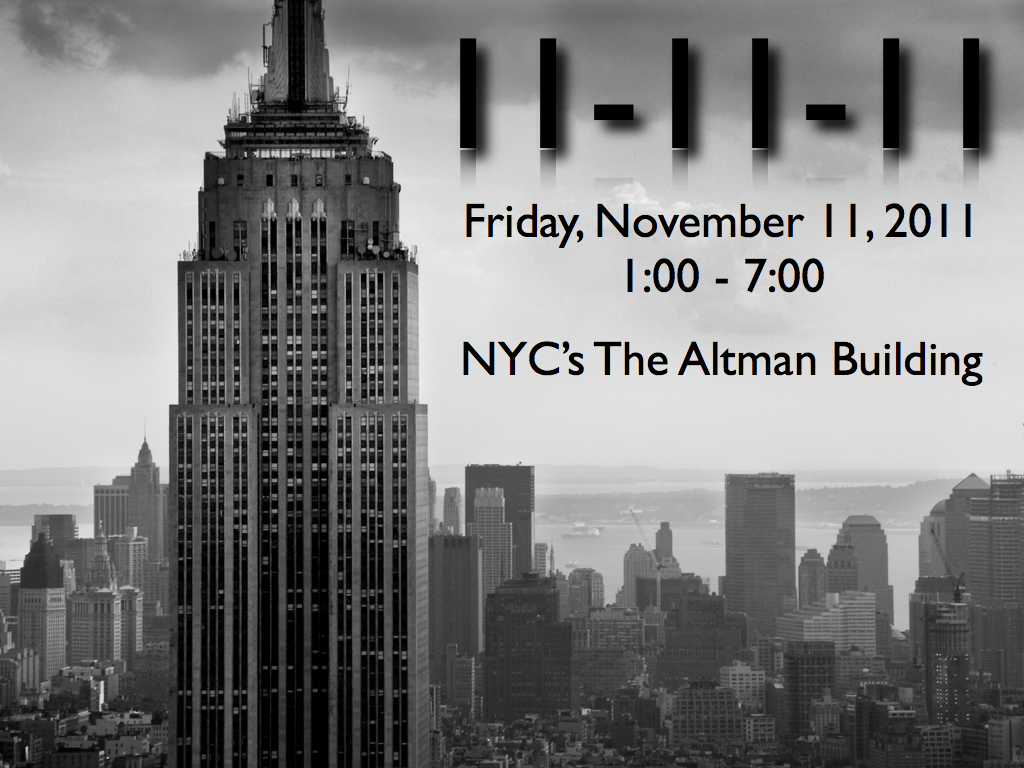 *Absolutely no solicitations. You will be removed from the event w/o refund if you are identified as a solicitor.
VIEW EMPLOYERS AT BOTTOM OF THIS PAGE
**Want to reserve a spot as a startup? Visit here!
Meet Founders & VIPs at NYC's Most Exciting New Companies!
Finding the perfect gig aint easy. Let us take care of that!
Enjoy music, ping pong, networking, drinks, photos and over 70 exciting new companies in a true startup environment
---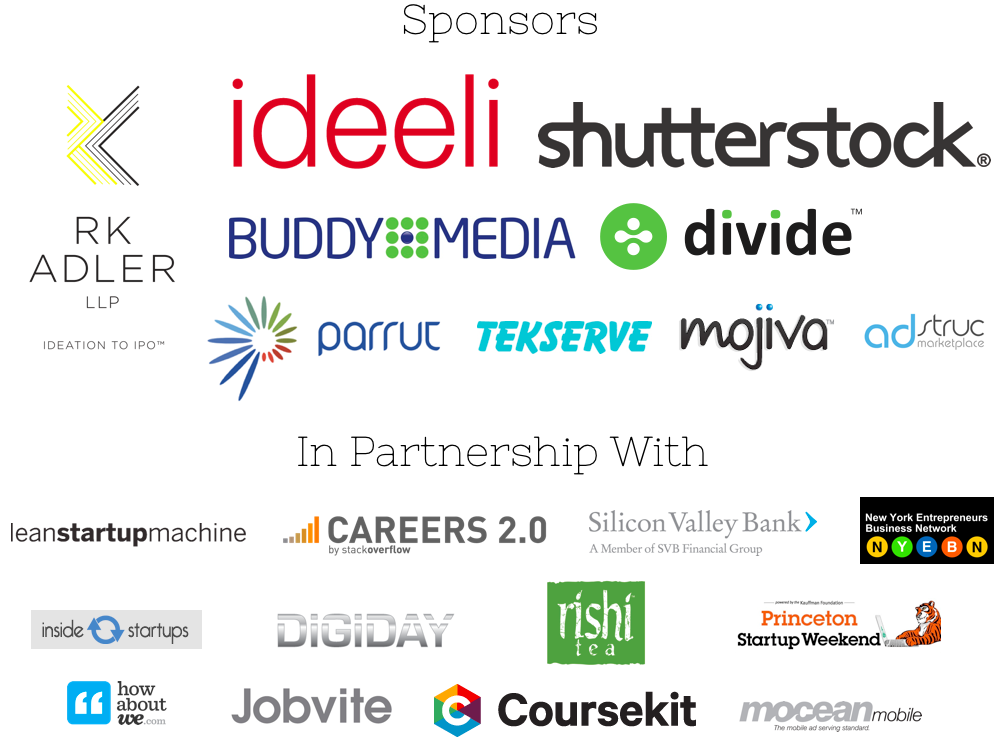 ---
THE AFTER PARTY
Join the employees of all hiring startups, talented candidates and influential members of the NYC Startup scene. We have all night courtesy of ideeli's networking lounge...
&
Photo Booth Courtesy of shutterstock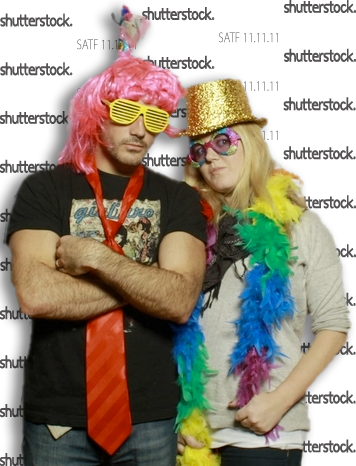 ---
Questions:
Email wham@siliconalleylabs.com or find us on Twitter:
Tarek (@TarekP) | Miriam (@mirryan)
Dan (@dgoikhman) | Ryan (@ryanmaccarrigan)
SOME HIRING COMPANIES INCLUDE:
kikin
Website: http://kikin.com
Hiring for (i.e. Account Manager): Engineering (backend, iOS, Android, Windows, etc.), designers, tech evangelists, business development
We are hiring: Full Time | Intern
Twitter handle: kikin_inc
Do you provide employment visa sponsorship?: Yes



APPEK Mobile Apps


Website: http://www.appekapps.com
Hiring for (i.e. Account Manager): iPhone Developer, Android Developer
We are hiring: Full Time | Intern
Twitter handle: appekapps
Do you provide employment visa sponsorship?: No


---
Lean Startup Machine


Website: http://theleanstartupmachine.com
Hiring for (i.e. Account Manager): Event Coordinator
We are hiring: Part Time
Twitter handle: @lean
Do you provide employment visa sponsorship?: No
Broad Street Analytics


Website: http://www.broadstreetanalytics.com
Hiring for (i.e. Account Manager): Senior Software Engineer
and Software Engineer
We are hiring: Full Time
Twitter handle: xanleeds
Do you provide employment visa sponsorship?: Yes


---
trueSEF LLC


Website: http://www.truesef.com
Hiring for (i.e. Account Manager): Software Engineers, Front-End Developers, Product/Project Managers, Systems Administrators, Support Engineers, QA
We are hiring: Full Time
Twitter handle: none
Do you provide employment visa sponsorship?: Inquire within


---
Tremor Video


Website: http://tremorvideo.com
Hiring for (i.e. Account Manager): Technology, Marketing, Product, Sales, Online Advertising Pros
We are hiring: Full Time
Twitter handle: tremor_video
Do you provide employment visa sponsorship?: Yes


---
33Across


Website: http://www.33across.com
Hiring for (i.e. Account Manager): Yield & Inventory Manager
Associate Business Manager
Creative Services Coordinator/Mgr (Flash/Photoshop)
We are hiring: Full Time
Twitter handle: @mrek212
Do you provide employment visa sponsorship?: Inquire within


---
Datalot Inc


Website: http://datalot.com
Hiring for (i.e. Account Manager): Account Manager, Sales & Engineers
We are hiring: Full Time | Part Time
Twitter handle: @datalot
Do you provide employment visa sponsorship?: Yes
Etsy


Website: http://www.etsy.com
Hiring for (i.e. Account Manager): Engineering Roles
We are hiring: Full Time
Twitter handle: etsy
Do you provide employment visa sponsorship?: Yes


---
Chartbeat


Website: http://www.chartbeat.com
Hiring for (i.e. Account Manager): Software Developers
We are hiring: Full Time | Intern
Twitter handle: @chartbeat
Do you provide employment visa sponsorship?: No


---
Cyrus Innovation


Website: http://www.cyrusinnovation.com
Hiring for (i.e. Account Manager): Software Developers
We are hiring: Full Time | Part Time
Twitter handle: @cyrusinnovation
Do you provide employment visa sponsorship?: Inquire within


---
Fondu


Website: http://fondu.com
Hiring for (i.e. Account Manager): a front-end developer and a designer
We are hiring: Full Time
Twitter handle: fondu
Do you provide employment visa sponsorship?: Inquire within


---
ThinkEco, Inc.


Website: http://www.themodlet.com
Hiring for (i.e. Account Manager): Software developers, Electrical engineers, Marketing, Sales
We are hiring: Full Time
Twitter handle: @thinkeco
Do you provide employment visa sponsorship?: Yes


---
Iconology Inc


Website: http://www.comixology.com
Hiring for (i.e. Account Manager): iOS Developer, LAMP Stack Developer, QA, PM
We are hiring: Full Time
Twitter handle: johnnystorm0
Do you provide employment visa sponsorship?: Inquire within


---
Eazy Points LLC


Website: http://eazypoints.com
Hiring for (i.e. Account Manager): Chief Technology Officer
We are hiring: Full Time | Part Time | Intern
Twitter handle: none
Do you provide employment visa sponsorship?: No


---
10gen


Website: http://www.10gen.com/
Hiring for (i.e. Account Manager): Engineers build systems to handle terabytes of data spread over hundreds of machines.
Evangelists contribute to dozens of open source projects and meet with developers daily.
We are hiring: Full Time | Intern
Twitter handle: @MongoDB_jobs
Do you provide employment visa sponsorship?: Inquire within


---
Mojiva, Inc.


Website: http://www.mojiva.com
Hiring for (i.e. Account Manager): Career Opportunities, Marketing Manager - EMEA - London, Technical Account Manager, Sr. LAMP Developer - NYC, QA Engineer - NYC
We are hiring: Full Time | Part Time | Intern
Twitter handle: @mojiva
Do you provide employment visa sponsorship?: Inquire within


---
TowerData


Website: http://www.towerdata.com
Hiring for (i.e. Account Manager): Programmers (Perl or Python), product manager, and data processing.
We are hiring: Full Time | Part Time | Intern
Twitter handle: towerdata
Do you provide employment visa sponsorship?: No


---
InfoTech Solutions for Business


Website: http://www.infotechfb.com
Hiring for (i.e. Account Manager): Business Development, Programmers, Developers,
We are hiring: Full Time
Twitter handle: NA
Do you provide employment visa sponsorship?: Inquire within


---
Arete Inc.


Website: http://www.areteinc.com
Hiring for (i.e. Account Manager): Software Developer, Product Innovation
We are hiring: Full Time | Intern
Twitter handle: N/A
Do you provide employment visa sponsorship?: Inquire within


---
Livestream


Website: http://www.livestream.com
Hiring for (i.e. Account Manager): 2 Software developers, 1 designer
We are hiring: Full Time
Twitter handle: none
Do you provide employment visa sponsorship?: Yes


---
AxialMarket


Website: http://www.axialmarket.com
Hiring for (i.e. Account Manager): Sales, Marketing, Engineering
We are hiring: Full Time
Twitter handle: axialmarket
Do you provide employment visa sponsorship?: No


---
The Cools


Website: http://www.thecools.com
Hiring for (i.e. Account Manager): Front-End and Back-End
We are hiring: Full Time
Twitter handle: thecools
Do you provide employment visa sponsorship?: No


---
MLB Advanced Media


Website: http://www.mlb.com
Hiring for (i.e. Account Manager): Celeste Bell
We are hiring: Full Time
Twitter handle: not applicable
Do you provide employment visa sponsorship?: Inquire within


---
JIBE


Website: http://www.jibe.com
Hiring for (i.e. Account Manager): interns, engineers, sales
We are hiring: Full Time | Intern
Twitter handle: @jibe
Do you provide employment visa sponsorship?: Inquire within


---
Merchant Exchange


Website: http://www.merchantexchange.com
Hiring for (i.e. Account Manager): Engineering, design, sales, marketing
We are hiring: Full Time | Part Time | Intern
Twitter handle: @ENGOLD
Do you provide employment visa sponsorship?: No


---
StreetEasy


Website: http://streeteasy.com/
Hiring for (i.e. Account Manager): Rails, mobile, UX developers. Sales. Product management/development.
We are hiring: Full Time | Part Time | Intern
Twitter handle: streeteasy
Do you provide employment visa sponsorship?: Yes
ideeli, inc.


Website: http://www.ideeli.com
Industry: E-commerce
Hiring for (i.e. Account Manager): Software Engineer, QA Software Engineer, Development Manager/Tech Lead, Senior Backend Engineer, VP of Product
We are hiring: Full Time | Part Time | Intern
Do you provide employment visa sponsorship?: Yes


---
Stylyt


Website: www.stylyt.com
Industry: Fashion technology
Hiring for (i.e. Account Manager): Tech lead (php, python, rails), UX/UI designer, front-end developer, photoshop rockstar
We are hiring: Full Time | Intern
Do you provide employment visa sponsorship?: Inquire within


---
seamless


Website: http://www.seamless.com
Industry: Online Food Delivery
Hiring for (i.e. Account Manager): Web Application Developers Marketing Product Management
We are hiring: Full Time
Do you provide employment visa sponsorship?: No


---
XDuce Corporation


Website: http://www.xduce.com
Industry: Techology
Hiring for (i.e. Account Manager): Oracle Sales manager IT Staffing Sales Manager
We are hiring: Full Time | Intern
Do you provide employment visa sponsorship?: Yes


---
Yipit.com


Website: http://yipit.com
Industry: Daily Deals
Hiring for (i.e. Account Manager): Developers, Front-End Developers, Designers, Devops
We are hiring: Full Time | Intern
Do you provide employment visa sponsorship?: Yes


---
targetspot


Website: http://targetspot.com
Industry: internet radio
Hiring for (i.e. Account Manager): senior developers
We are hiring: Full Time
Do you provide employment visa sponsorship?: No


---
Divide by Enterproid


Website: http://www.enterproid.com
Industry: Mobile
Hiring for (i.e. Account Manager): Multiple Positions
We are hiring: Full Time
Do you provide employment visa sponsorship?: No


---
Flurry


Website: http://flurry.com
Industry: Mobile Analytics and Advertising
Hiring for (i.e. Account Manager): Java Developer, iOS Developer, Android Developer, Data Scientist
We are hiring: Full Time | Intern
Do you provide employment visa sponsorship?: No


---
GroupMo


Website: http://www.groupmo.com
Industry: Web
Hiring for (i.e. Account Manager): Programmers
We are hiring: Full Time | Part Time | Intern
Do you provide employment visa sponsorship?: No


---
10gen/MongoDB


Website: http://www.10gen.com/
Industry: Software Development
Hiring for (i.e. Account Manager): Engineers- build systems to handle terabytes of data spread over hundreds of machines. Evangelists - contribute to dozens of open source projects and meet with developers daily. Marketing - organizes MongoDB conferences around the world. Account Managers - interact with prospects and customers building innovative applications. Operations and Finance - keep the business humming as we grow rapidly.
We are hiring: Full Time | Intern
Do you provide employment visa sponsorship?: Inquire within


---
Shutterstock


Website: http://www.shutterstock.com
Industry: Digital Media
Hiring for (i.e. Account Manager): Account Manager, Account Executive, Perl Engineers, PHP Engineers, Search Engineers, Product Managers, Art Directors
We are hiring: Full Time
Do you provide employment visa sponsorship?: Yes


---
BuddyMedia


Website: http://buddymedia.com
Industry: Internet
Hiring for (i.e. Account Manager): Account Manager, Engineers, Product
We are hiring: Full Time
Do you provide employment visa sponsorship?: Inquire within


---
Behance LLC


Website: http://www.behance.com
Industry: Creative
Hiring for (i.e. Account Manager): Web Developers
We are hiring: Full Time | Intern
Do you provide employment visa sponsorship?: Inquire within


---
HookLogic


Website: http://www.hooklogic.com
Industry: Software Development
Hiring for (i.e. Account Manager): Software Developers, Data Developers, Project Managers, Implementation Specialists, Quality Assurance, Product Manager, Client Services, Media Specialists, Marketing professionals
We are hiring: Full Time | Intern
Do you provide employment visa sponsorship?: Inquire within


---
RapidValue


Website: http://www.rapidvaluesolutions.com
Industry: Mobile app developer
Hiring for (i.e. Account Manager): Developers, AE's, others
We are hiring: Full Time | Part Time | Intern
Do you provide employment visa sponsorship?: Yes


---
ZocDoc


Website: www.zocdoc.com
Industry: Healthcare/Technology
Hiring for (i.e. Account Manager): Developers
We are hiring: Full Time | Part Time | Intern
Do you provide employment visa sponsorship?: Yes
Gapnote Inc.
Website: happeo.com
Industry: Consumer
Hiring for (i.e. Account Manager): Lean Technical Co-founder Lean UX / UI Lean Intens
We are hiring: Full Time | Part Time | Intern
Twitter handle: @happeo
Do you provide employment visa sponsorship?: Inquire within


---
Yellow Hammer Media
Website: http://www.yhmg.com
Industry: Advertising
Hiring for (i.e. Account Manager): Senior Developer (PHP, Rails, Node.js) UX Designer Web Designer / Front End Web Developer
We are hiring: Full Time | Intern
Twitter handle: yellowhammermg
Do you provide employment visa sponsorship?: Yes


---
iSpeech
Website: http://www.iSpeech.org
Industry: Speech Technology
Hiring for (i.e. Account Manager): Developers (Java, Objective C and web), UI, UX, Graphic designers, Sales/business development
We are hiring: Full Time | Part Time | Intern
Twitter handle: @iSpeech
Do you provide employment visa sponsorship?: Inquire within


---
Gralnick & Sale
Website: http://www.dotb.tv
Industry: Mobile and Online dating
Hiring for (i.e. Account Manager): Sales force
We are hiring: Intern
Twitter handle: DOTBdotTV
Do you provide employment visa sponsorship?: No


---
Art.sy
Website: http://art.sy
Industry: Internet / Fine Art
Hiring for (i.e. Account Manager): Engineers, Designers, Art World Types
We are hiring: Full Time | Part Time | Intern
Twitter handle: artsy
Do you provide employment visa sponsorship?: Inquire within


---
ADstruc
Website: http://adstruc.com
Industry: Advertising
Hiring for (i.e. Account Manager): Account Manager Designer Developer
We are hiring: Full Time | Part Time | Intern
Twitter handle: @adstruc
Do you provide employment visa sponsorship?: Yes


---
Coursekit
Website: http://coursekit.com
Industry: Education
Hiring for (i.e. Account Manager): Software engineers, product designers
We are hiring: Full Time | Intern
Twitter handle: josephcohen
Do you provide employment visa sponsorship?: Inquire within


---
Parrut
Website: http://www.parrut.com
Industry: Customer Loyalty
Hiring for (i.e. Account Manager): iOS developer, ruby developer, analytics expert,
Twitter handle: parrut
Do you provide employment visa sponsorship?: Yes


---
Crowdtap
Website: http://crowdtap.com
Industry: Internet
Hiring for (i.e. Account Manager): Engineers
We are hiring: Full Time
Twitter handle: crowdtap
Do you provide employment visa sponsorship?: Yes


---
Industry Graph
Website: www.industrygraph.com
Industry: Business Services / Professional Services / Consulting
Hiring for (i.e. Account Manager): Technology Sales, Small Business Consultants, Business Development Consultants, Enterprise Technology Consultants, Cloud Consultants, Product Development, Account Management,
We are hiring: Full Time
Twitter handle: industrygraph
Do you provide employment visa sponsorship?: No


---
Inside Startups
Website: insidestartups.org
Industry: Customer Service
Hiring for (i.e. Account Manager): Programming and Business Development Interns
We are hiring: Intern
Twitter handle: insidestartups
Do you provide employment visa sponsorship?: Inquire within


---
Totsy.com
Website: http://www.totsy.com
Industry: Private Sale / eCommerce
Hiring for (i.e. Account Manager): Various - PHP Devs, DevOps, QA and more
We are hiring: Full Time
Twitter handle: @mytotsy
Do you provide employment visa sponsorship?: No


---
Diverxity
Website: http://www.diverxity.com
Industry: Adult-oriented community
Hiring for (i.e. Account Manager): Web designer, project manager
We are hiring: Full Time
Twitter handle: Diverxity
Do you provide employment visa sponsorship?: Inquire within


---
Mobixpay, Inc.
Website: http://www.mobixpay.com
Industry: Mobile Promotions
Hiring for (i.e. Account Manager): Interns: Sales & Marketing
We are hiring: Intern
Twitter handle: @mobixpay
Do you provide employment visa sponsorship?: No


---
Pond5
Website: http://www.pond5.com
Industry: Media Production
Hiring for (i.e. Account Manager): All Positions
We are hiring: Full Time
Twitter handle: pond5
Do you provide employment visa sponsorship?: Inquire within


---
Meetup
Website: http://www.meetup.com
Industry: Internet Services
Hiring for (i.e. Account Manager): Sponsorship Development, Product Managers, Web Designers, UI Engineers, Software Engineers, QA Engineer, Community Specialists, Systems Admin and more!!
We are hiring: Full Time
Twitter handle: @meetup
Do you provide employment visa sponsorship?: Inquire within


---
Sulia
Website: http://www.sulia.com
Industry: Media/Technology
Hiring for (i.e. Account Manager): Engineering, UI Design
We are hiring: Full Time
Twitter handle: sulia
Do you provide employment visa sponsorship?: No


---
Red Rover Technology
Website: http://redroverhq.com
Industry: Software for the Enterprise
Hiring for (i.e. Account Manager): Rails Developer, WordPress Developer, Software Engineer
We are hiring: Full Time
Twitter handle: @redroverhq
Do you provide employment visa sponsorship?: Yes


---
Tekserve
Website: http://www.tekserve.com
Industry: Technology Retail & Support
Hiring for (i.e. Account Manager): IT Director, Training Manager, Specialist, Outside Sales
We are hiring: Full Time
Twitter handle: tekserve
Do you provide employment visa sponsorship?: No


---
AppFirst
Website: http://www.appfirst.com
Industry: Software/IT
Hiring for (i.e. Account Manager): Backend Web Developer; Software Developer; System Software Developer; Frontend Web Developer; Customer Development Representative
We are hiring: Full Time
Twitter handle: @appfirst.com
Do you provide employment visa sponsorship?: Yes


---
EXPO Communications
Website: http://www.expotv.com
Industry: Digital / Social Media
Hiring for (i.e. Account Manager): Director of Engineering Web Developer (LAMP) Front End Developer Account Manager Analytics Manager
We are hiring: Full Time
Twitter handle: @expotv
Do you provide employment visa sponsorship?: Inquire within


---
Pivotal Labs
Website: http://www.pivotallabs.com
Industry: Computer Software
Hiring for (i.e. Account Manager): Senior Developers Interaction & Visual Designers Developer Interns (Summer 2012)
We are hiring: Full Time
Twitter handle: pivotalnyc
Do you provide employment visa sponsorship?: Yes


---
Bisnow Media
Website: http://www.bisnow.com
Industry: Media
Hiring for (i.e. Account Manager): Sales, Events, Admin etc.
We are hiring: Full Time
Twitter handle: Bisnow
Do you provide employment visa sponsorship?: Inquire within


---
LocalBonus
Website: http://localbonus.com
Industry: Local
Hiring for (i.e. Account Manager): Sales Representatives, Ruby on Rails Developer, Mobile Developer, Interns
We are hiring: Full Time
Twitter handle: @LocalBonus
Do you provide employment visa sponsorship?: Inquire within


---
appFigures
Website: http://www.appfigures.com
Industry: mobile technology
Hiring for (i.e. Account Manager): Back End Developer Front End Developer
We are hiring: Full Time
Twitter handle: @appfigures
Do you provide employment visa sponsorship?: No


---
Spongecell
Website: http://spongecell.com
Industry: Advertising
Hiring for (i.e. Account Manager): Ad Ops, Office Manager, Production, Engineering
We are hiring: Full Time
Twitter handle: @spongecell
Do you provide employment visa sponsorship?: Inquire within


---
SocialFeet
Website: http://socialfeet.com
Industry: Social Media Marketing
Hiring for (i.e. Account Manager): Web Developer, UI/UX Designer, Business Development
We are hiring: Full Time
Twitter handle: http://twitter.com/socialfeet
Do you provide employment visa sponsorship?: Inquire within


---
JumpThru
Website: http://www.JumpThru.net
Industry: Internet
Hiring for (i.e. Account Manager): Web content manager, accelerator manager, business operations manager
We are hiring: Part Time
Twitter handle: @Jumpthru
Do you provide employment visa sponsorship?: No


---
Large Animal Games
Website: http://www.largeanimal.com/
Industry: Social Games
Hiring for (i.e. Account Manager): Software Engineers, Artists, Game Designers
We are hiring: Full Time
Twitter handle: largeanimal
Do you provide employment visa sponsorship?: Inquire within


---
Squarespace
Website: http://www.squarespace.com
Industry: Software
Hiring for (i.e. Account Manager): Software Engineers, Sys Ops, & Designers
We are hiring: Full Time
Twitter handle: @Squarespace
Do you provide employment visa sponsorship?: Yes


---
Blank Slate
Website: http://www.blankslate.com
Industry: Solutions for Hyperlocal Publishers, PaaS
Hiring for (i.e. Account Manager): Sales Management, Account Executive, Web Developer
We are hiring: Full Time
Twitter handle: kaelgoodman
Do you provide employment visa sponsorship?: No