Watch the amazing silhouette artist Chris Casey (Glennsheen Mansion/Duluth Winter Village) hand-cut heirloom portraits in just minutes.
About this event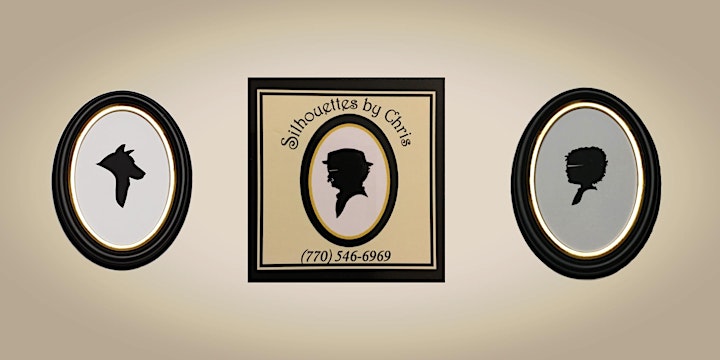 The perfect CHRISTMAS GIFT or the best DATE NIGHT ever - join us in the Glennsheen Mansion at The Duluth Winter Village (https://duluthwintervillage.com/) and have an heirloom quality portrait of children, pets, friends, couples hand-cut in just minutes! Reserve your silhouette portrait appointment time for FREE! Sign up now - limited appointments! This is going to be a fun day for the whole family.
These hand-cut Classic Silhouettes are only $25! Up to 3 additional hand-cut copies are available for just $10 each, and the very hard-to-find traditional black hardwood oval silhouette frames with gold leaf are available for $30 each. Major Credit Cards accepted.
Watch as internationally known, 2nd generation silhouette artist Chris Casey uses only surgical scissors and fine quality silhouette paper to hand-cut detailed, heirloom silhouette portraits in just a matter of minutes! No mechanical devices or photographic equipment. Just watching him work is amazing, but Chris also comes complete with a quirky hat, a handlebar mustache and a charismatic personality that keeps everyone smiling.
There is no age limit. Adults and newborns are welcome. Surprise your girlfriend or boyfriend! It's great for couples, teens, grandparents - everyone! Chris has worked with sleeping newborns, and squirmy little ones are our favorite!! He can even work from your side-view photos, so try bringing a photo of your pet or surprise a friend.
Please schedule one appointment per person. Multiple appointments not required for additional copies of the same person. Appointment times are approximate and are meant to keep lines to a minimum. There are 3 appointments scheduled every 15 minutes, so a family of 3 can reserve 3 tickets for the same appointment time.
Silhouettes make wonderful gifts for parents, grandparents, spouses or any other family member. Reserve your appointment time today!