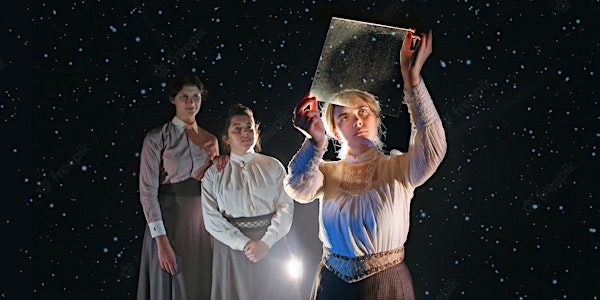 SILENT SKY
SILENT SKY written by Lauren Gunderson and directed by Dennis Schebetta
When and where
Location
Janet Kinghorn Bernhard Theater at Skidmore College Skidmore College Saratoga Springs, NY 12866
About this event
When Henrietta Leavitt begins work at the Harvard Observatory in the early 1900s, she isn't allowed to touch a telescope or express an original idea. Instead, she joins a group of women "computers," charting the stars for a renowned astronomer who calculates projects in "girl hours" and has no time for the women's probing theories. As Henrietta, in her free time, attempts to measure the light and distance of stars, she must also take measure of her life on Earth, trying to balance her dedication to science with family obligations and the possibility of love. The true story of 19th-century astronomer Henrietta Leavitt explores a woman's place in society during a time of immense scientific discoveries, when women's ideas were dismissed until men claimed credit for them. Social progress, like scientific progress, can be hard to see when one is trapped among earthly complications; Henrietta Leavitt and her female peers believe in both, and their dedication changed the way we understand both the heavens and Earth.
Commissioned and first produced by South Coast Repertory with support from the Elizabeth George Foundation.
Audience Info:
Our box office will open for check-in 30 minutes before show time.
The performance runs approx. 100 minutes with a 10 minute intermission.
If you have an accessibility need, please contact our Box Office 24 hours in advance by emailing boxoffice@skidmore.edu so assistance can be arranged.
Skidmore Theater is following the current Skidmore College Covid Policies and Guidelines, which state:
Skidmore will continue to follow CDC recommendations for masking on campus. When the Community Level is "low" or "medium," masking indoors will not be required on campus but will continue to be supported. The Saratoga County Community Level is currently at "medium", so masking is optional. When the Community Level is "high," masking indoors will be required. Skidmore continues to be a mask-supportive and mask-friendly community. Individuals should feel free and comfortable to wear a mask whenever and wherever they wish.
*All visitors to campus are required to be fully vaccinated, including booster.* Proof of vaccination must be shown at the Box Office via New York State Excelsior Pass or official Vaccine Card (cell phone photos will be accepted).
*If you have a Vaccine Exemption, please notify our Box Office in advance by emailing boxoffice@skidmore.edu. You may be asked to show proof of a negative Covid rapid test taken within 24 hours of the show.