Help get out the vote in the Sacramento area by honoring the tradition of the Silent Sentinels who stood silently supporting voting rights.
About this event
From 1917 to 1919, a group of determined women stood silently in front of the White House in protest of President Woodrow Wilson's lack of support for women's right to vote. They wore distinctive purple, white and gold sashes and held signs with slogans like, "Mr. President, how long must we wait for liberty?"
On October 10 — The day women in California got the vote in 1911 — you will see today's Silent Sentinels on busy street corners throughout the Sacramento area urging people to exercise their right to be heard.
Join us to honor The Silent Sentinels who fought for the 19th Amendment so the nation finally included women in "we the people". Look for us dressed in purple, white and gold with our "Vote" signs. Invite your friends, your family to participate.
Masks are required and we will practice social distancing.
A partial list of locations for Get Out The Vote effort
(If you do not see your preferred location when you register, select "Other". You will be asked to supply a location.)
1315 10th Street Sacramento CA 95814 ( State Capitol)
1050 20th Street Sac CA 95811 (Farmer's Market 20th and L)
1590 W. El Camino Sac CA 95833 ( B of A Financial Ctr. W El Camino and Truxel)
2251 Florin Road Sac CA 95822 (Sojourner Truth African Heritage Museum 24th and Florin)
515 La Sierra Dr. Sac CA 95864 ( Golden 1 at Watt and Fair Oaks Blvd)
2508 Land Park Drive, Sac CA 95818 (Tower Theater)
35th & Broadway
Arden & Challenge Way
65th & Folsom. Sacramento
Rancho Cordova - Zinfandel & Sunrise
Folsom Area - Sunrise & Madison
Elk Grove - Laguna Blvd. & Bruceville Road
Roseville - Galleria Blvd. & Roseville Pkwy.
Roseville - Sunrise & Cirby
Rocklin - Sunset & Pacific
Rocklin - Sunset & Fairway
Rocklin - Sunset & Stanford Ranch
Auburn - City Hall, 1225 Lincoln Way
Auburn - Lincoln Way & Foresthill Rd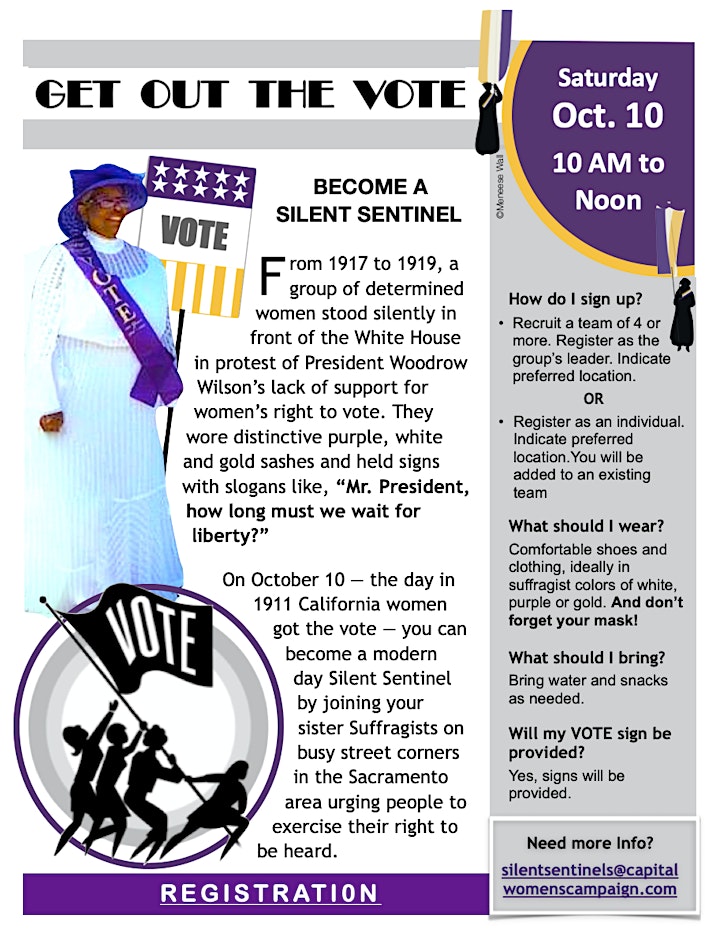 Organizer of Silent Sentinels, Greater Sacramento Area
The Capital Women's Campaign (CWC) is an alliance of women living in the greater Sacramento region determined to bring more progressive, pro-choice women into the political process.
Chaired by former Sacramento Mayor Heather Fargo, CWC is guided by a steering committee that coordinates communications, fundraising, and volunteer efforts via "calls to action" to our members, and holding bi-monthly meetings open to all members.
CWC membership is free and open to anyone committed to gender equity.