Silent House Chicago: All Star Weekend
Urban Fêtes & Xperience This presents: SILENT HOUSE CHICAGO: ALL-STAR WEEKEND EDITION
When and where
Location
The Congress Plaza Hotel & Convention Center 520 South Michigan Avenue Chicago, IL 60605
About this event
Silent House Chicago is Thee ONLY and Thee LARGEST experience allowing you to directly interact with your favorite Athletes, Celebrities, Brands, and DJs!
Confirmed Celebrity Guests Include: 3x Slam Dunk Champion Nate Robinson, 2x NBA All-Star Carlos Boozer, Triple Platinum Recording Artist, Calboy, Karen Civil, Korporate, NeilGang, Spenzo, Headkrack and more to be announced.
All-Star DJs include: DJ Steph Floss, DJ Nehpets, DJ Mustafarocks, DJ R Double, DJ K Ceasar, DJ Booman, DJ Ladydice, DJ Will the Thrill, DJ NoSike, and DJ AMPM.
Plus Surprise Celebrity Appearances that will blow your mind!
Attractions Include:
Gourmet Brunch
Silent Party Featuring 10 Live DJs
Live Celebrity VS Fan 2K Tournament
Stern Pinball Machines
Battle of the Hosts and DJs
Free Play
Sneaker Bar
Celebrity Marketplace
Gourmet Brunch: Menu includes Champagne Toast + Bottomless Mimosas + Chicken and Waffles + Shrimp and Grits + Vegetarian and Vegan Options. (1P-3P)
Silent House Silent Party: Choose your preferred DJ through a pair of wireless headphones while moving throughout (2) ballrooms to enjoy multiple attractions. (12P-7P). Each channel corresponds to a DJ (red, blue or green).
Celebrity VS Fan 2K Tournament: The last man (or woman) standing wins $250.00. GAMERS, ENTER TO PLAY WHEN YOU PURCHASE A RAFFLE TICKET ON-SITE.
Celebrity Pop-A-Shot Contest featuring Platinum Recording Artist, Calboy: This will be everything! Come ball out!
Battle of the Hosts and DJs: On the Red Channel, we Headkrack and DJ Mustafarocks. On the Green Channel, we have Karen Civil and DJ Steph Floss. On the Blue Channel, we have Korporate and DJ Nephets. This competition will be epic and one you don't want to miss. #WHOYOUGOT?
Sneaker Bar: Where sneakerheads meet to have a drink, discuss the latest releases, and safety swap + sell sneakers (2P-5P). Special Sneakerhead guests include Sierato, Sniper Jones, Flight Academy Kickz and Unbreakable Kicks.
Holdat Exclusive Launch: 3x Slam Dunk Champion, Nate Robinson and 2x NBA All-Star, Carlos Boozer will release a limited edition of shirts and shorts from their new clothing line, HOLDAT live at SIlent House. Nate will also release his new Kryptonate cereal at the event. If you get there early enough, you'll recieve an autographed 8x10 of Nate and Carlos! And if you're a VIP, you'll recieve the opportunity to meet and greet the former Chicago Bulls!
VIP Cigar and Tasting Lounge: Receive complimentary cigar and an exclusive spirit tasting sponosored by Jack Daniels + balcony access overseeing the breathtaking architecture of downtown Chicago! (12P-7P)
General Admission Include: 1 Pair of Headphones, Access to Silent Party and Interactive Gaming Lounge.
Brunch Admission Include: 1 Pair of Headphones, Access to Brunch, Silent Party, and Interactive Gaming Lounge.
VIP Admission Include: 1 Pair of Headphones, Access to Brunch, Interactive Gaming Lounge, VIP/Exclusive Balcony Seating, VIP Cigar Lounge after 4PM (and bottle service).
***THIS IS A 21+ EVENT AND NO BAGS/PURSES WILL BE PERMITTED.***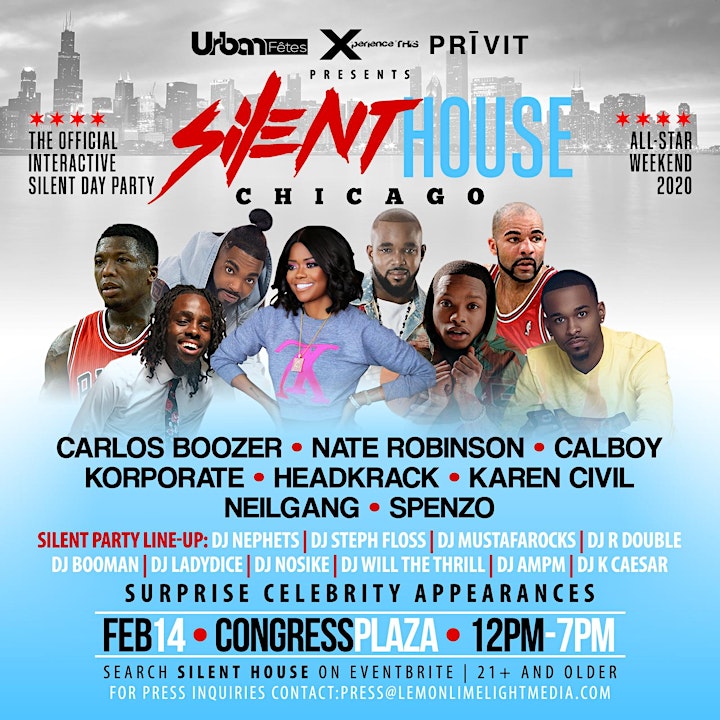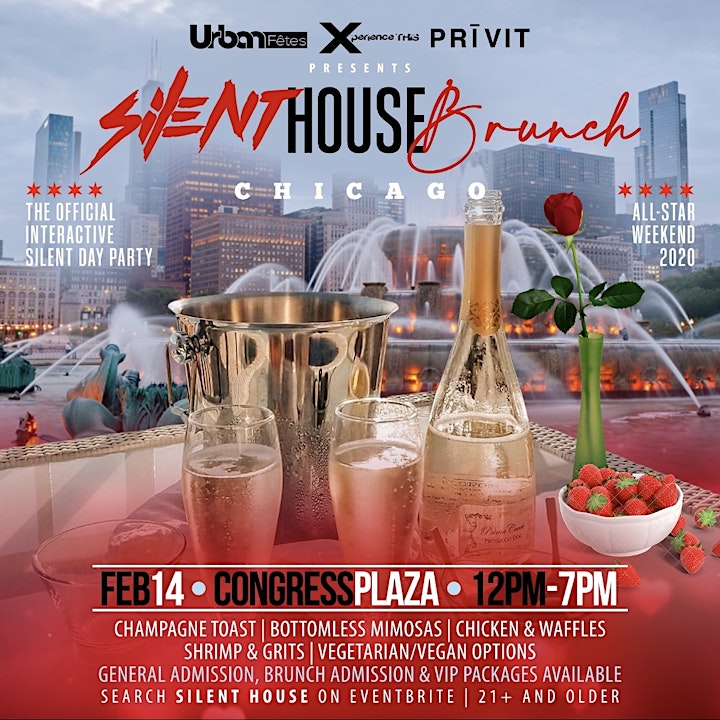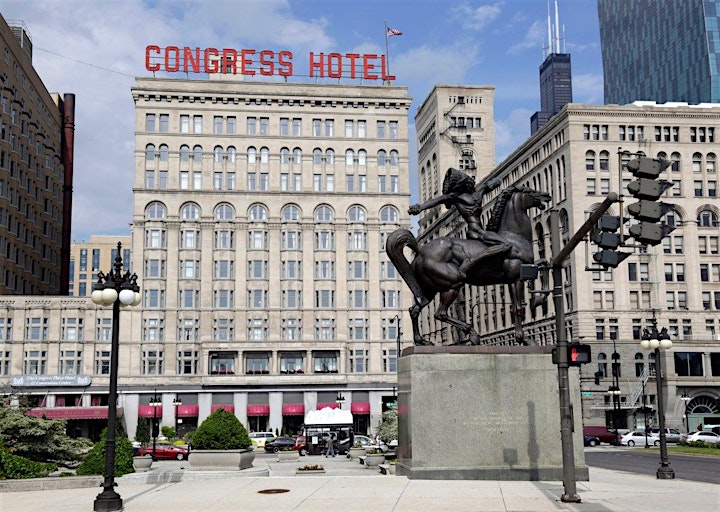 It goes down at the Congress Plaza Hotel, which sits on the iconic Michigan Avenue in the heart of Downtown Chicago! The Xperience starts the moment you hop out at Valet and step into the beautifully designed lobby. It continues into (2) ADJACENT ALL-INCLUSIVE BALLROOMS where you will find a multitiude of attractions!
Congress Plaza Hotel is Adjacent to Grant Park and the Magnificent Mile, just steps away from the shores of Lake Michigan!
It is in the heart of it all! Within a mile from Navy Pier, Water Tower Place, Sears Tower, Orchestra Hall, Field Museum , Shedd Aquarium and Adler Planetarium.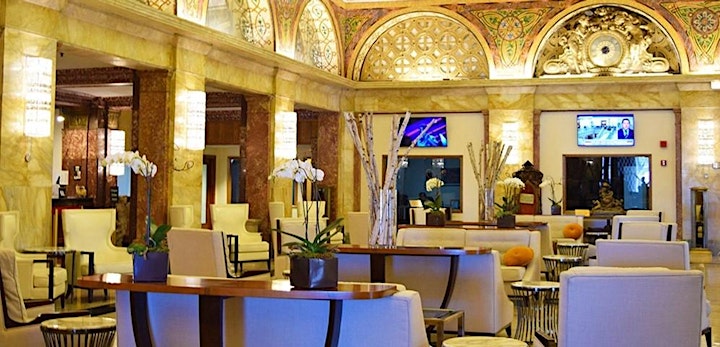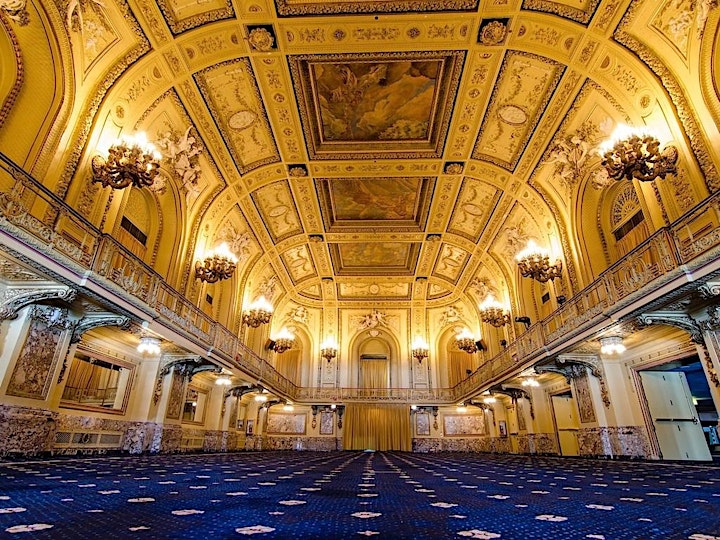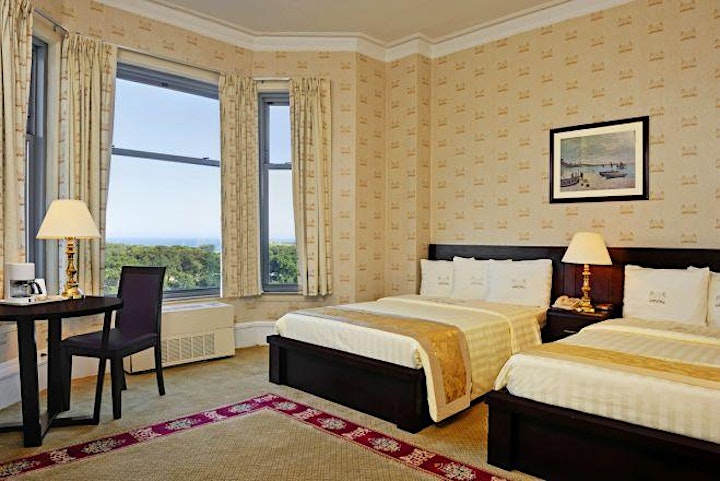 About Urban Fetes
Urban Fêtes' Silent Parties have taken the nation by storm and developed the reputation as a new wave of culture - where the audience is in total control of their musical and social environment. Silent parties have been around for decades, but Urban Fêtes has brought back the rave-like shindig with a modern twist. This is the ultimate go-to event for millennials to attend.
About Xperience This
Xperience This is an innovative communications group that services local and national clients in customized branded event experiences. We specialize in Millennial and Generation X oriented strategy centered around lifestyle touch points that reach consumers before, during, and after each event. We offer over 15 years of experience in event planning, production, experiential marketing and digital advertising.
Urban Fetes and Xperience This have partnered to create the ultimate Welcome to Chicago Sports Experience for All-Star Weekend.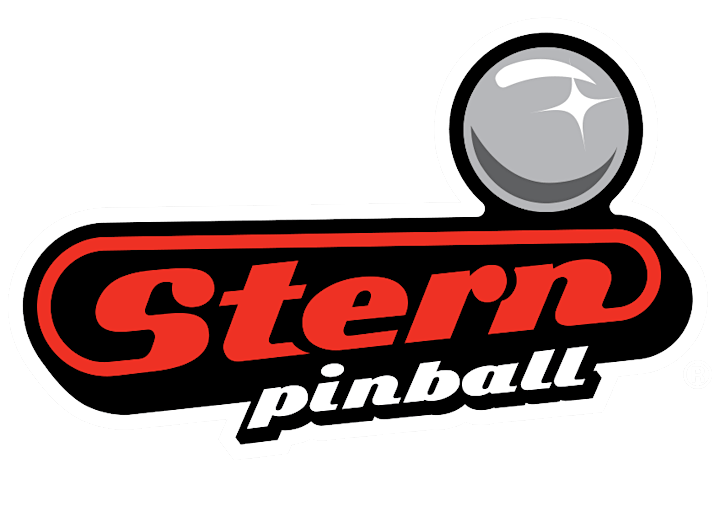 Silent House Media Partners