Description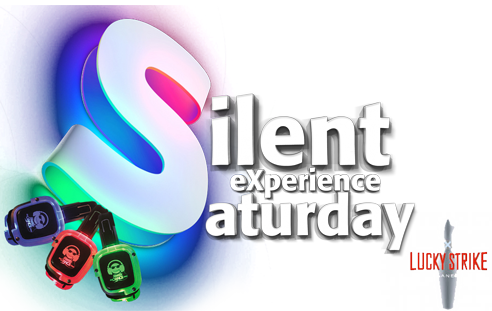 "Dance Like No One is Looking" with Silent Experience Saturdays! This club night is HOT!
COME EARLY BECAUSE WE WILL SELL OUT!
ONE Headphone & THREE CHANNELS to choose from
Latin/Dance Hall - Hip Hop/Reggae - Top 40/OLD SCHOOL!


DC Hip Hop Red Channel

Hip Hop, R&B, and Throwbacks with DJ Snook!

Green Your Party on Demand Request Channel
Text 703-831-SONG during the party and our Djs will text you back when your song is being played!

Blue Chill Channel
Reggae, Dance Hall, Reggaeton with DJ Mixalot and DJ Nova (alternating dates)
State-of-the-Art wireless headphones light-up by Channel so you can join in on whatever song your friends are listening to!

Join us on the dance floor at Lucky Strikes DC with the hottest DJs and Music!
$10 per headphone for the entire night! OR enter with promotional discount by registering here! (see register now button) while supplies last!
21+Over - Valid ID required to rent headphones - Corporate & Private Events Available