Silent Disco - Headphone Party - Bollywood Hollywood Night - 3 Live DJs
Description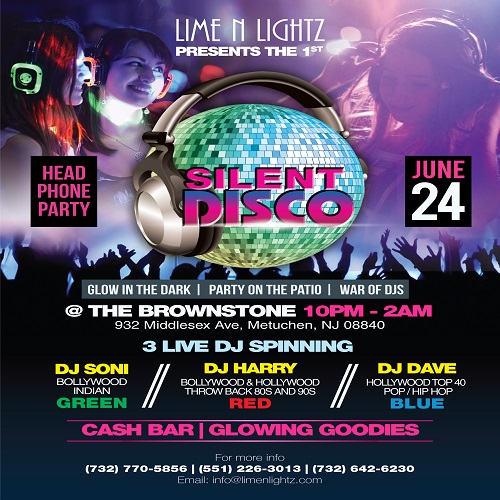 Hey all you Party Lovers!!
Do wanna glow up in the Dark,
Under the Dusky Sky and Sparkling Stars
And if we tell you that's not all,
Bollywood and Hollywood music on your headphones to rock 'n' roll and have a Ball!!
Come Join us for our FIRST time ever Silent Disco Head Phone Party!!
Date: June 24th
Venue: The Brownstone Grill, 932 Middlesex Ave, Metuchen, NJ 08840
3 Live DJs, hundreds of people singing and dancing under the stars all while wearing GLOWING HEADPHONES.
Your 3 Live DJs are spinning all night:
DJ 1 (Green) – Bollywood
DJ 2 (Red) – Bollywood/Hollywood throwback 80's and 90's
DJ 3 (Blue) – Hollywood top 40 Pop/Hip Hop
Attractions:
A pair of Quiet event headphone

Glowing Goodies

Patio party with Cash Bar

3 Live DJs



HOW IT WORKS:
When you arrive, you will receive a pair of special Wireless Headphones. You can adjust the volume and Chose between up to 3 DJs with a flip of the switch. Each Headset has a color LED that shows which channel you are listening to, so you can dance along with those listening to the same DJ as you. Its super social: just lower the volume of take the headphones off to talk to that girl or boy. There's no loud music that you have to talk over. Plus, there is no ringing in your ears when you leave.
Tickets are also available on:
Sulekha:
http://events.sulekha.com/silent-disco-bollywood-hollywood-night_event-in_metuchen-nj_313790

Avail our Early Bird Discounts!!!!
Please note: We will take your Driving License/ID as deposit for the headphone. Once you return the headphone without any damage, we will return the Driving License/ID. If the headphone is damaged, we will charge $50 and then return your License/ID.