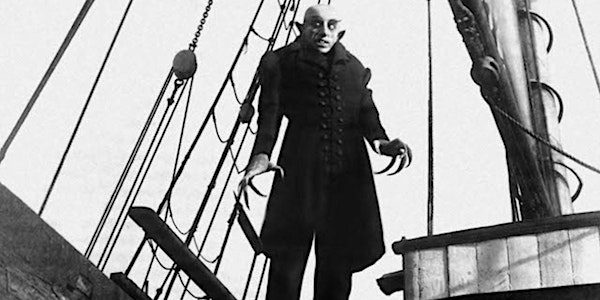 Silent classic NOSFERATU w/ live score by Jack Curtis Dubowsky Ensemble
Screening of silent film classic NOSFERATU w/ live score by Jack Curtis Dubowsky Ensemble
When and where
Location
Vista Theatre 4473 Sunset Drive Los Angeles, CA 90027
Refund Policy
Contact the organizer to request a refund.
About this event
Part of our THE GREAT SILENCE series. Saturday, February 22, 2020 @ 10a, The Vista: NOSFERATU (1922, Kino Lorber, dir by F.W. Murnau, 94mns) WITH A LIVE ORCHESTRAL SCORE BY THE JACK CURTIS DUBOWSKY ENSEMBLE
All 2020, we're running a series we call The Great Silence, devoted to showcasing some of the greatest silent movies ever made from all over the world.
We kick off that series earlier this month when we screen Fritz Lang's Metropolis as part of our grand opening, Saturday, February 1, 2020 for "The Club", our new 99 seat theater in the Arts District.
We're especially excited for this second offering, F.W. Murnau's atmospheric, world cinema horror classic Nosferatu because we'll be screening it with a live orchestral score performed by the Jack Curtis Dubowsky ensemble. Right in the Vista Theater!
Nosferatu is justly famous as the movie that really adapted the Dracula story in a horrifying, cinematically striking, unnerving way. Of course it helps that Max Schreck who plays Count Orlok (this was an unauthorized Dracula adaptation after all) is such a strange, committed actor that you get worried watching the movie if he's aware that it's just a movie.
And if you've never seen an F.W. Murnau movie, this is a great place to start. Murnau really is the great-grandfather of a kind of expressionist cinema bloodline that runs through him to John Ford (who was directly influenced by Murnau's Sunrise) from Ford to Akira Kurosawa, from Akira Kurosawa to Steven Spielberg, from Steven Spielberg to ???? We'll find out.
Great cinema, like great anything, is an art that crackles and sparkles with that indescribable creative electricity that seems to inform and animate the universe.
What better way to experience one of silent cinema's greatest masterpieces than with a double dose of creativity: the movie itself and an original score performed LIVE while you watch the movie.
We're very excited about this one. Secret Movie Club is committed to constantly experimenting and debuting new ways to experience, celebrate, conceptualize cinema.
This is our first silent movie with a live ensemble. Hopefully, with your help, it will be just the first of many!
BIO: Jack Curtis Dubowsky Ensemble sparks new life with original scores to classic silent films including Nosferatu, The Golem, The Phantom Carriage, Sunrise, Dr Jekyll and Mr Hyde, and The Mark of Zorro, for which they released a soundtrack album ZORRO in 2017. A team of top players led by composer and conductor Jack Curtis Dubowsky, JCDE combines intricately composed material and structured improvisation.
Best always,
Craig Hammill
35mm Secret Movie Club Founder.Programmer
SECRET MOVIE CLUB FREQUENTLY ASKED QUESTIONS:
SCREENING LOCATIONS: We currently screen our movies at The Vista Theatre, 4473 Sunset Drive, Los Angeles, CA 90027; the Secret Movie Club, 1917 Bay Street, 2nd Floor, Los Angeles, CA 90021 and The Palace Theatre, 630 S. Broadway, LA, CA 90014.
We also do occasional pop-up screenings at fun historic spaces around Los Angeles. So please double check the address to make sure you're heading to the right location!
TICKETS: Tickets for all our events are available online at:
https://secretmovieclub.eventbrite.com
or through each individual event on our Facebook Page:
https://www.facebook.com/secretmovieclub35mm/.
We also make tickets available at the Vista Box Office.
Important Warning: Never buy tickets from anyone you do not know personally. We have noticed a rise in fraudulent scalpers on our social media and elsewhere. It's always better to just write us directly at:
secretmovieclub@curiousproductions.com to inquire about tickets.
OUR 35MM POLICY: We strive to project all movies on film that were originally shot on film. This means that we work to screen the majority of our movies on 35mm prints (with the occasional 16mm print if no 35mm print is available).
We will screen a movie digitally if its original medium was digital. This usually means that we screen what's called a DCP or Digital Cinema Print. Almost all movies shot in recent years are digital and screen on DCPs.
In some rare instances, a film print will arrive to us in such poor condition that we deem it will be more distracting than entertaining. For this and other reasons, we reserve the right to screen a DCP in an emergency. However, we will make all best efforts to alert the audience immediately if we have to screen a DCP alternate when a 35mm print was advertised.
Situations where we have had to substitute a DCP for an advertised 35mm print have thankfully only occurred a handful of times in our history. But we do need to reserve this right to insure the best possible presentation of a movie for our audience.
ORIGINAL POSTERS: We do limited edition 100 original poster runs for almost all of our movies. We sell these posters at the events and do our best to let our audience see the design at least 1-2 weeks ahead of a screening via our email and social media.
We are currently working to launch our website and online movie store in the Fall of 2019 so you can peruse our entire backlog and get posters of your favorite movies and/or by your favorite designers. Stay tuned!
REFUNDS & COMPLIMENTARY TICKETS: We honor all refund requests made through Eventbrite 24 hours or more before the listed start time of the screening. After that, we are unable to process refund requests. BUT. . .we can offer complimentary tickets to future screenings (as long as they haven't already sold out & aren't special differently priced events).
HOW DOES A SECRET MOVIE CLUB SEASON PASS WORK: If you buy a Secret Movie Club All-Access Season Pass (access to all movies we're showing within one season), you get entrance into every single movie we show throughout that time (including any screenings or special events we may announce at a later time; so your value may increase!).
This is our best deal at $6.50/per movie if you know you're going to see the majority of movies in a season.
These passes are available up to the start time of the first screening of a season at https://secretmovieclub.eventbrite.com
If you decide to buy the SEASON PASS and have already bought an individual ticket, just write us: secretmovieclub@curiousproductions.com and we'll issue you a refund for the individual ticket(s) you bought so you can get the all-access pass.
With the All-Access Season Pass, we generate a special list with your name on it. All you have to do is come to our table ahead of each movie, give us your name, and get your ticket. You're a VIP now and never have to worry about a movie selling out. We always save you a seat.
HOW DOES A SERIES PASS WORK: If you want to see all the movies in a particular series but not necessarily all the movies in a season this is the way to go and is our next best deal (at $9/per movie) after the Season Pass.
The price of each Series Pass depends on how many movies we show in that series. So for instance if we are showing 7 movies in the series, the pass would cost $63 (or $9 per movie). If we are showing 4 movies in that series, the pass would cost $36, and so on.
You can buy a Series Pass through any individual Eventbrite link for a movie in that series.
We generate a special list with your name on it for that series. All you have to do is come to our table ahead of each movie, give us your name, and get your ticket.
CONCESSIONS: The Vista Concessions counter is open for all our events. So you will always have access to popcorn, soda, candy, coffee the works!
We strive to have concessions of some kind at all our events regardless of venue.
PARKING/PUBLIC TRANSPORTATION:
The Vista & Los Feliz 3 have no dedicated parking lots. Thankfully, there is parking in the residential areas around both theatres. Just plan to get to the theater 20 minutes early so you have enough time to park, walk to the theater, get your tickets, get a seat.
Make sure you read the street signs! A few streets are permit-only parking. We don't want any Secret Movie Clubbers getting parking tickets.
There are many great public transportation options near the Vista & Los Feliz 3 including a Metro subway stop at the Vermont/Sunset station which is about 4 blocks from the Vista Theater.
The Secret Movie Club (1917 Bay Street, 2nd Floor, LA, CA 90021) has no dedicated parking lot. However, most folks can find free parking on side streets as well as a paid parking lot just two blocks away at the intersection of Mateo & Violet.
The Palace Theatre has no dedicated parking lot. However, most folks opt to park at the Pershing Square Parking Lot:
http://www.palacedowntown.com/parking
Here is a link to all parking lots near the Palace Theatre & Broadway:
https://www.los-angeles-theatre.com/theaters/downtown-palace-theatre/parking.php
SHOWTIMES: We screen most of our movies before noon or at 11:59pm. However, we are increasingly able to screen movies as afternoon matinees and prime time screenings.
Always check the listed showtime before buying your ticket to make sure you can make that showtime.
MAILING LIST: We started as a secret email list way back in April 2016. In respect to our origins (and because the programmer is superstitious), we will always announce our upcoming seasons, special events, and speakers via the email list first before posting to any other social media. If you'd like to get on the secret email list, email us at: secretmovieclub@curiousproductions.com.
OTHER QUESTIONS: You can always email us at: secretmovieclub@curiousproductions.com or send a message through our Facebook page: @secretmovieclub35mm
We work to respond asap within receipt of your email or message.