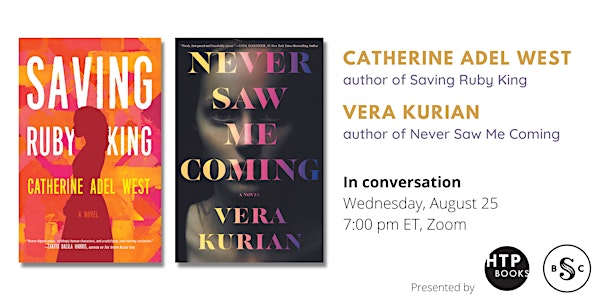 Silent Book Club and HTP Books present Catherine Adel West & Vera Kurian
Catherine Adel West, author of Saving Ruby King, and Vera Kurian, author of Never Saw Me Coming, in conversation with Silent Book Club
About this event
Silent Book Club and HTP Books present a conversation with Catherine Adel West, author of Saving Ruby King, and Vera Kurian, author of Never Saw Me Coming, on Wednesday, August 25, 2021 at 7:00pm ET / 4:00pm PT.
Each attendee will receive their choice of a free ebook by one of the authors. We'll send you a link to choose your ebook after the event.
Read about the books and authors on silentbook.club, and register here to reserve your spot. You'll receive a Zoom link to join the event on August 25th.
Submit a question for the authors
Catherine Adel West graduated with both her BA and MA in journalism from the University of Illinois, Urbana-Champaign. Her work has been published in Gay Magazine, Black Fox Literary Magazine, Five2One, Better Than Starbucks, and others. Catherine was born and raised in Chicago. Saving Ruby King is her debut novel.
Vera Kurian is a psychologist, writer, and a longtime resident of Washington, DC. She has a doctorate in social psychology, specializing in intergroup relations, political ideology, and quantitative methods. She has studied fiction at Breadloaf, Sewanee, VONA, and attended juried workshops at LitCamp, Colgate, Juniper, and the Marlboro Summer Writing Intensive. She has been nominated for a Pushcart Prize and was a semifinalist for the Mark Twain Royal Nonesuch Humor Writing Contest.