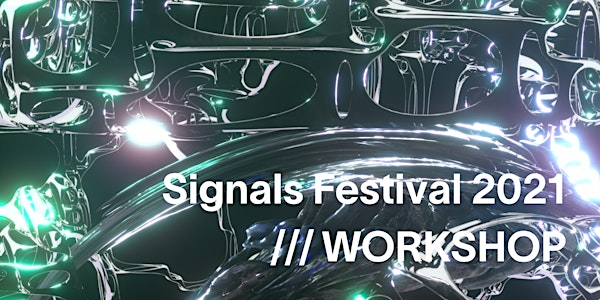 Signals Workshop /// NowHere Media: VR Storytelling Masterclass
NowHere Media: VR Storytelling Masterclass with Felix Gaedtke
When and where
Location
Funkhaus Berlin Nalepastrasse Nalepastraße 18 12459 Berlin Germany
Refund Policy
Contact the organizer to request a refund.
About this event
This ticket also allows Onsite General Admission to Signals Festival on Friday.
For those attending onsite we are a 2G event, which means vaccine or proof of recovery must be shown.
/// ABOUT THE WORKSHOP
NowHere Media is an award-winning studio in Berlin crafting virtual and augmented experiences that enable audiences to view contemporary issues through a critical lens. From covering war in Syria to chasing snow leopards in the Himalayas, they tell untold stories, breaking taboos and silences.
Join co-founder of Nowhere Media, Felix Gaedtke, for a special masterclass on his experience developing VR documentaries to engage audiences and create impact in the real world.
Experience the full story
Participants of this masterclass will also have the opportunity to experience the full immersive VR story, Home After War and/or Kusunda, at Signals Festival (additional time-slot booking required).
Home After War tells the story of an Iraqi father who returns to Fallujah to face the threat of improvised explosive devices (IEDs). Through this virtual reality experience, join him in his home and discover the unfolding of a tragic event.
In the documentary VR experience Kusunda, you meet Hima as she reminds her grandfather of his forgotten mother tongue (Kusunda, Nepal). Navigate through the narrative by speaking words in the sleeping indigenous language, and join the fight for its revitalisation.
/// ABOUT THE ARTIST HOSTd
Felix Gaedtke is an acclaimed immersive storyteller and creative producer currently based in Berlin. He co-founded the immersive storytelling studio NowHere Media with an urge to create spaces for under-represented voices in mainstream discourses. His passion to convey different realities across the world has led him to working with VR and AR storytelling techniques. His most recent work Kusunda takes you into the lives of an indigenous group in Nepal and their fight for language reclamation. Kusunda recently won the prestigious Storyscapes Award at Tribeca Film Festival. He is a Sundance New Frontier alumnus and has also won 'Best Use of Immersive Arts' at SXSW as well as the Lumiere Award for 'Best VR documentary' among other accolades. Felix's immersive works have been exhibited at the Venice International Film Festival, SXSW, Cannes XR, the UN, HotDocs, Bergen International Film Festival and beyond.
/// SIGNALS FESTIVAL
Exploring art and technology, Signals Festival is an annual showcase of Catalyst Berlin's emerging and diverse creative communities. A non-profit, educational event with live performances, installations, screenings, workshops and in-depth dialogue.
See the full festival programme here: