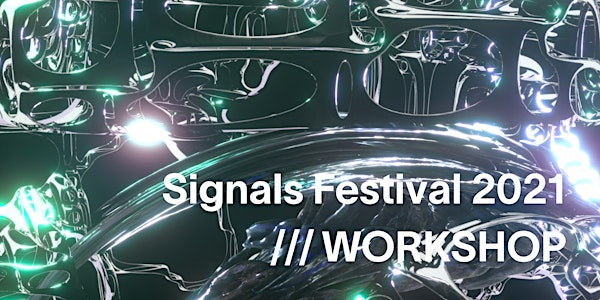 Signals Workshop /// Free signal liberation: no-cost modular synthesis
Free signal liberation: no-cost modular synthesis with Peter Kirn (CDM)
When and where
Location
Funkhaus Berlin Nalepastrasse Nalepastraße 18 12459 Berlin Germany
Refund Policy
Contact the organizer to request a refund.
About this event
This ticket also allows Onsite General Admission to Signals Festival on FRIDAY.
For those attending onsite we are a 2G event, which means vaccine or proof of recovery must be shown.
/// ABOUT THE WORKSHOP
Liberate yourself in how you imagine timbre, rhythm, tune, and pattern using signal flow - without money and space as being a barrier to entry. Let's discover modular synthesis and its potential for musical expression using free and open-source tools. And let's talk about how that can also be used to share, play together, and support one another in our music-making.
Modular synths look great with their custom racks and mess of wires, but they can also feel impenetrable - you need money for gear, you need space (and lifting power), and that's even before you figure out how to use them. But we can use free software to get over some of those hurdles. Using VCV Rack, we'll get started from scratch on any recent Mac, Windows, or Linux PC. No previous experience is required, but even then we may be able to learn some new tricks. We'll explore the fundamentals of modulation and how it can be combined into strange, new sounds, with some recipes for unique sound construction. And then we'll also get off the grid with techniques that allow free, open-ended composition entirely using signal. Then we'll look at how this can be combined into an improvisatory live performance to make it easier to jam without using pre-made patterns and sounds.
Expect to wrap up with some time for collective experimentation and answering questions, plus a full-ensemble noise/drone piece together.
/// ABOUT THE ARTIST HOST
Composer/artist, curator, and writer Peter Kirn (CDM) produces music that is dark and playful, in cosmic fantasies brewed in modern dance studios and grimy dance floors. He explores the culture of making electronic music and motion technologies on his daily site cdm.link, co-produces the MeeBlip line of electronic instruments, and creates collaborative performance laboratories including the MusicMakers Hacklab with CTM Festival.
With a background in concert music composition including co-directing the Contemporary Ensemble at the CUNY Graduate Center, his music has appeared on Detroit Underground, Snork Enterprises, Wunderblock Records, Instruments of Discipline, and his own Establishment. He has also worked collaborations ranging from making field recordings with the European Space Agency to playing a techno live jam in a Moscow hologram gallery, from experimental performance and installation in kinky parties to explorations of architecture and spatial music.
/// SIGNALS FESTIVAL
Exploring art and technology, Signals Festival is an annual showcase of Catalyst Berlin's emerging and diverse creative communities. A non-profit, educational event with live performances, installations, screenings, workshops and in-depth dialogue.
See the full festival programme here: