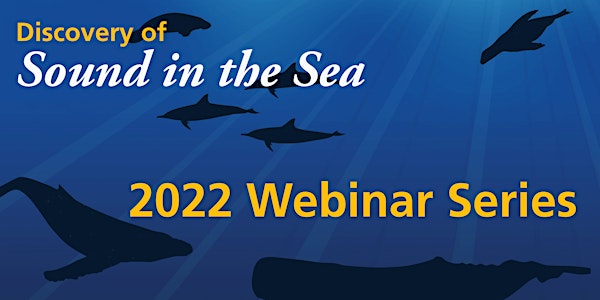 Signal Processing 101 & Soundscapes
An introduction to underwater signal processing for acoustics and an introduction to soundscapes. Part of the DOSITS 2022 Webinar Series.
About this event
Signal Processing 101 & Soundscapes
Wednesday, October 12, 2022 at 12:00pm EDT
This webinar will be presented by Dr. Kathleen Wage at George Mason University and Dr. John Ryan at the Monterey Bay Aquarium Research Institute. After the presentation there will be a Q&A session with Dr. Wage and Dr. Ryan.
Learn more on the DOSITS website - dosits.org
The webinar will be held in Zoom and simultaniously streamed on YouTube. Participants will be able to ask questions during the webinar in both Zoom and YouTube. All DOSITS webinars will be recorded and available to watch on the DOSITS webite afte the live webinar.
Registration for the 2022 DOSITS Webinar Series will be for individual webinars.
DOSITS Underwater Acoustics Webinar Series
The DOSITS Team facilitates a webinar series on topics related to underwater sound for the international decision-making community and other interested communities. Each year the webinar series has a different focus. The webinars are generally one or two presenters, followed by a question and answer session.
DOSITS will offer a Certificate of Professional Development for interested individuals that participate in all four of the webinars in the 2022 Underwater Acoustics Webinar Series. There are no fees associated with this certificate, however, in addition to webinar participation, after each webinar, interested individuals must complete a brief questionnaire. The questionnaire link will be sent to registrants. Each webinar will have its own questionnaire to complete (each questionnaire will have a unique link). Please note, the DOSITS 20th anniversary webinar is not part of the PD certificate.
Upcoming DOSITS 2022 Webinars
DOSITS 20th Anniversary Special Webinar - November 30, 2022