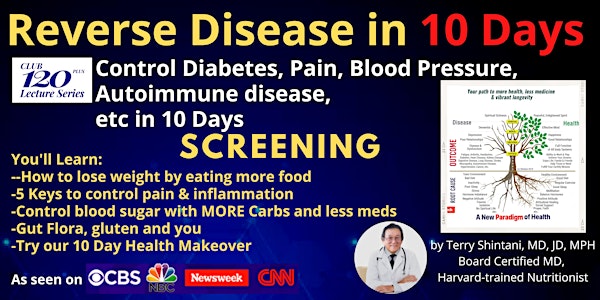 Sign Up for Dr.Shintani's program
Sign up for Info and Registration for Dr.Shintani's October 2022 Program
Refund Policy
Contact the organizer to request a refund.
Eventbrite's fee is nonrefundable.
About this event
This meeting is for those interested in the Program, and those who want the Early Bird Discount.
Get Healthy For the Holidays and Reverse Disease in 10 Days 
This is the Early Registration site for Dr. Shintani's Web-Based, October 2022 10 Day Program. This is the web version of our 10 Day Program that was priced at $2697 which we will now offer at a greatly reduced price. Once you sign up, you will be given a calendar (see below), instructions as to intake, filling out health information and obtaining baseline data.
Learn how to Get Healthy and Lose Weight for the Holidays and Reverse Disease in 10 Days and at the same time protect yourself from COVID by eliminating "CoMorbidities". You'll be learning how to control your weight, blood pressure, blood sugar, cholesterol, for the holidays. You will be given instruction and menu plans along with personal support to make sure you succeed.  
 DR. TERRY SHINTANI
Dr. Terry Shintani, Harvard-trained nutritionist and Board Certified Medical Doctor presents a workshop on how to Beat Pain, Arthritis, Cancer, Alzheimers, and Autoimmune Disease in 10 Days. There will be new information presented on how people can and have reversed diabetes, high blood pressure, cholesterol and many other health problems in just 10 days. 
SAMPLE OF TOPICS TO BE COVERED:
A New Paradigm of Health • How to control blood sugar with MORE Carbs .• 5 steps to controlling inflammation • Control Cholesterol • 3 keys to controlling blood pressure• Supplements and dosages• ...and More and questions answered
 PARTICIPANTS HAVE REVERSED Diabetes • Hypertension • Cholesterol • Obesity • Arthritis • Fatigue • Neuropathy • Colitis • Back Pain • Heartburn • and more...
 Presented by: Hawaii Health Foundation. For more info send your question to www.drshintani@yahoo.com
Below is a tentative calendar. (It may change depending on enrollment, unexpected factors and group preferences.)