Sign up for a Prehistoric Playdate - Dino Crafts with Prehistoric Nick and Park Ranger Marty (best for kids 6+)
About this event
International Dinosaur Day – It's T.Rex-cellent!
Join our team of professional Dino Trainers and Park Rangers to learn more about dinosaurs (and ancient marine reptiles) on our first-ever, day-long, prehistoric play date. All activities are free with online registration.
Jurassic Quest, the nation's largest and most realistic dinosaur experience, invites you to come out to play with the big dinos and join our Jurassic Quest Great Big Dino Playdate in celebration of International Dinosaur Day on Tues., June 1, 2021.
Also, on June 1, to make the day even more Jurass-tastic, you and your family can get HALF-PRICE weekday tickets using the discount code DINODAY for June 1 purchases (one day only), for any upcoming Jurassic Quest Drive Thru tour stops on sale.
Each daytime session will include about 30 minutes of family-friendly fun, led by Jurassic Quest dinosaur trainer team members: Safari Sarah, Dino Dustin, Captain Caleb, Prehistoric Nick and Park Ranger Marty.
RSVP for FREE to any of the events below via Eventbrite and you will receive your playdate invite, including instructions on how to join via Zoom, sent directly to your email address!
* Quest Zoom Tip: Make a sign with your child's name to show so we can call on them!*
WANT TO JOIN MORE FUN DINO DAY ACTIVITIES?
Some sessions will be geared for younger or older fans - Dinos After Dark is reserved for dino fans over 18 years old.
9am Eastern, 8am Central, 6am Pacific
Dino Storytime with Safari Sarah (best for kids under 6)
11am Eastern, 10am Central, 8am Pacific
Dino Facts & Faves with Captain Caleb and friends (best for kids under 6)
‍1pm Eastern, 12pm Central, 10am Pacific
Dino Show & Tell with Park Ranger Marty and Dino Dustin (best for kids under 6)
‍3pm Eastern, 2pm Central, 12pm Pacific
Dino Bingo with Dino Dustin (best for kids 6+)
5pm Eastern, 4pm Central, 2pm Pacific
Dino Facts & Faves with Captain Caleb and friends (best for kids 6+)
‍7pm Eastern, 6pm Central, 4pm Pacific
Dino Crafts with Prehistoric Nick and Park Ranger Marty (best for kids 6+)
‍8pm Eastern, 7pm Central, 5pm Pacific
Dino Bedtime Story with Safari Sarah (all ages)
9pm Eastern, 8pm Central, 6pm Pacific
Dinos After Dark with Dino Dustin, Safari Sarah and friends (ages 18+)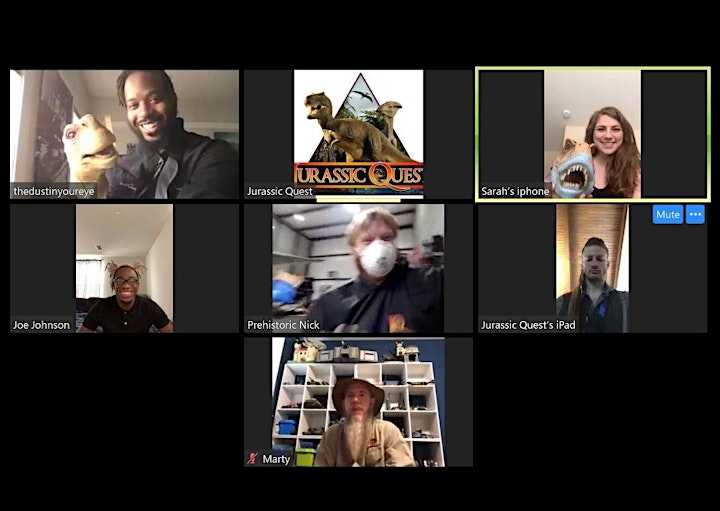 Organizer of Sign up for a Prehistoric Playdate - Dino Crafts
Jurassic Quest is a traveling dinosaur exhibit that holds over 100 life-size dinosaurs that move and roar! We set up the dinosaurs in scenes that reflect the habitat that paleontologists believe they lived in. Besides our exhibit, we have many fun online educational activities you don't want to miss! Follow us online for crafts, playdates with baby dinos and more.