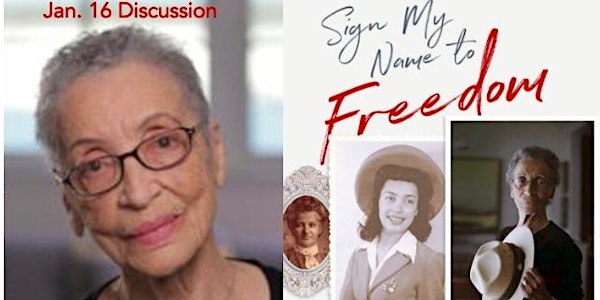 Sign My Name to Freedom book discussion with Betty Reid Soskin
Join a discussion about Sign My Name to Freedom, with an appearance by author Betty Reid Soskin
About this event
National icon, 99 year old Betty Reid Soskin, is our country's oldest park ranger and a beloved story teller and truth teller. Sign My Name to Freedom: A Memoir of a Pioneering Life was drawn from Betty's popular blog which you can visit at http://cbreaux.blogspot.com/.
On December 14, we gathered on Zoom to discuss the first four chapters of Sign My Name to Freedom. On Saturday January 16, we will gather again for people to discuss what they liked about the rest of the book and hear Betty share parts of her story.
If you don't have a copy yet of Sign My Name to Freedom, you can order it at www.signmynamebook.com or through other booksellers. Whether you were with us on December 14 or not, please join the discussion. Everyone who RSVPs will receive the Zoom link a few days before the event.
Betty's memoir is a powerful stepping off point for deepening our understanding of our own stories as well as our country's history. Goodreads shared this: "Blending together selections from many of Betty's hundreds of blog entries with interviews, letters, and speeches collected throughout her long life, Sign My Name to Freedom invites readers into an American life through the words and thoughts of a national treasure who has never stopped looking at herself, the nation, or the world with fresh eyes."