Event Information
Location
Loyola Marymount University (Burns Backcourt)
1 Loyola Marymount University Dr
Los Angeles, CA 90045
United States
Description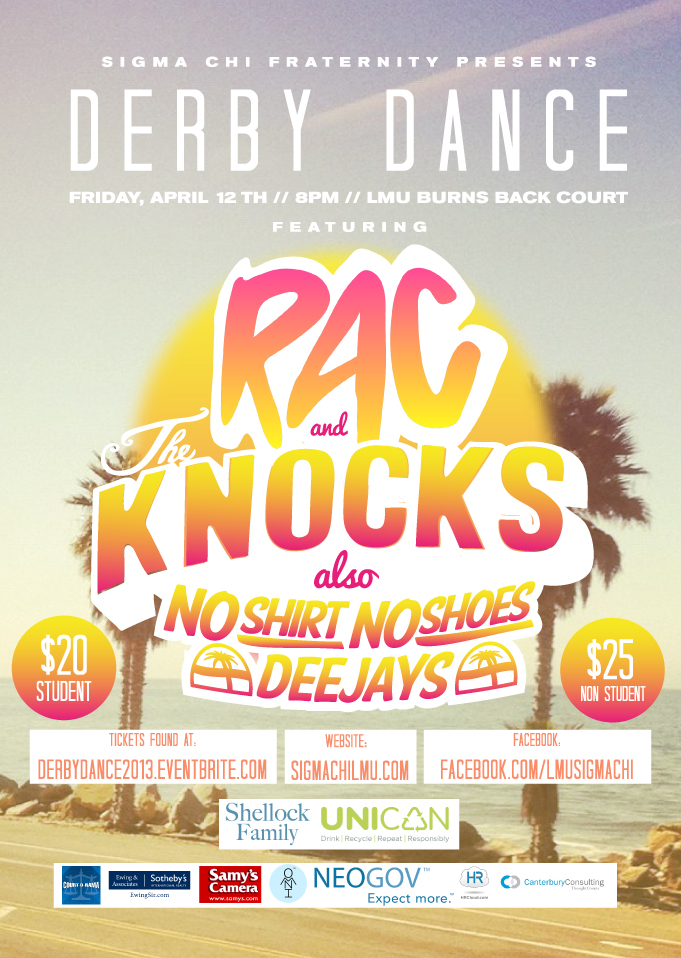 This year's "Derby Dance" Concert is a three-performance act which includes:
RAC- http://rac.fm/
The Knocks-http://theknocks.com/
No Shirts/No Shoes DJs
Derby Days is Sigma Chi Iota Omega's annual philanthropic event. Sigma Chi's Derby Days raises money for three organizations that coincide with our Fraternity's Three Great Aims.
Friendship - Herbert E. Darling III Scholarship Foundation - Herbert Darling was a member of the Iota Omega Chapter, being initiated in the Spring of 2006. Due to unfortunate circumstances, he passed away in the Fall of 2007. We wish to continue to honor his name by never forgetting this great brother.
Justice - Santa Monica Rape Treatment Center - Loyola Marymount prides itself on social justice as does the Iota Omega Chapter of Sigma Chi. On average, 1 in 6 women and 1 in 33 men are sexually assaulted. We would like to raise awareness of this great tragedy in society today.
Learning - Sigma Chi's Alternative Break - As a literary society, Sigma Chi wishes to promote learning not only in the classroom, but outside of it as well.
All of the proceeds from this year's "Derby Dance" go to the above causes.
Date and time
Location
Loyola Marymount University (Burns Backcourt)
1 Loyola Marymount University Dr
Los Angeles, CA 90045
United States