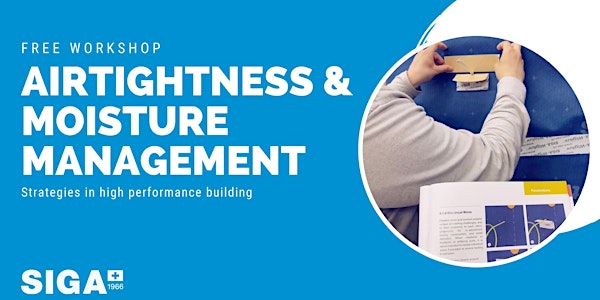 SIGA Airtightness Workshop (Salem, NH)
Airtightness & Moisture Management – Strategies in High-Performance Building Envelopes Workshop
Date and time
Thursday, July 6 · 9am - 1pm EDT
Location
SIGA High-Performance Construction Academy 23 S Broadway #4B Salem, NH 03079
About this event
In residential and commercial buildings, a well-designed and executed, high-performance, continuously sealed envelope contributes to low energy consumption and reduces CO2 emissions. It increases occupant comfort and the building's long-term durability.
The airtightness workshop is a fresh look at the features of resilient and efficient envelope design that examines the key layers that comprise the fabric of the building, and how a well-planned weather, air, and vapor sealing strategy avoids risk and saves money.
Strategies in High-Performance Building Envelopes
Participants will be engaged in a discussion and a hands-on envelope detailing workshop. During these 4-hour, interactive course participants will learn:
Building science fundamentals and the environmental impacts that affect building performance taught by SIGA
Building envelope key components & terms
The importance of a continuous weather & airtightness layer(s)
Strategies to avoid risk from design to implementation
About the organizer
SIGA is a leader in the development and production of high-performance adhesive tapes and membranes for air- and weather tight building envelopes. SIGA's vision is a world with zero-energy loss buildings. Today, approximately 50% of the world's energy requirements are consumed by heating and cooling systems. With SIGA's innovative products, this energy requirement can be massively reduced.
SIGA operates in 22 countries and employs 475 people working together to shape the future of the building industry. Find more information about SIGA's innovative approach to air and weather tight construction at www.siga.swiss