SIERRA VISTA - GOVERNMENT PROCUREMENT OUTLOOK & EXPOSITION CONFERENCE

Thursday, May 24, 2012 at 8:30 AM

-

Friday, May 25, 2012 at 5:00 PM (MST)
Event Details
---
The Diversity Business Development Center is pleased to announce its Second Annual GOVERNMENT PROCUREMENT OUTLOOK & EXPOSITION CONFERENCE to take place at the Sierra Vista Cochise Community College Campus, Sierra Vista, Arizona, USA.
CONFERENCE AGENDA 
THURSDAY MAY 24, 2012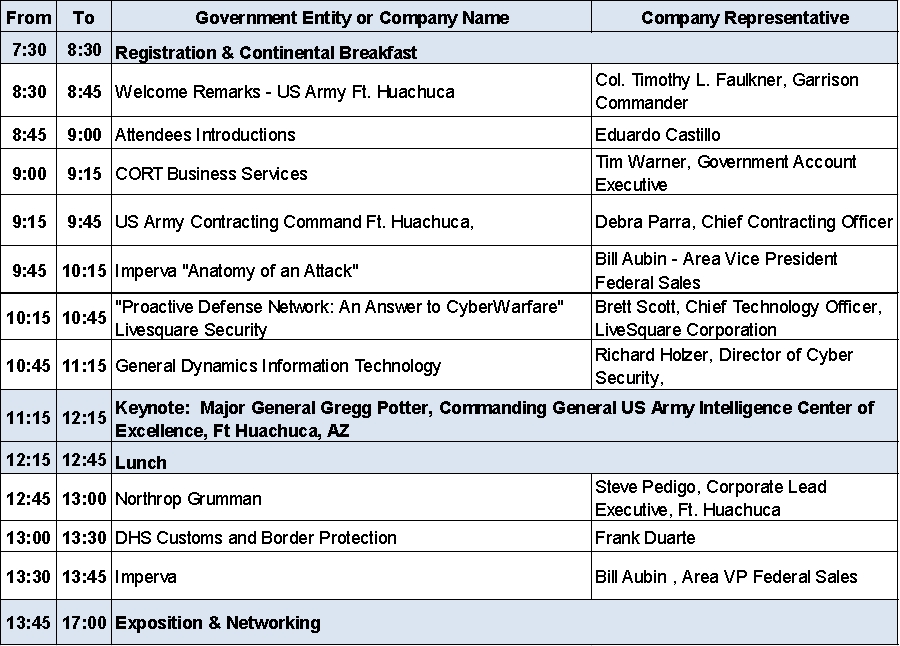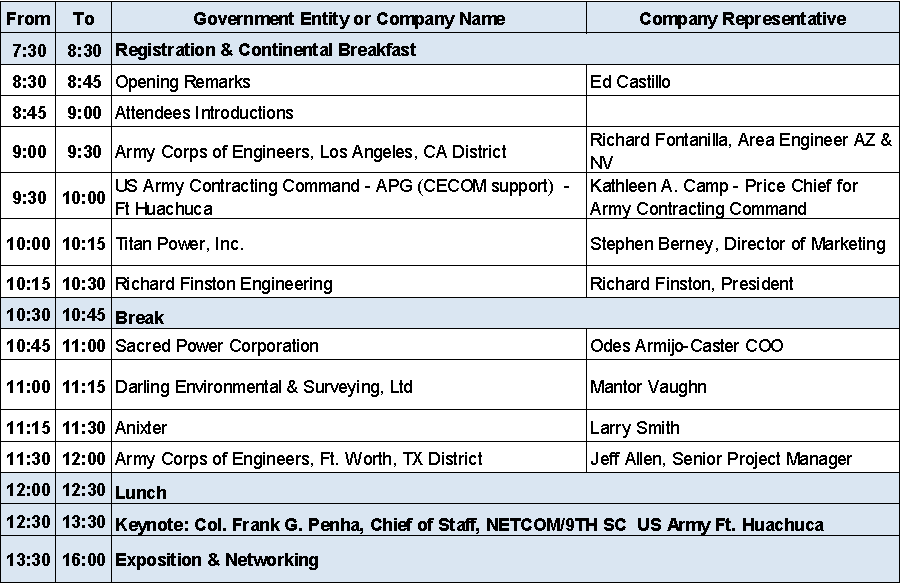 FEATURE PRESENTATIONS
  

Major General Gregg C. Potter assumed command of the United States Army Intelligence Center of Excellence and Fort Huachuca on 8 December 2010.

Major General Potter is a career Army Military Intelligence officer, with assignments in Korea, Germany, New York, Arizona, Texas, North Carolina, Virginia, and Washington DC, and deployments to Southwest Asia (Operations Desert Shield/Desert Storm and Operation Iraqi Freedom), Bosnia/Kosovo (Operation Joint Forge) and most recently in support of SOUTHCOM's earthquake relief operations in Haiti.

He has served at the company, battalion, brigade, and division levels and commanded the 110th Military Intelligence Battalion, 10th Mountain Division (Fort Drum, NY) and the 902nd Military Intelligence Group (Fort Meade, MD).  Major General Potter served as the Deputy Commander, US Army Intelligence and Security Command, Director of Intelligence at the Joint Special Operations Command, Director of Intelligence at the United States European Command, and most recently as the Vice Director of Intelligence (J2), Joint Staff, and the Director of the Defense Intelligence Agency's Afghanistan-Pakistan Task Force (APTF). 

Major General Potter earned a Bachelor of Science from the University of Vermont and a Master's in Strategic Studies from the US Army War College.  His awards include the Defense Superior Service Medal with two Oak Leaf Clusters and the Legion of Merit with one Oak Leaf Cluster.            

 

Colonel Timothy L. Faulkner's

current responsibility is that of Garrison Commander US Army, Ft. Huachuca, Arizona. He is from Newport News, Virginia. While attending the University of North Carolina at Chapel Hill, he served in the 30th Infantry Brigade North Carolina National Guard and was a member of the Armed Forces Military Pentathlon Team. Upon graduation in 1989, he was commissioned as a Field Artillery Officer. While in Field Artillery, he served as a Platoon Leader, Fire Direction Officer, Executive Officer, and Fire Support Officer in the 1-39th FAR (ABN) FT Bragg, NC. He deployed with the 82nd Airborne Division in support of Operations DESERT SHIELD and DESERT STORM.

In 1993, COL Faulkner was branch detailed to Military Intelligence and served as an Unmanned Aerial Vehicle (UAV) Operations Officer, Company C Commander and Battalion S3 Operations Officer, 305th Military Intelligence Battalion, 111th MI Brigade, Fort Huachuca, AZ. After attending the Military Intelligence Officer Advance Course, COL Faulkner served as the Detachment Commander Electronic Warfare Group, Italy from 1996-1997 where he deployed with II Marine Expeditionary Force (MEF) and AFSOUTH in Operations JOINT ENDEAVOR and JOINT GUARD.

COL Faulkner's military education includes: Basic Field Artillery Course; Airborne and Ranger School; Military Intelligence Advance Course; Signal Intelligence Course; Human Intelligence Course; Combined Arms and Services Staff School; Command and General Staff College; Joint Forces Staff College and the US Army War College.

COL Faulkner holds a Bachelor of Arts from the University of North Carolina at Chapel Hill, Masters of Science in Administration from Central Michigan University and a Masters in Strategic Studies from the US Army War College

 

Kathleen Camp assumed the role of Price Chief for Army Contracting Command at Fort Huachuca in November 2011, responsible for implementing Dr. Carter's Better Buying Power Initiatives. She provides input to contract peer reviews, cost evaluations, and creates and facilitates training for cost and price and other associated initiatives to improve overall Government efficiency and to reinvigorate cost skills. Previously, she served as the Division Chief for U.S. Army CECOM Acquisition Center. Prior to the federal government, Ms. Camp worked for 16 years with the Aviation Departments of Clark County, Nevada, City of Charlotte, North Carolina and Broward County, Florida. During her tenure, she was responsible for the oversight and management of Airport Planning and Development, completing her aviation run as the Airport Deputy Director at Fort Lauderdale International Airport. She began her career as an Air Traffic Controller and Airport Manager for Ohio State University's Aviation Program. Her specialty is Project Management and Critical Thinking. 

She holds a Master of Science in Aerospace Management and Operations and a Bachelor of Science in Aeronautical Science from Embry-Riddle Aeronautical University in Daytona Beach, Florida. She was a prior member and Education Chair of Construction Specifications Institute; she currently holds an Unlimited Contracting Officer Warrant and is a member of the U.S. Army Acquisition Corp.

 

Debra Parra

is the Chief of the ACC-APG Huachuca Division.

 

The Huachuca Division provides local and world-wide operational contracting support to multiple Army customers, including the Network Technology Command (NETCOM) and its world-wide subordinate units, the Information Systems Engineering Command (ISEC), the Communications Security Logistics Activity (CSLA), the Intelligence Center of Excellence, the Installation Management Command/Fort Huachuca Garrison, the Electronic Proving Ground and others.

  

The Huachuca Division has a staff of approximately 105 contracting professionals.

  

In FY 11, the division executed 3299 contracting actions valued at $1.04B.

Ms. Parra has over 27 years of contracting experience.  She has held various positions in the contracting field in both operations and policy. She has served as a contract specialist, a contracting officer, Deputy Director of Contracting for Fort Huachuca, and as a procurement analyst in the Office of the Principal Assistant Responsible for Contracting (PARC) for the Information Systems Command.  During her time in the PARC Office, Ms. Parra served as Alternative Competition Advocate, Career Program Manager for CP 14, and Acting PARC.  She was a member of OFPP's Front-Line Procurement Forum, a Government-wide forum for reinventing Government under the leadership of Dr. Steve Kelman. She served as the Army representative on the DAR Council's Contract Placement Committee for several years and has published articles in Contract Management Magazine and local newspapers on contracting topics.  She was a facilitator for the Army Acquisition Road Show and a facilitator for the Army's LEAD course.  

Ms. Parra received her Bachelor's Degree in Creative Writing from the University of Arizona and a Master's Degree in Organizational Management from the University of Phoenix.   She is a graduate of the Army Management Staff College SBLM program, is level III certified in Contracting and a member of the Acquisition Corps.

 

Richard Holzer

, CISSP, ISSAP, ISSEP, Director of Cyber Security, Advanced Enterprise Solutions, National and Homeland Security Division, General Dynamics Information Technology

As Director of Cyber Security, he oversees up to 80 IA professionals and 22 concurrent IT projects supporting DoD customers worldwide. Chief Engineer for multiple, complex IT projects across DoD. Built a thriving IA practice of $13.5 million annually. Provide expert guidance, vision and oversight to IA staff across a myriad of security-centric projects
Mr. Holzer has been responsible for the development of holistic defense-in-depth security solutions to secure people, facilities and technologies. Areas of responsibility include Design & implementation of advanced network security architectures using state-of-the-art technology.
 

Walter (Steve) Pedigo is the Northrop Grumman (NG) Corporate Lead Executive, Fort Huachuca, Arizona.  In this capacity, Mr. Pedigo is responsible for community activities and business development initiatives across NG.   

Steve began his career with NG in June of 2003 when he retired in Washington DC from the U.S. Army as a Military Intelligence (MI) Colonel culminating in 27 years of military service.  Assignments include: command and staff intelligence assignments that were at every echelon from the Corps to Maneuver Battalion; support to HUMINT Theater operations; and C4ISR operational and system architecture activities and Information Operations policy development for the Department of the Army. 

He has a BA from Cal State University Fullerton, an MA from Webster University, an Honorary Degree from Cal Poly State University, and is a life time member of the U.S. Army War College Alumni. 

 
 Brett L. Scott

- Chief Technology Officer - Mr. Scott is one of the nation's premier experts in delivering high volume database oriented systems via the Internet. Mr. Scott has taken concepts to products via the web for many major projects. As a veteran of 17 years in the technology industry, Mr. Scott has experience with quality practices like Six Sigma, the design, development, and implementation of major projects including textural data, image data, voice data and video data as well as financial tracking of all projects. Mr. Scott has recently directed the revamping of a major internet provider of high volume product delivery. This project included the entire process from qualifying the customer's suitability for the product through the fulfillment of the delivery of the product to the end user.

 

Bill Aubin

- Area Vice President, Federal Sales,

Computer & Network Security

,

Washington D.C. Metro Area

Imperva is a pioneer and leader of a new category of data security solutions for high-value business data in the data center. With more than 1,300 end-user customers and thousands of organizations protected through cloud-based deployments, Imperva's customers include leading enterprises, government organizations, and managed service providers who rely on Imperva to prevent sensitive data theft from hackers and insiders. The award-winning Imperva SecureSphere identifies and secures high-value data across file systems, web applications and databases.

 

Jeffrey Allen

is the Senior Project Manager for the Fort Bliss Hospital Replacement Project. Mr. Allen is a member of the Medical Section of the Programs and Project Management Division, Fort Worth District. This project has an estimated budget in excess of $565 million dollars scheduled to be awarded in 2012 and 2013.

The project replaces the existing William Beaumont Army Medical Center and includes the following:

·   Design-Bid-Build Execution

·   1.132 M Sq Ft, 135 Beds

·   30 Primary & Specialty Care Clinics

·   Supports > 2000 Hospital Staff

·   Designed using Evidence Based Design / World Class Principles

·   LEED SILVER

260 Acre Undeveloped Site

 

Richard Fontanilla

currently serves as Area Engineer for the Arizona-Nevada Area Office in Phoenix. He reports to Construction Division, USACE, Los Angeles District, in downtown Los Angeles.

Prior to serving with Los Angeles District, Mr. Fontanilla served with USACE, Far East District as an Area/Resident Engineer at USAG Humphreys in Korea and with USACE, Japan Engineer District as Resident Engineer at Commander, Fleet Activities Yokosuka. Duties at USAG Humphreys included overseeing construction projects under the Korean Relocation Program. Responsibilities at CFAY included overseeing major military construction work supporting the US 7th Fleet and US Naval Forces, Japan. During 2006 to 2007, he served with Naval Facilities Engineering Command at Naval Support Activity, Bahrain as the Project Management and Engineering Branch Head, where he was responsible for US Navy engineering and construction work at shore facilities in the Persian Gulf.

Post-secondary education for Mr. Fontanilla includes a Bachelor of Science in Civil Engineering from the Virginia Military Institute and a Master of Civil Engineering from the University of Florida. He is a Registered Professional Engineer in the State of Connecticut and holds a USACE Administrative Contracting Officer warrant. He is DAWIA certified Level 2 in Contracting and Facilities Engineering and a member of the US Army Acquisition Corps. Mr. Fontanilla's US Army military education includes Engineer Officer Basic Course, Engineer Officer Advanced Course, and Sapper Leader Course.

Mr. Fontanilla's awards include two Army Commendation Medals, Army Achievement Medal, and Commander's Award for Civilian Service. He also received Savannah District's Trainor Award and USACE Project Delivery Team of the Year Honor Award while at Japan Engineer District.

 
Frank Duarte

has over 27 years of federal service experience including 15 years as a DOD Contracting Officer and DHS Contracting Officer. Frank is an avid supporter and advocate for the small business community since inception at DHS, with over 97% of his contracts going to the Small Business community. He is a retired Navy Supply Corps Officer

 
 

Colonel G. Penha assumed duties as Chief of Staff, Network Enterprise Technology Command on July 6, 2011.

A native of East Providence, Rhode Island, he entered the U.S. Army and received a Regular Army commission in the Signal Corps after receiving a Bachelor of Science degree in Business Administration from Bryant College in 1985. Colonel Penha's military education includes the Signal Officer Basic and Advanced Courses, the Combined Arms Services Staff School (CAS3), the U.S. Army Command and General Staff College, the Armed Forces Staff College, and the U.S. Naval War College. He holds a master's degree in International Security and Strategic Studies from the U.S. Naval War College. Colonel Penha's previous assignment was Deputy G-6, United States Army Pacific, Fort Shafter, Hawaii. His initial assignments were in the 22nd Signal Brigade, located in Hoechst, Germany. It is there that he served as Platoon Leader, Company Executive Officer, Assistant Battalion S-3, and Battalion S-1 in the 17th Signal Battalion, and Company Commander, Headquarters Company, 22nd Signal Brigade. Following the Signal Officer Advanced Course he was assigned to the U.S. Army Signal Center, Fort Gordon, Ga., in 1990 where he served as a Signal Combat Development Officer. In 1993, he served as Lieutenant/Captain Assignments Officer, U.S. Army Personnel Command, Alexandria, Va. In 1995, Colonel Penha attended the Command and General Staff College at Fort Leavenworth, Kan., and in 1996 he was subsequently assigned as Executive Officer, 51st Signal Battalion (Airborne), 35th Signal Brigade (Airborne), and later served as 1st Corps Support Command G-6, Fort Bragg, N.C. In 1998 he was assigned to Special Operations Command Pacific where he served as the J-6 Plans Officer and Chief, J-6 Operations Division, Camp H.M. Smith, Hawaii. In 2001, Colonel Penha was assigned as Commander, 51st Signal Battalion (Airborne), 35th Signal Brigade (Airborne). Upon completion of his command, he was assigned to the Joint Staff, where he served as Branch Chief of the Net Centric Functional Capabilities Board Working Group, and subsequently as the Executive Officer to the Director for Command, Control, Communications, and Computer Systems. Following Senior Service College, he was assigned as Commander, 15th Regimental Signal Brigade, Fort Gordon, and then as Deputy G-6, United States Army Pacific. Colonel Penha's awards and decorations include the Legion of Merit with 1 Oak Leaf Cluster, the Bronze Star Medal, the Defense Meritorious Service Medal with 1 Oak Leaf Cluster, the Meritorious Service Medal with 3 Oak Leaf Clusters, the Army Commendation Medal with 1 Oak Leaf Cluster, the Army Achievement Medal with 3 Oak Leaf Clusters, the National Defense Service Medal with Gold Star, the Meritorious Unit Commendation, the Humanitarian Service Medal, the Overseas Service Ribbon with Numeral 3 Device, the Senior Parachutist Badge, and the Air Assault Badge.
"WHO SHOULD ATTEND?"
 Aerospace and Defense, Information Technology, Cybersecurity, Communications, Electronics, Law Enforcement, Architecture and Engineering, Environmental Consultants, Prime Contractors, Specialty Contractors, Subcontractors, Renewable Energy, Government, Economic Development organizations, Academia and Students
 EVENT SPONSORSHIP OPPORTUNITIES:
 Please contact Sheila Martin - 602-300-2682 or email events@azbizopps.orgfor further information
 CANCELLATIONS AND TICKET REFUND POLICY:
Cancellations and ticket refunds requests must be received in writing prior to 14 calendar days from the start date of the Event. Submit refund requests via email at eventsales@azbizopps.org.No verbal requests for ticket refunds will be honored.
When & Where

Cochise College - Sierra Vista Campus
901 North Colombo Avenue
Sierra Vista, AZ 85635


Thursday, May 24, 2012 at 8:30 AM

-

Friday, May 25, 2012 at 5:00 PM (MST)
Add to my calendar
Organizer
Diversity Business Development Center
The Center has organized in excess of 35 Business Conferences and Educational Symposiums in the Southwestern Region as vehicles to introduce and disseminate information on business climate, economic trends and forecasts, upcoming projects and business networking as well as to provide educational forums for continuous professional development.
The Center's Conferences provide a continuous outreach channel for diversity business manufacturers, distributors, service providers, vendors and suppliers to connect with Federal, State, County, City, and local government procurement agencies as well as prime government contractors in need of products and services provided by qualified diversity business enterprises including: Small Disadvantaged Business (SDB), 8(a) Businesses, Women-Owned Small Business (WOSB),  Historically Underutilized Business (HUB) Zone Businesses, Veteran-Owned Small Business (VOSB), Service-Disabled Veteran-Owned Small Business (SDVOSB) and Indian Incentive Program Businesses (IIP).
SIERRA VISTA - GOVERNMENT PROCUREMENT OUTLOOK & EXPOSITION CONFERENCE