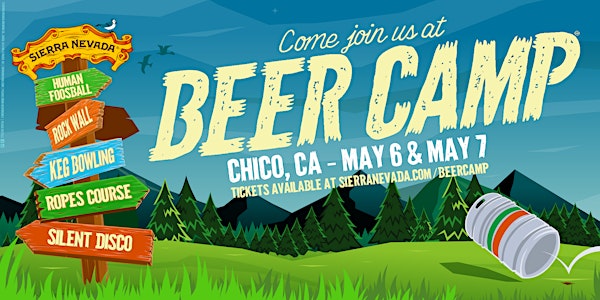 Sierra Nevada Beer Camp - Sunday, 5/7
The epic adult day camp returns!
By Sierra Nevada Brewing Co.
Date and time
Sunday, May 7 · 1 - 7pm PDT
Location
Sierra Nevada Brewing Co. 1075 East 20th Street Chico, CA 95928
About this event
Get ready for Beer Camp, Chico! It's back with favorites like human foosball, hungry human hippos, and keg bowling, plus new antics — live karaoke with a full band? Uhh, yeah! Rally your crew, come ready to party, and let the games begin with a cold beer in hand. We'll see you in the Festival Field, friends.
TICKETS 
All tickets are available starting March 2 at 10:00 a.m. PT until sold out. All tickets are non-refundable.
Sunday, May 7, 2023
DAY CAMPER (1:00 p.m.–5:00 p.m.): $35 - includes your first beer or non-alcoholic beverage, access to all activities, entertainment, and FREE shuttles.
EARLY RISER (11:00 a.m.–5:00 p.m.): $50 – includes entry to camp TWO HOURS EARLY, your first beer or non-alcoholic beverage, access to all activities, entertainment, and FREE shuttles.
All ticket sales are online and final. Tickets are limited and will sell out. You must be 21+ and present a valid ID to attend.
Unable to attend? Resell your ticket(s) through Tixel , our sanctioned resale partner. Looking for tickets to Saturday, May 6, visit here Don't forget to skip the line and pre-purchase your Beer & Snack ticket here.
BEER and BEVERAGES
We're packin' coolers full of your favorite cans. Now it's an outdoor bash.
Can Beverage List:
Pale Ale
Summerfest
Selections from our Little Things brand
Hop Splash (non-alcoholic)
Strainge Beast fermented cocktail
More to come – check out the event website for updates at www.SierraNevada.com/BeerCamp
Tasting Trail: Take a flavor journey along the tasting trail, sampling multiple beverages from our innovation brewery.
THE FUN STUFF:
Some of our twists on traditional day camp activities:
Arts & Crafts – Get creative with our friends from Chikoko.
Human Hungry Hippos – Life-sized version of the beloved tabletop game.
Ropes course – It's pretty high up, and pretty far out.
Archery tag – Unleash your inner Katniss in a battle against your friends.
Rock climbing wall – It's massive, but you're fearless, right?
Keg bowling – Eh, it's more like "keg chucking," but you're still bowling over some pins.
Human foosball – Start recruiting your team, or draft free agents once you're there.
Corn hole – Because this is one of our favorite sports.
Zorb racing – An outta-this-world human hamster wheel like you've never seen.
GellyBall – Capture the Flag meets paintball, but with soft, water-based beads instead!
Hammock lounge stations – Naptime is back and better than ever.
MORE RAD STUFF!
MUSIC
Crank the volume in the Little Things Lounge, featuring super talented entertainers providing all the festival vibes.
Silent Disco DJs: We're excited welcome Jolene, Spretch Magic, DJ Uyes and DJ Trazz back to the silent disco tent!
Live Karaoke: What summer camp talent shows should've been — live band, you behind the mic, and a crowd of fans singing along. Time to hit the stage!
FOOD 
We like tasty bites almost as much as cold craft beers, so expect some awesome culinary creations for purchase.
Camp Snacks: Check out the can stations inside camp to find on-the-go snacks. (Nobody likes it when you're hangry.)
Food Trucks: Local favorites have delicious menus in the works.
More to come – check out the event website for updates, www.SierraNevada.com/BeerCamp
ZERO WASTE and SUSTAINABILITY
Awesome events, done right — that's the goal! Every year, we divert more than 90% of the Beer Camp waste away from landfill, and it's a comprehensive effort:
Serving our beverages in recyclable vessels such as aluminum cans or reusable tasting glasses. Recycling stations are available throughout the event.
Partnering with Chico Velo to provide Bike Valet services for avid cyclists or those using alternative forms of transportation.
Highly encouraging attendees and staff to bring a reusable water bottle from home and providing access to water throughout the event space.
Requiring all food vendors to use compostable service materials.
This year, help us make Beer Camp a Zero-Waste Event!
Ride your bike (or scooter, or unicycle) to the festival. We'll protect it overnight if you need to leave it.
Crush those cans! Once you've finished a beverage, drop it at one of our recycling stations.
Bring your reusable water bottle and refill it at one of our many "Water Monster" stations.
Stay tuned for more tips…
HOW TO GET HERE
Sierra Nevada Hop Field, Chico, CA (parking at Silver Dollar Fairgrounds)
PLEASE DON'T DRINK AND DRIVE. Really, we can't stress this enough: if you overindulge, leave your car or bike overnight and come back for it the next day. Take the free shuttle or a taxi; you'll make some new friends and keep everyone safe. We also created these great options for you:
1. FREE SHUTTLE from Downtown Chico – The shuttle will run on a continuous loop on Saturday from 10:30 a.m.–5:30 p.m. Pickup and drop-off are at the transit center across from Madison Bear Garden. This transportation option is ideal for those seeking post-camp fun.
2. RIDE YOUR BIKE – Chico Velo is offering complimentary bike valet services and there is plentiful bike parking at the brewery. We don't advocate drinking and riding your bike, though.
3. PARKING AT SILVER DOLLAR FAIRGROUNDS – Complimentary parking is available at the fairgrounds, and we'll run shuttles from 10:30 a.m.–5:30 p.m. If you need to, leave your car overnight at the fairgrounds and pick it up the next day.
***PARKING AND SHUTTLE INFORMATION SUBJECT TO CHANGE***
***THERE IS NO PARKING ON SITE AT SIERRA NEVADA***
***PLEASE BEER CAMP RESPONSIBLY! ***
Frequently asked questions
When do tickets go on sale?
How many tickets may I purchase?
Is there a separate designated-driver ticket?
Will there be a costume contest?
How do I enter the costume contest?
I'm over 21, but my baby isn't. Can I bring her anyway?
I'm having trouble with the registration system. Who can help?
Something came up and I can't make it. Can you refund my tickets?
Are Admission Tickets transferable?
Oops! I've lost my license. Will you let me in without it?
Is this event rain or shine?
Is there anything I can't bring to Beer Camp?
I don't like beer. Is there anything else to drink?
Are there any gluten-free beverage options?