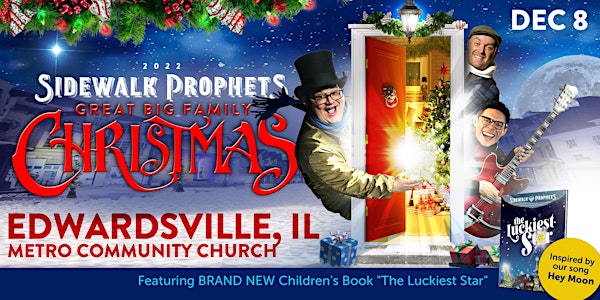 Sidewalk Prophets - Great Big Family Christmas- Edwardsville, IL
ALL AGES
Great Big Family Productions
A joy filled, memory-making Christmas experience!
When and where
Location
Metro Community Church 3551 Ridge View Rd. Edwardsville, IL 62025
About this event
Great Big Family Productions presents Sidewalk Prophet's "Great Big Family Christmas".
Join Dove Award winning band Sidewalk Prophet's as they welcome you out from the cold of winter, and into the warmth of the Great Big Family Room. The Great Big Family Christmas is all about making Christmas memories, and most importantly celebrating the birth of Christ.
The night features an joy-filled Christmas concert featuring Sidewalk Prophet's original Christmas music, as well as, the hit songs that you know and love. In addition to the music, this night full of surprises, and maybe some surprise gifts too!
To cap things off, the tour ends each night by raising funds for a local charity or individual in need and has a goal of giving away over 1 million dollars to those in need within the next 10 years.
Bring your friends, bring your family, bring a stranger because this Christmas we're all a part of the Great Big Family, and we're gonna celebrate!
Ticket Options
General Admission
Your ticket to the show.
Early Entry / "The Luckiest Star" book reading with Dave Frey
Includes a ticket to the show, first choice of seating, and a special live reading of Sidewalk Prophet's brand new Christmas children's book "The Luckiest Star" by lead singer Dave Frey.
VIP Pre-Show Party
Our ultimate, and most popular experience! Includes a VIP lanyard, access to our pre-show party where you'll hang out with the band, play games, and get a chance to take a photo with the band. Also includes includes a ticket to the show, first choice of seating, and a special live reading of Sidewalk Prophet's brand new Christmas children's book "The Luckiest Star" by lead singer Dave Frey.
Event Schedule
4:15PM VIP Pre-Show Party Doors
5:30PM Early Entry / Christmas Book Reading Doors
6:15PM General Admission Doors Open
7:00PM Showtime
As a special bonus to this year's "Great Big Family Christmas" tour, Sidewalk Prophets are excited to release their first published children's book, "The Luckiest Star". Ticketing options include a special reading of the book by the band's lead singer, and book co-author Dave Frey.
The Luckiest Star tells the story of Hemmy, the smallest, silliest little star in the galaxy. With his best friend, the moon, lighting his path, Hemmy sets out on a quest to find the place where he truly belongs. A sudden encounter with the Maker at Christmastime helps Hemmy realize he was made to shine, and he soon learns his light was destined to illuminate the greatest gift the world has ever known.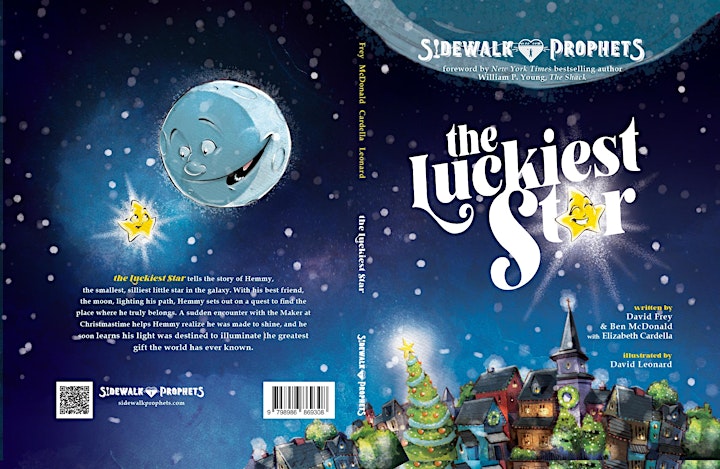 About Sidewalk Prophets
With a career spanning 4 major label studio releases—These Simple Truths (2009), Live Like That (2012),Something Different (2015), and The Things That Got Us Here (2020), plus 2013's celebrated holiday offering, Merry Christmas To You—and multiple hits, including Gold-certified "The Words I Would Say," "You Love Me Anyway" and "Live Like That," among others, Sidewalk Prophets remains a mainstay at Christian radio. The Dove Award-winning band has amassed more than 240 million career on-demand streams and sold more than 923,000 in equivalent album sales and 1.88 million digital tracks. In addition, the group has garnered five No. 1 songs, nine Top 5 radio singles and more than 54.2 million views on YouTube. The band originally formed at Indiana's Anderson University, and since signing with Curb | Word Entertainment, they've been nominated for a Billboard Music Award, multiple K-LOVE Fan Awards and four Dove Awards, taking home the New Artist of the Year Dove in 2010. Over the course of their career, they've played for more than 2.5 million fans, and counting. Known for spending more days on the road than anywhere else, Sidewalk Prophets' most recent tours have morphed into interactive experiences for their fans, whom they affectionately call "The Great Big Family." The band hosted the first free public concert in Ryman history on July 9, 2020, previewing new music from their highly-anticipated album, The Things That Got Us Here, available now.
Important Updates:
Any person over the age of 2 will be required to have their own ticket. Premium ticket holders, please plan to arrive 15 minutes before advertised premium ticket time. We cannot guarantee premium benefits if you or your party arrives late. Ticket prices may increase on day of show at the door.
Ticket purchaser agrees to follow any Covid-19 safety guidelines required by venue or local authorities at the time of the event (including but not limited to, masks, negative covid tests, social distancing, and temperature checks). By purchasing ticket attendee acknowledges the inherent risk of exposure to Covid-19 or other infectious diseases in any setting where people may be present. We cannot ensure or be held liable that venue premises are free from contagions. By attending this event, you and your party accept sole responsibility for the risk of potential exposure.