Side by Side: Enriching Children's Lives Through Parent-Provider Partnershi...
Sales Have Ended
Ticket sales have ended
Thank you for registering to attend the Side by Side Professional Symposium. We look forward to welcoming you at the event. If you have any questions, please email moreinfo.sidebyside@harborrc.org
Sales Have Ended
Ticket sales have ended
Thank you for registering to attend the Side by Side Professional Symposium. We look forward to welcoming you at the event. If you have any questions, please email moreinfo.sidebyside@harborrc.org
Description
A DAY WITH BRUCE PERRY, MD, PhD
Guiding young children with developmental concerns through a successful early childhood requires special training and specific knowledge. This is true for both parents and the professionals that work with them. Providers and parents learning the same content matter will promote and enhance their joint ability to communicate more effectively regarding the needs of the child, and encourage an effective partnership between them. It is with this in mind that Harbor Regional Center, funded by the Mental Health Services Act in partnership with the California Department of Developmental Services, is introducing "Side by Side: Enriching Children's Lives Through Parent-Provider Partnerships" to the professionals and families of our Early Start and early childhood community.
Between September 2018 and February of 2020, nationally and internationally recognized experts in the fields of infant and early childhood mental health will come to the South Bay to train both providers and parents in a series of five concurrent symposia and workshops. This series will culminate in a sixth all-day symposium for families and cross-sector early interventionists to learn, share, and collaborate, side by side. The focus of these training events will be on infants, toddlers, and young children from birth through five, addressing the critical importance of relationships, early mental health, and social emotional development, which is the foundation for all other developmental success!
On Friday, February 22, 2019, the third professional symposium will welcome Dr. Bruce Perry as the featured speaker, with Ms. Adriana Molina providing the keynote address. To find out more information about these speakers and the event series, visit the Side by Side webpage.

KEYNOTE ADDRESS: Adriana E. Molina, MS, LMFT, IFEC-MHS, RPF II
"Early Childhood System of Care: Why Transdisciplinary Care is Vital to Child Well-Being"
A licensed Marriage and Family Therapist, Ms. Molina has spent over 20 years working with at-risk children and families coping with everything from living with AIDS, extreme poverty, domestic violence, gang culture and child abuse and neglect. Her professional experience includes school counseling with trauma-exposed youth, social work with the Los Angeles County Department of Children and Family Services, and crisis response with law enforcement. An adoptive parent, her focus in recent years has been to educate the community and stakeholders about Early Childhood Mental Health and strengthening System of Care communities serving children 0-5 and their families. Ms. Molina is also Co-Chair for the Community Violence Workgroup of the National Child Traumatic Stress Network. Ms. Molina is a California-endorsed Infant-Family and Early Childhood Mental Health Specialist, and Reflective Practice Facilitator II, and is currently the Director of Project ABC at Children's Institute, Inc. in Los Angeles.
FEATURED SPEAKER: Bruce D. Perry, MD, PhD
"The Power of Early Childhood Experiences to Shape Risk and Resilience"
Dr. Perry is currently the Senior Fellow of The ChildTrauma Academy, a not-for-profit organization based in Houston, TX and adjunct Professor in the Department of Psychiatry and Behavioral Sciences at the Feinberg School of Medicine at Northwestern University in Chicago.
His neuroscience research has examined the effects of prenatal drug exposure on brain development, the neurobiology of human neuropsychiatric disorders, the neurophysiology of traumatic life events and basic mechanisms related to the development of neurotransmitter receptors in the brain while his clinical research over the last ten years has been focused on integrating emerging principles of developmental neuroscience into clinical practice. His work has proven to be instrumental in describing how childhood experiences, including neglect and traumatic stress, change the biology of the brain – and, thereby, the health of the child.
Dr. Perry has consulted with many community and governmental agencies following high-profile incidents among them the Branch Davidian siege in Waco (1993), the Oklahoma City bombing (1995), the Columbine school shootings (1999), the September 11th terrorist attacks (2001), and the Sandy Hook Elementary school shootings (2012) to name a few. He is the author of over 500 journal articles, book chapters and scientific proceedings and is the recipient of numerous professional awards and honors, including the T. Berry Brazelton Infant Mental Health Advocacy Award.
WHO SHOULD ATTEND?
Regional Center Service Coordinators and Client Services Managers, CCC-SLPs, Occupational Therapists, Physical Therapists, Pediatric healthcare professionals, psychologists, mental health clinicians, social workers, child welfare/child protection workers, early childhood educators, behavior interventionists, care coordinators, home visitors, and parent educators.
CONTINUING EDUCATION:

CEs/CEUs will be provided by Side by Side partners. Register onsite. No advance CE Registration.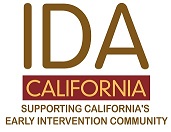 Infant Development Association of California is an approved Continuing Education (CE) Provider for the following California Licensing Boards: CEs provided for an additional fee.
Physical Therapy Board of California Continuing Competency courses
Speech-Language Pathology and Audiology Board #PDP248

Six hours of Continuing Education credits approved by Los Angeles County Department of Mental Health (LACDMH) for:
The American Psychological Association (APA)
The Board of Behavioral Sciences (BBS)
The California Association of Alcoholism and Drug Abuse Counselors (CAADC)
Board of Registered Nursing (BRN)
Los Angeles County Department of Mental Health maintains full responsibility for the program and its content.

CERTIFICATE OF COMPLETION
A certificate indicating the number of hours of training (approximately 6 hours) will be provided to every participant.
CONFERENCE HOTEL ROOM RATE: 139 USD per night

RESERVATION DEADLINE: February 1, 2019
Online booking: Torrance Marriott Redondo Beach Hotel

Toll-free Reservations: 1-800-228-9290
Torrance Marriott Redondo Beach Hotel: 1-310-316-3636
Rate: $139 single/double occupancy, plus taxes.
HOTEL PARKING
Discounted valet for overnight symposium guests, and valet day of event: $18.00
Discounted day of event self-parking rate: $5.00