Side by Side: Enriching Children's Lives Through Parent-Provider Partnershi...
Description
A DAY WITH CHANDRA GHOSH IPPEN, PhD
Guiding young children with developmental concerns through a successful early childhood requires special training and specific knowledge. This is true for both parents and the professionals that work with them. Providers and parents learning the same content matter will promote and enhance their joint ability to communicate more effectively regarding the needs of the child, and encourage an effective partnership between them. It is with this in mind that Harbor Regional Center, funded by the Mental Health Services Act in partnership with the California Department of Developmental Services, has introduced "Side by Side: Enriching Children's Lives Through Parent-Provider Partnerships" to the professionals and families of our Early Start and early childhood community.
Between September 2018 and February of 2020, nationally and internationally recognized experts in the fields of infant and early childhood mental health will come to the South Bay to train both providers and parents in a series of five concurrent symposia and workshops. This series will culminate in a sixth all-day symposium for families and cross-sector early interventionists to learn, share, and collaborate, side by side. The focus of these training events is on infants, toddlers, and young children from birth through five, addressing the critical importance of relationships, early mental health, and social emotional development, which is the foundation for all other developmental success!
On Friday, June 7, 2019, the fourth professional symposium will welcome Chandra Ghosh Ippen, PhD as the featured speaker, with Leslie A. Ross, PsyD providing the keynote address. To find out more information about these speakers and the event series, visit the Side by Side webpage.

KEYNOTE ADDRESS: Leslie A. Ross, PsyD
"Using the NCTSN 12 Core Concepts for Understanding Childhood Trauma to Enhance Provider Wellness"
Dr. Ross is Director at the UCLA-DUKE University National Center for Child Traumatic Stress of the Core Curriculum on Child Trauma (CCCT) implementation. She facilitates training nationwide on Creating Trauma-Informed Organizations and reducing the risk of Secondary Traumatic Stress and building a resilient workforce. She is also co-author of The Secondary Traumatic Stress Inventory and STS Organizational Change Framework Model. In addition, Dr. Ross provides training and consultation for children and families exposed to domestic violence.
FEATURED SPEAKER: Chandra Ghosh Ippen, PhD
"The Ripple Effect: An Integrative Framework for Enhancing Trauma-Informed Practice Across Systems"
Associate Director of the Child Trauma Research Program at the University of California, San Francisco, Dr. Ghosh Ippen has spent the last 26 years conducting research, clinical work, and training in the area of early childhood trauma. She has co-authored over 20 publications on trauma and diversity-informed practice, including the manual for Child-Parent Psychotherapy, the children's story "Once I Was Very Very Scared," and the Trinka and Sam story series. Dr. Ghosh Ippen is committed to examining how culture and context affect perception and mental health systems. She also serves as Director of the National Child Traumatic Stress Network (NCTSN) Measure Review Database, and is a member of the Board of Directors of Zero to Three.
WHO SHOULD ATTEND?
Regional Center Service Coordinators and Client Services Managers, CCC-SLPs, Occupational Therapists, Physical Therapists, Pediatric healthcare professionals, psychologists, mental health clinicians, social workers, child welfare/child protection workers, early childhood educators, behavior interventionists, care coordinators, home visitors, and parent educators.
CONTINUING EDUCATION:

CEs/CEUs are pending review by Infant Development Association of California and the Los Angeles County Department of Mental Health..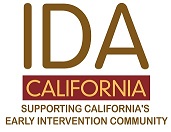 CERTIFICATE OF COMPLETION
A certificate indicating the number of hours of training (approximately 6 hours) will be provided to every participant.
CONFERENCE HOTEL ROOM RATE: 159 USD per night

RESERVATION DEADLINE: Thursday, May 16, 2019 - EXTENDED TO MONDAY, MAY 20th!
Online booking: Torrance Marriott Redondo Beach Hotel

Toll-free Reservations: 1-800-228-9290
Torrance Marriott Redondo Beach Hotel: 1-310-316-3636
Rate: $159 single/double occupancy, plus taxes.
HOTEL PARKING
Discounted valet for overnight symposium guests, and valet day of event: $18.00
Discounted day of event self-parking rate: $5.00